CONTEST! The Steem Creators Conference Ticket + Accomodation Giveaway! | Rules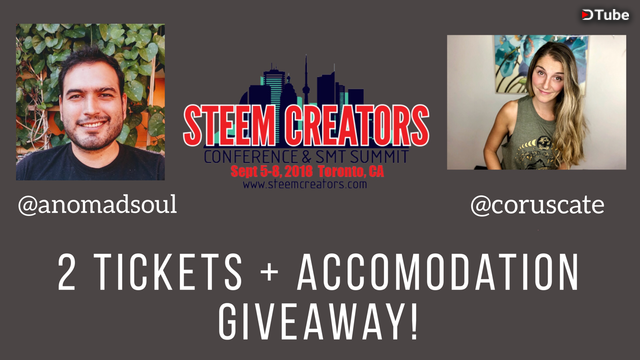 ---
Hi Friends!
You know what's coming up soon? The Steem Creators Conference in Toronto. I literally can't event wait (and not just because I get to go on a trip with my sister @maryjaney) but because It is going be an epic event filled with so much connection, fun, learning and all crazy shenanigans.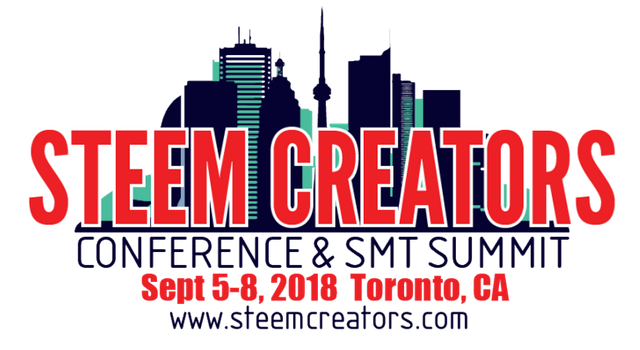 I recently heard that my good friend @anomadsoul was going to be attending/speaking and I literally LOST.MY.MIND. It is going to be so awesome to meet him in person and I know everyone attending the event is super stoked to hear him speak.
We got to chatting and decided to run an epic contest to help even more people attend this event! Basically... we just want to hang out with as many of you as possible!
Two Event Tickets and Help with Accommodations??


Yep you heard it right... we are not only going to give you TWO tickets (so you can bring your partner, friend, or someone else to make the trip even more enjoyable for you), but we are also going to help you with paying for accommodations!
We want people who are seriously stoked about this event... so we are sending you on a treasure hunt!
Contest Rules
First... you have to go read the first part of this post... written on @anomadsoul's blog. Click HERE to check it out. He goes into way more detail on the contest there!

Only one person per post.

You have until August 29th at 21:00 PST to submit your entry.

You have to re-steem this post. I have literally never asked people to re-steem a post as an entry requirement in my contests before - but we really want a lot of people to find out about this contest!

You have to tell us WHY you want to attend the event, what you hope to get out of it, and what value you will add to the event dynamic. (This can be either a blog or video entry)

You have to follow the below treasure hunt and include your responses in your entry!
Aaargggh Matey ... Let's Find Some Treasure!
Ok, here are the items on your Treasure Hunt.
Head to steemcreators.com
Which speaker were you most surprised to see on the list? Why?
Which speaker are you most excited to hear speak?
Name one of the artists that will be performing at the Steem Creators Concert.
What is the name of the building where the event is being held?
Who is a speaker that you don't currently know or follow - but sounds super intrigued by and are excited to learn from.
What famous musical comedy pop duo will be performing LIVE at the event?
One More Step to the Treasure Hunt!
Head to THIS post by @coruscate to find out what tags you need to use on the contest. (Hint - it's in the comments!)
Head to THIS post by @anomadsoul to find out what title to use for your contest entry! (Hint... also in the comments)
The Prize


We are giving away 2 tickets to the Steem Creators Conference and SMT Summit In Toronto - Sept. 5-9th and accommodation stipend!
The deets...
Two event tickets ($300 value!) so that you can attend and also bring a friend/partner. You could totally give the ticket away to another steemian friend that wants to attend too!

Accomodation Stipend. We will send you 50 steem per night (2 nights - so 150 steem total) to help cover the cost of accomodation.
What a super deal! We want to give a HUGE shout-out to IJ (@steemcafe) and the entire Steem Creators crew for donating the two tickets in this giveaway! How generous!! The 150 steem is being donated by @anomadsoul and myself. You must prove you will be physically attending the event in order to receive the accommodation stipend.
That's It!


Ok... maybe that was a lot of things - but we can't wait to see your posts! Don't forget to include your treasure hunt answers and follow the criteria outlined in the Contest Rules section.
Also - don't forget to read @anomadsoul's POST before making your entry!
---
This contest is an idea by @coruscate and @anomadsoul and we are organizing it because we want to see you there, not because someone asked us to do it.
Here is a YouTube link for anyone who needs it.
XO, Lea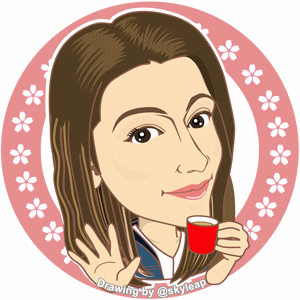 ---
More of my Steemy Adventures
---
---
▶️ DTube
▶️ IPFS