Challenge #2 : Diving into DeFi -Tron, Wrap Steem & Justswap
This post is to take part in Steem Crypto Challenge Month #2 : Diving into DeFi organize by @steemitblog which you can find the details here (Steem Crypto Challenge Month #2 : Diving into DeFi)[https://steemit.com/steemcryptochallenge/@steemitblog/steem-crypto-challenge-month-2-diving-into-defi]
---
I have joined Steem for more than 2 years as of now. Before that, was get attracted by its slogan of social media over blockchain , so I have switched mainly from my previous blog space from blogspot to steemit.
Along the years in Steem world, then open up my mind into blockchain world more . I am not sure if others would be curious as me those days, wondering why so many apps in Steem world named after with 'D' . Initially I thought this D means "The", same concept which applies in many names in daily life eg restaurant name , condo project name etc. But as I stayed longer in Steem world , then I realise the "d" means decentralized. There it justify many names eg Dapps, Dtube ,Dlive , Dlease etc.
After Tron's Justin Sun buying in the Steem, many of the Steemians chose to leave and hard forked out to form another community Hive. But to me, this event also prompted me as newbies in cypto world to know more about all related stuff happened around Steem , Hive & Tron.
As I have the experience of community hardfork in Steem , there I paid more attention to news when I read about Tron, which I never heard before. I found quite surprise when found out some portion of USDT is TRC20 token and not ERC20 purely.
Then when the Defi heat came, then I also notice Tron's world also having their own swap - Just Swap, which is easily seen on Steemit website.
One more interesting part I find out is, apart from ETH-donimated Defi space, there is Defi environment in Tron & EOS too, though comparatively much smaller.


Source: https://just.tronscan.io/#/scan
Also Sun.io , which all these I find it quite easily remembered as related to the founder Justin Sun's name.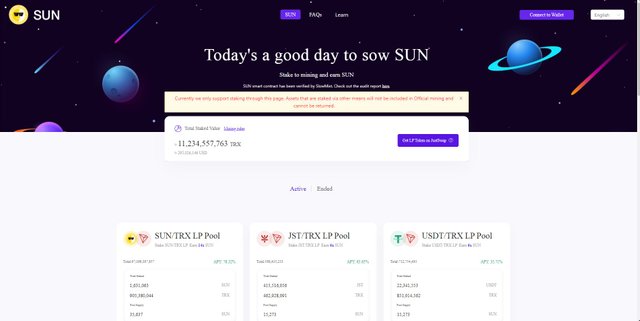 Source: https://sun.io/#/sun
What excite me more , is the launch of Project W. Under this project W, Their first project is wrapped steem (WST) !!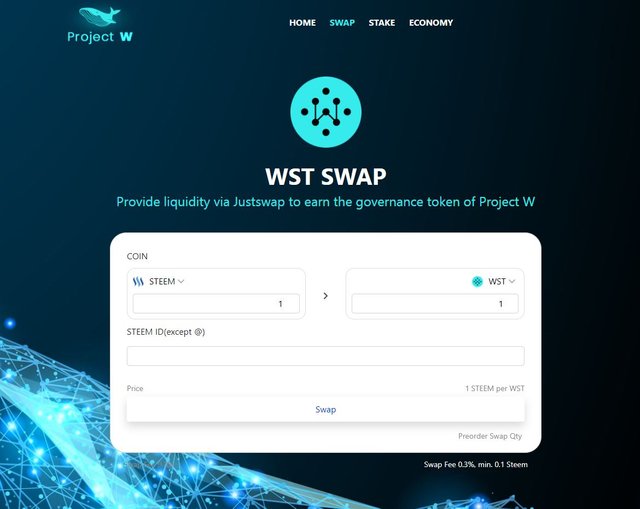 Source: https://projectw.io/swap
So meaning my steem which is more or less stuck inside steem wallet, has got more growing opportunity because Tron network is much bigger in value compared to Steem. So using my Steem, I can change it into TRC20 token and earn more interest and do more meaningful stuff. 1 Steem equals 1 WST ! wow wow wow
Never do I imagine , concept like wrapped bitcon (WBTC) into ERC20 token, can happen to Steem that fast also , due to so much smaller compared in size.
Definitely I recommend friends who have Steem , to at least take a look on this Project W and see what it can achieve for us !
Details can be found below:
https://steemit.com/projectw/@projectw/project-w-introduction-of-the-token-economy-of-project-w
---
No pain no gain, I feel so thankful to Steem as by taking part in Steem world, I get to learn so much about crypto space . Now the hot theme Defi also can be learnt and practiced using Steem, thanks to the evolvement & growth in the Steem & Tron platform.