Examples of DeFi projects that will give you a nice interest! - A DeFi dive :)
This article is a part of the #SteemCryptoChallenge hosted by @steemitblog... The topic is Diving into Defi!
In this post I would love to share some thoughts on how you can actually make money and enjoy a nice interest because of the DeFi boom that we are currently experiencing. We are all looking for ways to get passive income, and I believe that it is even easier now than it has ever been before due to the DeFi movement. So, in this article I would simply love to share a couple of places and opportunities we all have if we want to make a passive income!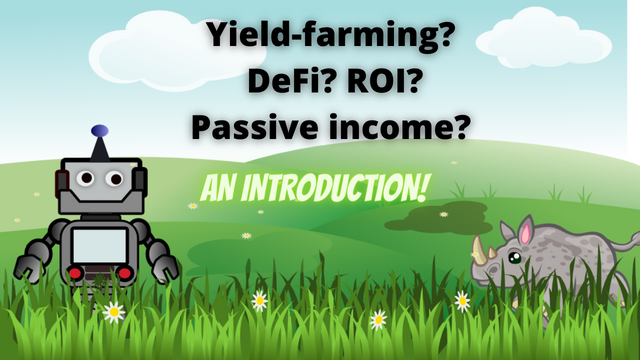 A warning before we continue!
Investing in cryptocurrencies is always a risk. That is why you should look for more than just interest. Do not invest in projects that you do not believe will succeed or that you feel suspicious about. It is important to understand this, because you might get out really bad in the end, even though the token you have been staking (or whatever) has increased in 50% the last year. Let me show you this with an easy example.
You buy 1000 IAGBR tokens (I Am Gonna Be Rich) for 1000 USD.
You stake the tokens and you are promised 50% APY.
One year later, you have 1500 tokens.
So far, this looks good. But meanwhile, the actual price of the token has dropped to 0,1 USD, meaning that you have 1500 tokens worth 150 USD. It could also go the other way, but it is important to notice that there is always a risk involved as you invest in cryptocurrencies!
The safe DeFi investments!
There are some low-risk investments available in the DeFi world, and I would say staking your stablecoins like USDT, BUSD, DAI, and similar "FIAT-pegged" currencies to be the safest version. You will find such opportunities on most big exchanges, and the interest rates do vary a bit. For example, if you lock up USDT/BUSD on Binance for 90 days, you can now get a 7% ROI (that is the yearly interest).


Interest rates for dollar-pegged currencies on Binance
On HotBit, you get a 4% interest rate (appx) just for keeping USDT in your wallet on the exchange. But, if you lock it for 1 month, you can enjoy somewhere between a 10% and 13% rate, depending on which investment option you pick.


Interest rates for dollar-pegged currencies on Hotbit
An online "bank" - a good example of DeFi - Nexo
So far I have only mentioned cryptocurrency exchanges. But, then you have Nexo.io, an example of what I would call a decentralized bank. Here you can add your cryptocurrencies and real FIAT currencies. Simply by storing them there you will earn an interest rate. For FIAT currencies and USD-pegged currencies, you will earn an 8% interest rate per year, while you will earn a 4% interest rate per year for cryptocurrencies. However, if you own Nexo tokens worth at least 10% of the entire stack you store at Nexo, those rates will jump to 5% and 10% per year.
But, Nexo is about more than just storing money and getting interest. Based on your value on Nexo.io, you can even get a cryptoloan, with your stored value as an insurance. What is this? A brilliant example of DeFi, that is, decentralized finance. Here you can earn interest, store your money, and even get a loan without using a 3RD-party bank! That is kind of revolutionary! :)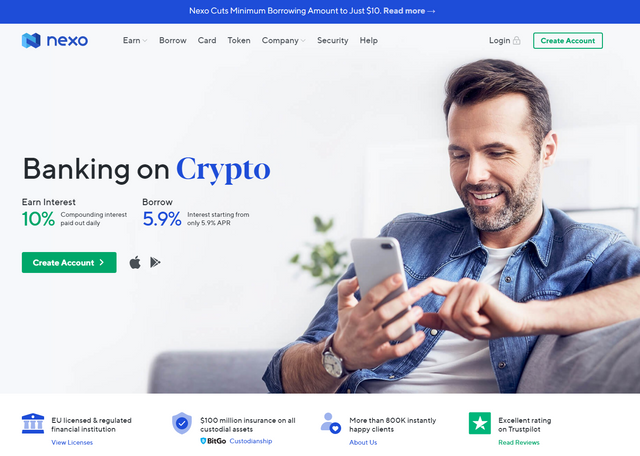 Quite similar to Nexo you can also find the very popular MakerDAO... but personally, I find Nexo to look much nicer, and to be much easier to use and understand!
Other DeFi investment opportunities
There are many other opportunities as well for those who want their cryptos and their money to work for them. The DeFi tokens are enjoying a nice ride, and that is why some exchanges have DeFi investment packages. These are not coming with a steady ROI, but it changes every single day, and in a worst case scenario, it can even come with a negative interest. I have followed the USDT and the ETH DeFi Smart Pool on Hotbit, and they have had daily interest rates between 10% and 400%. But, they seem to steady out around 10-20% at the moment. They also have way higher interest rates currently for more "unstable" tokens. You don't have to lock them for a year, so you only have to wait for one day before it turns active, and when you decide to redeem your investment, you will have to wait for 1 one day before you actually get your tokens and your interest back!
On Binance, you can stake BNB and BUSD in the Launchpools, and simply by storing them there, you will earn an interest by getting all sorts of other tokens in return. These launchpools normally last for 30 days, and in that period, you will often earn an interest of between 30-50% on your investment. What does that mean in practice?
If you stake BNB worth 1200 USD for 30 days in order to earn FL tokens with an interest rate of 50%, you will have earned 50 USD (in FL tokens) by the end of the period. Since you get your tokens handed out every single day, the interest rate will of course vary, depending on when you sell and at what price you sell your earned tokens.
All of what I have described right here can be categorized as yield farming, and even though it has fantastic interest rates, it is very important to do your own research before you get started.
Swapping decentralized and earning tokens through liqiudity pools!
This is a different option that is 100% DeFi, and very interesting. This JustSwap and UniSwap (the two most famous platforms for this sort of activity), you can now buy tokens and trade tokens, totally decentralized. That in itself is cool, but if you are interested in making some passive income, then you can also use your tokens and store them in liquidity pools. If you do so, you will earn money based on the activity in the trading pair and how much you have stored in the liquidity pool. I don't have personal experience with this, but it is way better than just leaving your money behind somewhere without an interest or any other gain at all.
A passive income with Steem!
If you look to earn a passive interest, you should not forget about the #steem platform either. If you buy tokens and make sure to vote 10x per day (you can do this yourself or join a curation trail that will do the voting for you), you will for sure earn at least a 10% interest rate per year in Steem. Of course, this is a very volatile currency, meaning that you might see that the Dollar value of your Steem tokens has decreased, but you can also experience that it has boomed and will be worth way more. If you anyway invest and use the platform, make sure to take advantage of the rate of interest available simply by voting for posts each day.

But, if you want a steady and "safe" interest rate, you might want to use the basic "written-in-stone" interests for locking up stable coins on the biggest exchanges or on platforms such as Nexo.
What do you think?
I have shared some thoughts on getting a passive income online thanks to the DeFi boom and all the opportunities it has brought along. I hope this has been useful for many of you.
Please write some words if you have thoughts, suggestions, or any other idea that you would like to share!