Kwame's Favorite Cryptocurrency Exchange
I got to know about cryptocurrencies in 2017 from a friend. Prior to that, I had been hearing about Bitcoins in movies. It was mostly used by gamers and computer nerds for payments. I didn't make much of it and I'm sure it costs just a few dollars or even cents back then. If I had joined the crypto world back then, I might have been a crypto millionaire by now.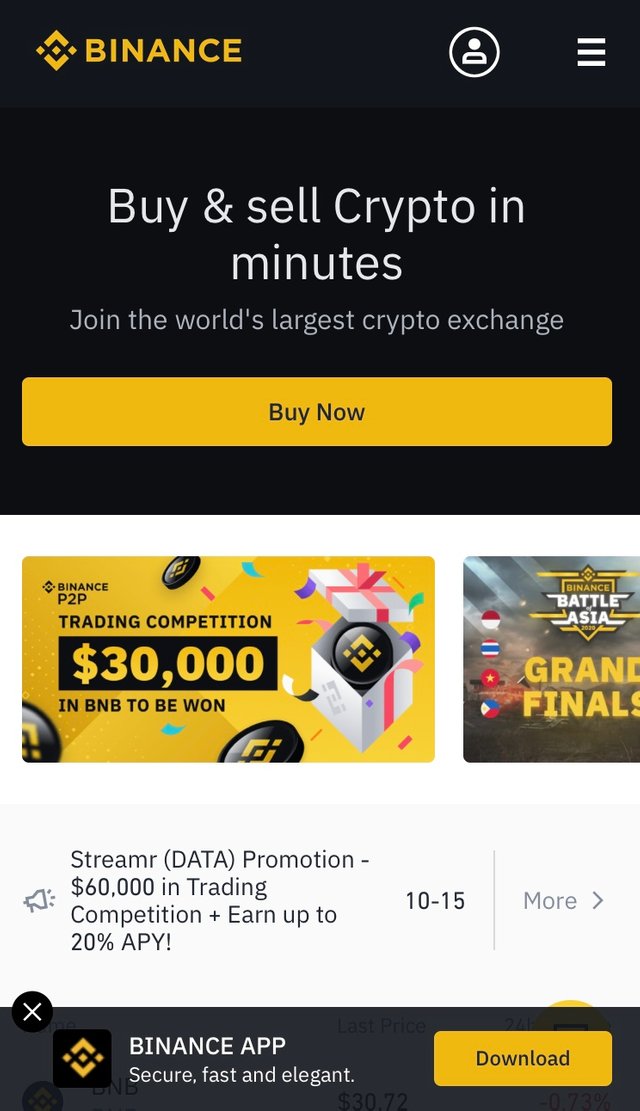 I still don't know much about cryptocurrencies, it's a broad subject. My friend who told me about cryptocurrencies told me about bitcoins, ethereum and steem. He told me there were a lot more but these ones are those that I needed to concern myself with. He told me about steemit.com being a platform that I can make posts and earn money.
When I earned some few steem from my posts here, I was wondering how I could withdraw them. He told me the only way to withdraw them will be to convert them into Bitcoins since at the time, that was the only cryptocurrency that could be sold from my part of the world, Ghana. He said there was another option which was to sell them to him but when I checked, his price was even lower than using an exchange with all the fees.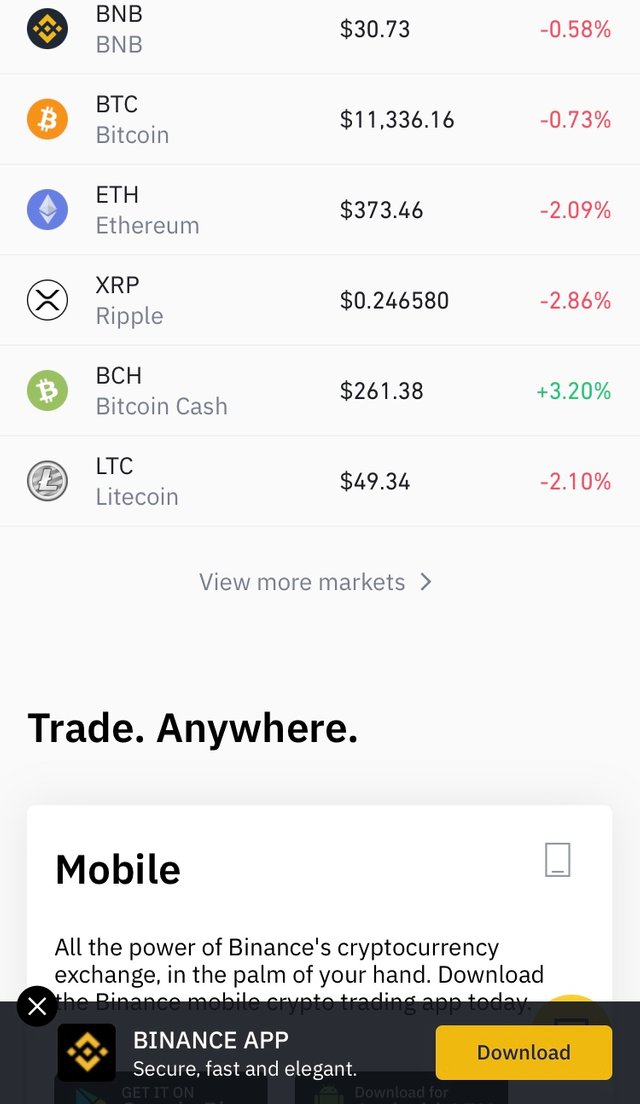 I sold to him though, because I didn't know much about withdrawing crypto and after that, I did my own research. I searched for the best cryptocurrency exchanges and after reading about them, I chose Binance.com. I've been using Binance since then although I've used some others occasionally.
Which is the best exchange in your view and why?
Binance is my best exchange because it's my first love. Binance it my favorite exchange because orders get matched pretty easily. Might be because it's the most used exchange, and that's what I like about it. I like using Binance because of the withdrawal fees. I've compared Binance's withdrawal fees with Huobi, Probit, Bitterex and Bitshares, and I like the withdrawal fees of Binance.
What are the best features about this exchange?
Binance offers reduced trading fees if you use BNB to pay for the trading fees, that's one feature I really love. Opening Binance on my phone has always been smooth. I've tried opening Probit on my phone and it asked me to download the app to continue. When I open Huobi on my phone, it opens in desktop mode and I have to be scrolling sideways to get the whole page. Bitshares sometimes don't open on my phone. I'm yet to have any problem opening or using Binance on my phone. It's easy and fast.
Are there any features you think that the exchange needs to improve or add?
I don't have any issues with Binance, but I do have something I think will benefit me if they would add to their features. I've noticed that it's possible to withdraw directly from Binance to Naira, the Nigerian currency and I wish they could add Cedis, the Ghanaian currency to it. I recently lost 12$ on a local platform that buys cryptocurrencies and pay in Cedis, my local currency. If Binance had a Cedi withdrawal, I wouldn't have lost any money to the local exchange.
How long have you used this exchange, and how did you find out about it?
I've known Binance since 2017 and I've used it since 2018. I knew about Binance from a google search of the best crypto exchanges. I've not regretted using Binance since. I used Binance first time when steem's price was on the all time high and I've been using it since then.
How often do you use the exchange and what sorts of transactions do you do on it?
I use Binance about 3 times a month this days. Was using it quite often in 2018 when I had money to trade. I was trading on Binance trying to make some extra cash, but what I had wasn't enough to make much profit so I gave up after sometime. If I had money, I would still be trading though. These days, I mostly use it for deposits and withdrawal.
Has the exchange run any promotions or contests that you have taken part in?
I have taken part in staking cryptocurrencies to earn extra, don't know if that qualifies as a contest or promotion. There was a time you could stake/lock some cryptocurrencies that you wouldn't be using, and earn money from them. I remember staking some Binance Coin or BNB. What I staked wasn't a lot so obviously, the interest wasn't much but it was a learning experience . I didn't need the BNB at the time, and it didn't hurt staking it.
Would you invite your friends to join the exchange? Why?
I would recommend Binance to my friends because it's easy to use. A crypto newbie will find Binance easy to navigate and its very fast in-terms of deposits and withdrawals. Even with an unstable internet connection, it's pretty easy to open Binance as compared to some other exchanges like Bitshares.
If you didn't use this exchange what would be your next choice?
If I wasn't using Binance, Probit would have been my next option. My problem with Probit is that I'm asked to download the app instead of using the web interface. Another issue was that I had to use Gmail to sign up on Probit. I like Probit because a lot of new/unpopular cryptocurrencies get listed there and it makes trading quite easy for me.
---
PHOTOS ARE SCREENSHOTS FROM MY PHONE