Bitcoin: Understanding its Security and the Underlying System.
Bitcoin is a fully digital currency with no government issue it and no banks need to manage accounts to verify the transaction. It uses a system of decentralized trust-less verification based on some cryptographic functions. It uses a public ledger with a digital signature.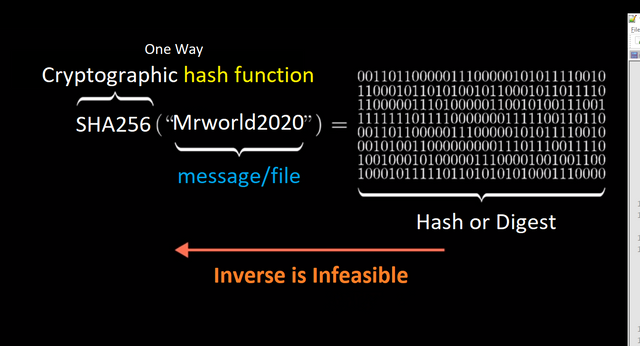 Bitcoin uses one-way cryptographic hash function
In technical terms, it uses a function like this to produce a signature.
E.g. Sign(message, secretKey) = Signature.
Actually, no one can copy one of your signature and forge it. The signatures are verified using the public key. It is 256-bit signature and is completely infeasible to create a signature without knowing the secret key and only signed transactions are valid.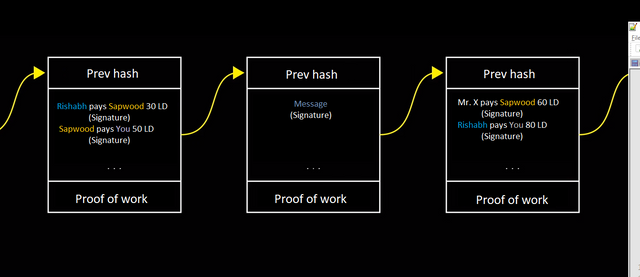 Bitcoin is blockchain-based system.
Bitcoin is blockchain-based system, that is maintained by decentralized nodes. Some of these nodes are called miners and responsible for adding new blocks to this blockchain. Mining requires to do a lot of work. Miners are actually listening to transactions, creating blocks, broadcasting those blocks, and getting rewarded with new money. They are responsible for validating all transactions and each validated block contains a block hash that represents the work done by miner that's called proof of work. Also, if they see two different chains of blocks with conflicting transaction histories, they differ to the longest one with the most work put into it. Proof of work helps to protect the network from numerous different attacks. Proof of work may not be the most efficient solution but it is still one of the most popular methods for reaching consensus in blockchains.
Because blocks are chained together just like the above picture, so instead of calling it a ledger, it's called blockchain.
Is Bitcoin = Money?
In simple words, Bitcoin is money and as we know that money has a value so it's interesting to understand that from where Bitcoin get its value?
So let's understand first Fiat currency. Fiat currency is not backed by any commodity like gold and Bitcoin also doesn't have gold backing it but If we take an example of our currency, the government can print more money any-time so our money will lose value but Bitcoin has a limited supply of total 21 Million. Bitcoin is decentralized, meaning no one controls it so people value it more. People are buying/trading bitcoin at different levels e.g. at 3000, at 7000, and current levels which increases its value. People can buy any quantity or a small part of Bitcoin. When trading or transacting Bitcoin, It's anonymous so it cant be traced back to you. It's transparent and all transactions are publicly available in the distributed ledger.
Problem that Bitcoin solves
The one main problem Bitcoin solves is the problem of the middle man. What is the meaning of the middle man, who is the middle man?
If we are trying to send money, the Middle man is bank. Let say, I want to send money to my friend Rishabh. Rishabh leaves in America and he has an account in Bank-X.
So I go to my bank Bank-A here in India and say, I would like to send money to Rishabh, I fill in some forms and request to initiate a transfer. So my bank Bank-A may not send money directly to Bank-X, Bank-A may go to Bank-B and say one of our client would like to send money overseas. Then Bank-B will say, alright we will do it and Bank-B will go to another bank which is in America Bank-America and say, we have a forex account with you and we would like you to send money to Rishabh. And, then if all goes well, Bank-America will send money to Bank-X and Rishabh receives the money.
Actually, there is a problem with this process or system. At each step, a small amount is charged and I am the one who is getting charged but not the bank. Because the Bank is the middleman, they control our money. This scenario can change a little bit if sender and receiver both have accounts in the same bank but still, there will be a charge to transfer the money overseas to Bank-X.
Another issue is, even if I am not doing anything/ any transaction, I don't really know what's happening in the Banks and its accounting books. They might be giving it to low Credit rated organization or lending it to high-risk instruments. So because bank controls the entire system, they can charge more money whenever they would like to. We often see an increase and decrease in the transaction/transfer charges. The worst thing is that they could keep printing more money to give our money value but actually, our money will lose value because it's depleting more.
With Bitcoin, It does not have that problem because Bitcoin is limited, The creators have already said that a total of 21 Million Bitcoin will ever exist so no one can print or create more. No one controls Bitcoin so no one can say the next day that we will charge you extra or more fee. Ultimately we control the Bitcoin, who to send it, how to send it. This makes Bitcoin valuable.
To be continued...
Thank you.
Cc:-
@steemitblog
@steemcurator01
@steemcurator02
---
The price of Bitcoin (BTC) will be 13050 USD
---
The post payout is set to "Power Up 100%".