My favorite Cryptocurrency #SBD, how can we get businesses to accept it as payment?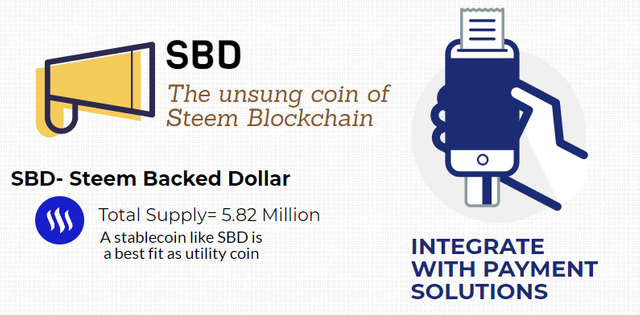 My favorite Cryptocurrency #SBD, how can we get businesses to accept it as payment?
Whilst I love both store-of-value coin as well as stablecoins, I would say stable coin as a more general thing, a day-to-day thing in this space. Both have got excellent opportunities and use-cases.
The crypto ecosystem has gone bigger & will continue to grow bigger. The stable coins market dominance has also increased consistently since 2017. The speculative coins go up and down, could be volatile, whereas stable coins will always absorb those uncertainties, volatility, and plays a pivotal role if you are a part of the ecosystem & genuinely need a consistent paycheck; stablecoins have catered to those use-cases.
That said, being a blogger in Steem Blockchain, I am lucky to be part of such an ecosystem where I have the privilege of a both, a speculative coin(STEEM) as well as a stablecoin(SBD) belonging to the same blockchain(Steem Blockchain).
Sadly many have not recognized the importance and beauty of SBD. It's dear to me. In fact, on a social platform like Steem, it is more important. It is designed as a debt instrument backed by STEEM to reward the content creator who in general always seeks a consistent payment. That means, from the inception it is conceptualized to make it a sustainable structure in terms of reward, to retain the bloggers without having fear of uncertainty, volatility, etc.
Some of you might argue that SBD does not very much obey the 1 USD peg when we compare it to USDT. While that is true, it is not that bad either. SBD hovers around 1 USD in a range of 0.9 to 1.1 USD most of the time.
So I would say SBD is my go-to coin to get businesses to accept it as payment, as a utility coin. I have valid reasons to back this claim. I will go into details one by one, why and how.

What are the properties of a Blockchain & its token to be considered suitable as a payment method?
Scalability
Transaction Fees
Auditability
Liquid and Volatility within a range
Low Supply
Listing in a major third party exchange
Scalability
High transaction throughput is important for any coin to be considered as a payment method. Not just that improves the performance of enterprise-grade applications but also makes the transfer quick.
In terms of scalable Blockchains, many improvements have been done since 2017. Even the major currency like BTC, ETH has gone with 2nd layer solution to improve scalability. We have many other Blockchains that were introduced in the crypto domain as highly scalable blockchains to cater to seamless performance for enterprise-grade applications.
Steem Blockchain is one such blockchain which is scalable since its inception. It can scale 10000 transactions per second. The block producing time is only 3 seconds in Steem Blockchain. So the transfer is near-instant.
Transacion fees
For the consumers, anything is dear which comes with zero transaction fees. In the legacy digital payment system people have experienced how taxing it is when they used to pay 2% or more for each transaction and the payment processor like Paypal, Neteller makes millions by collecting those high Tx fees.
With the advent of BTC & Blockchain technology, the users realize an alternate way, a way where the transaction fees are more feasible, practical & reasonable. However, with the epic rise of BTC in 2017 the transaction fees again went up. So the crypto space again started contemplating on transaction fees. Many solutions emerged to either make it cost-effective or zero transaction fees.
Steem Blockchain is one of the very rare Blockchains which does not charge fees for broadcasting a transaction in this chain. And definitely, it scores the most in the context of enterprise-grade integration, consumer satisfaction, cost-effective business model. A payment method will always find itself in a comfortable zone when it finds a chain with zero transaction fees. That gives leverage to the wide acceptability of the payment method.
Auditability
In enterprises, e-commerce application it is always fair and transparent on the part of the consumers and businesses when the transaction is auditable by anyone.
The public, open-source blockchain always excels in this with a public distributed ledger where anyone can fairly audit a transaction. This also ensures timely resolution in case of any dispute.
In Steem Blockchain, anyone can track a transaction, audit a transaction. It is open and visible to all.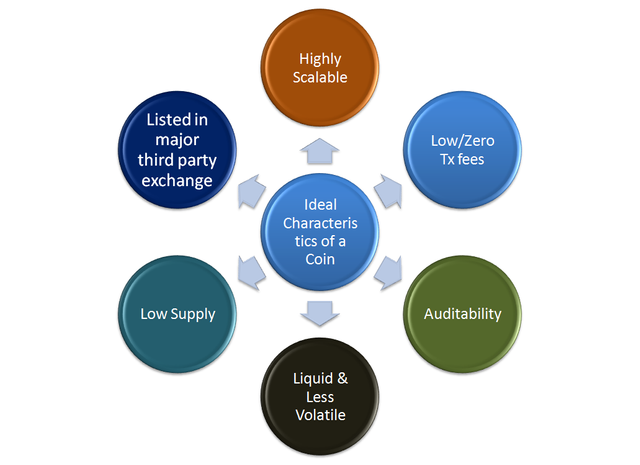 Liquid & Volatility within a range
For a crypto token to be considered a suitable one as a payment method if it is liquid and less volatile. Ideally, its volatility should be confined within a range.
For example, BTC, ETH, etc are the most liquid coin today. Of course, it has taken a significant amount of time to achieve this feat. When a coin becomes more liquid its presence in the crypto ecosystem also goes ubiquitous, its presence can be felt in every exchange.
Although cryptos are highly volatile, Bitcoin mostly remains in a range most of the time.
Steem Blochcian has two coins, one is STEEM and the other is SBD. STEEM may not score on this point, however, we have a stable coin like SBD in this chain. So having a stablecoin will automatically nullify the concept of volatility to be considered as a payment method. Moreover, it is a debt instrument, so perfectly represents the use-case of a payment method.
Low Supply
The number of tokens in circulation and its inflation should be within a reasonable limit to be considered as a payment method.
BTC is with a max supply of 21 million. Inflation is also very low, therefore suitable as a payment method. But it would be unfair to compare every other blockchain with Bitcoin. Every Blockchain has its specific use & purpose. Depending upon "what it caters to", the inflation could vary.
Steem Blockchain the supply of STEEM is 367 million but the supply of SBD is 5.82 million only. Moreover, SBD is a stable coin. The debt to ownership ratio is also restricted to an upper cap of 10%. The Blockchain does not print any SBD if the debt ratio goes beyond 10%. So SBD as a payment method perfectly fits the use-case of a utility coin.
Listing of the coin in major exchange
A coin should be listed in a third-party major exchange, for example- Coinbase, Bittrex, Binance, etc to consider it as a suitable payment method. This is an obligatory requirement many payment services, POS, etc ask for.
STEEM is listed in major exchanges like Bittrex, Binance. SBD is listed in Bittrex. So I think there won't be any issue to get SBD as a payment method if we integrate with the payment services.
However, I strongly feel that effort should be made by the community to get SBD listed in Binance too. Binance has already listed STEEM, I am sure it will not take much effort to get SBD listed there. Many authors here in this ecosystem earn SBD and they have to convert it to STEEM every time. I hope volume won't be an issue in Binance.

Coin integration with Payment Solutions
The proposition of integrating a coin with a payment service benefit both consumers as well as businesses. The business expands its consumer base and the consumer can directly purchase goods and services by directly using the coin instead of fiat; thereby saving time, and conversion fees.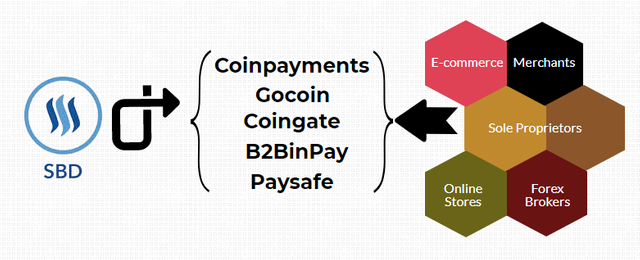 There are many payment services/solutions with popular ones being Coinpayments, Coingate, Gocoin, B2Binpay, Paysafe, etc. Integrating with these payment solutions would imply that the coin will be getting exposure directly to many businesses which include vendors, sole proprietors, major online stores, forex brokers, merchants, etc.
Coinpayment has a wider reach, with a larger network of vendors serving 182+ countries.
However, it will incur a certain amount of fees to get the coin listed there. The fees in Coinpayment is 10,000 Euro. And they also expect a minimum monthly volume of 5000 Euros.
So we need to make sure that our community size is good enough to ensure that the coin remains listed with sufficient volume, otherwise, it will be simply a waste of money.
We need to analyze the data by taking surveys, online consumption patterns of the various user's of the community that is existent in the Steem community, and based on that we can afford to spend such amounts to get the coin listed.
The other passive approach is to start at a smaller scale by inviting the individual proprietors to create a model in which they can start accepting SBD as a payment method.

How do I use SBD?
I am a regular blogger in Steem Blockchain I generally earn SBD as liquid payout and SP as staked payout. I have developed my reading habit from the last 5 years or so. It was the year 2017/18 I got introduced to Steem Blockchain and its ecosystem. In the initial years, I was not active as a publisher. But I continued with the reading habits gathering information related to crypto, delving deeper into the whitepaper of various blockchain projects.
Most of my earnings from Steem Blockchain are spent on daily essentials. I also used to pay internet bills, electricity bill using SBD. I always have to go with a 2-fold exchange o realize my fiat. First, I have to convert SBD into STEEM, then from STEEM to USDT, and then finally to my local currency INR.
Just imagine an online store JioMart, if it starts accepting SBD, I will be able to save a lot of time, save exchange fees to directly buy the groceries, essentials, etc.

Which platform I like to trade cryptocurrency?
Initially, I was trading in Bittrex, but now completely dependent on Binance, because it is cost-effective in terms of exchange fees and withdrawal fees. Moreover, the transfer of some of the coins from Binance to wazirX(Local exchange of India) does not cost withdrawal fees. So Binance is my go-to exchange.

What changes does cryptocurrency bring to your life?
I have always looked for survival through the crypto ecosystem and since 2018, I have realized that it is possible. My life has gone through many ugly turns and I badly needed a scaffold in 2018/19. I struggled but continued with perseverance. Luckily 2020 is shaping up nicely as I have got an opportunity in Steem Blockchain to work hard, add value to this chain, and ultimately get rewarded.
As I said earlier, many people have not taken SBD seriously, for me SBD is the unsung coin of this Blockchain. It is that stable coin that is feeding people like me daily. The Steem Blockchain has been programmed to ensure a weekly paycheck to many bloggers.

Conclusion
Of the total reward pool, 10% of the pool is allocated for Steem Proposal System. If we can spend a part of this pool to list SBD in payment solution/POS, then I think it will serve the use-case of payment method, a utility coin. By default, a stable coming is a utility coin, an e-commerce coin. We just need to spend additional resources to make it a reality.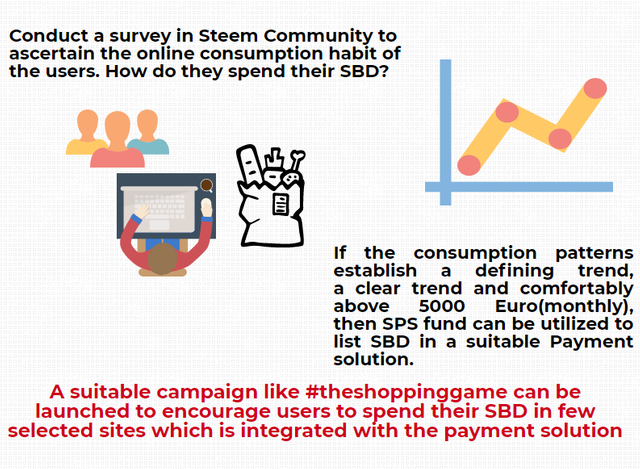 We also need to build a community and should know the online consumption pattern of the users of the community through survey, so that the monthly volume of SBD consumption of the users can be ascertained through data analyses, accordingly, we can plan for SBD to get listed in payment solution/services as a payment method.
Thank you.

Cc:-
@steemitblog
@steemcurator01
@steemcurator02

Unless otherwise stated, all the images, infographics, charts, tables, etc(if any) are my original works.
---
The post payout is set to "Power Up 100%".