Steem Proposals. New feature: separate voting page
Hey guys. Wanted to share a few things I've been working on this weekend.
So I spent quite some time implementing a solution to show the actual votes of each proposal because at the moment it's not accurate (inactive proposals are not updating their votes at all). I did it but then figured out that it drastically affects the performance and the overall user experience becomes not satisfying which is not my goal obviously. I was pissed at first but I used all of this for individual proposal pages that looks fantastic tbh.
I also found a bug with voters modal that reduced the performance of search and overall loading, which is why you can view and sort things even faster. You're welcome.
Here's a few things I added in this release:
A separate voting page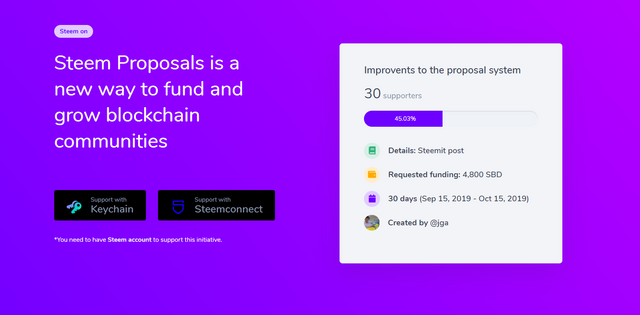 This one I created specifically to attract people outside of Steem community and onboard people to Steem. It looks similar to funding campaigns but I'll make adjustments as we go, just curious about your initial feedback. I think we can work on it together and create something that will help to get more users to Steem as well.
You can also check the voters of this specific proposal. The total votes are calculated based on Steem Power (and proxy) of all of the voters of this particular proposal (something I described earlier). This is especially important for inactive proposals that aren't updated, and according to Steemit devs, this is not a priority so it just had to be implemented. It's very confusing because you can't see the real votes if you don't calculate it manually.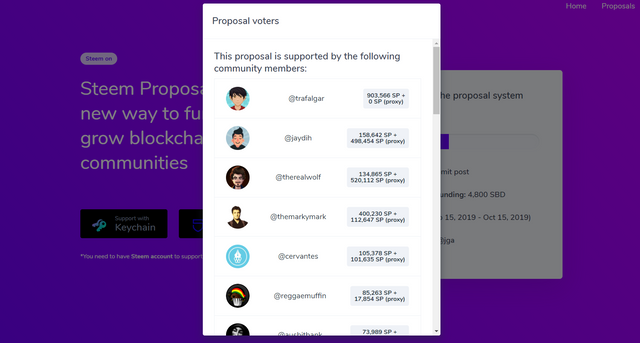 Relevant timing
Added the number of days to track when the proposal ends or to see when it starts. This gives a lot more relevant data, than just showing starting and ending dates.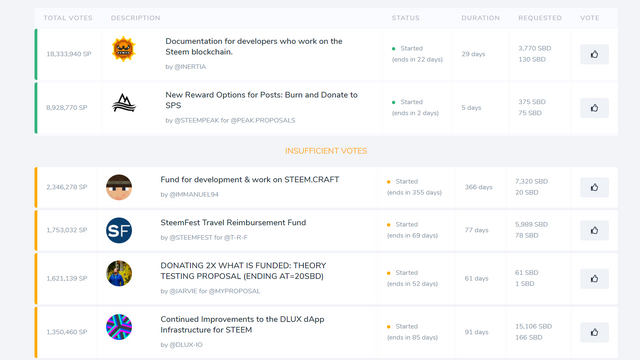 Naming sync
Changed Active to Started, Inactive to Upcoming to be in sync with Steempeak and upcoming Steemitwallet UI.
Filtering
Added filtering by All, Started, Upcoming, Completed and by @dmitrydao (me, lol).


Proxy votes
Added proxy votes for each proposal because they do count when calculating total votes.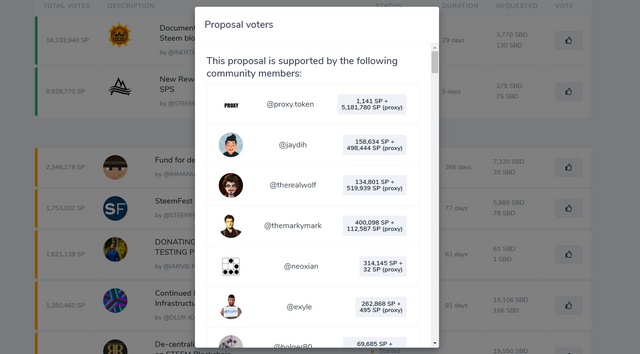 That's it for now. Hope this brings some value for your day-to-day proposals' experience.