Steem Proposals proposal (reimbursement and upcoming features)
Overview
Steem Proposals is a website that displays community proposals on a Steem network. It is an open sourced initiative that is already live and was one of the first UIs working with Steemit testnet. The project received a decent feedback and endorsement from Steem community, including core devs from Steemit and witnesses. You can check the project by following this link.
How is it useful for Steem?
There's no doubt Steem Proposals System needs a good and modern interface that can be viewed on any device and used by average people, not only blockchain educated. The benefits of such UI are quite evident – to attract more people that can help to grow and expand Steem network and community faster, decentralize the community development efforts, as well as stimulate investors to power up STEEM to vote for suggested proposals.
Current results
If you've ever used the website, you know it's packed with a lot of things. I'm not planning to stop on adding more because I want this to be the default place for you go to and check out recent proposals and workers' progress.
Here's the list of existing features:
view the list of proposals by its category (all, active, inactive, expired)
check the workers who have already published at least one proposal
look through all of the proposals a particular worker is currently working on or has already accomplished
approve or remove vote, as well as create a proposal using Keychain and Steemconnect
A few screens in case you haven't seen the platform yet: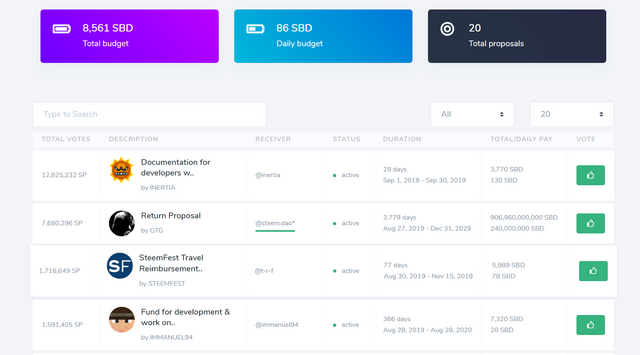 *A list of proposals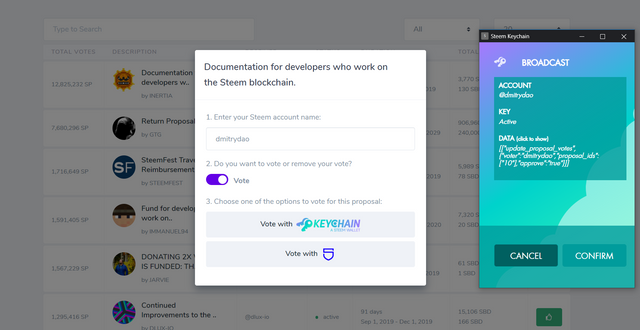 *Keychain Voting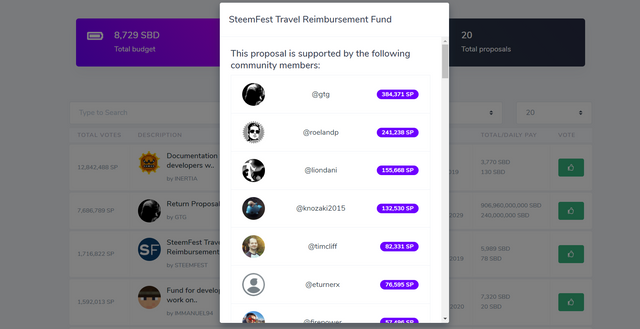 *Proposal's voters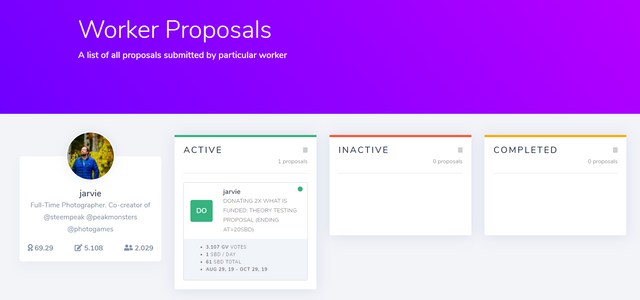 *Proposals by individual worker
Upcoming features/milestones
I'm not really sure I can compile a list of everything I have in mind (it's way too long) but these features are the essentials:
Monthly archive of proposals. The system is new but the time flies fast. That's why it's crucial to look through proposals by selected time frame. At the moment I see it as monthly/quarterly/annually.
Keychain login (almost done). This one will allow to create special and unique features for people who apply for funds
Personal page for individual worker.
Milestone reporting tool. I personally think this is the most important one and can bring the most amount of value to everybody because tracking anybody's progress via reading the comments is not the way to go. This one can take quite a while but let the challenge is not stopping me.
Improve mobile UI. The website is already mobile-optimized but it can be improved significantly.
One or two selected features by community.
Tracking progress
To track the progress I created Github project with cards. Everything in Backlog are the things I'm planning to do, In progress means I'm working on it, Completed means I'm done. And since this is an open sourced project, you can always check my latest commits. I'll also try to do weekly reports on my Steemit account @dmitrydao.
My background
My background is mostly technical. I worked in a blockchain company (Paytomat) for over 2.5 years now, mostly as a business developer. Coding was always my hobby but I've never really made anything valuable before. Back in 2017 I was quite active in Dash community. I received funding for several projects on behalf of our company, which allowed me to learn a lot about DAO, what matters to voters and a few other insights. One of my goals as a witness is to apply everything I've learned into Steem Proposals so that we can become just as big or bigger.
This year I started building products for Steem community. The most significant projects are Steem Apps Explorer and Steem Proposals. They are both open-sourced so you might check out the code if you're a developer yourself.
Time frame and funding
I've been working on this platform for about two months now, that's why it includes reimbursement payout, as well as the funds to continue development of new features during September/October. My costs include product development only, roughly 6000 SBD in total (for July-October). I will start working on new features as soon as I see enough votes for proposal to receive funding.
P.S. Removed the proposal, you can support my work with witness vote instead for now.
---