Simplified Income/Outgoings Report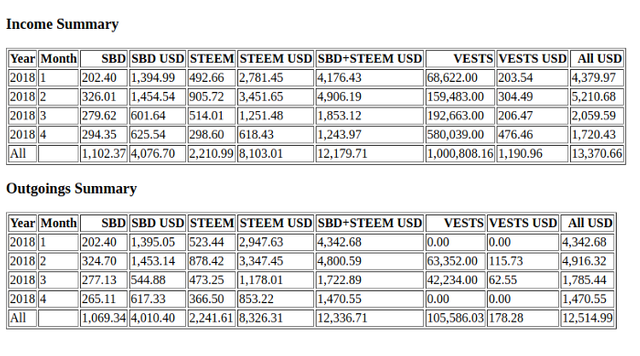 http://www.steemreports.com/accounts-reporting-tool-income-outgoings/
I have added a simplified way to view a monthly summary of the all incoming and outgoing transactions in a Steem account. It shows the totals both in the native currencies of the platform, and also in your choice of local currency.
Below the tables is a link which allows you to download the summary data in CSV form for importing into a spreadsheet.
Please remember that this data may not be totally accurate. It is subject to some limitations in data collection and possibly errors or omissions. I suggest you carry out your own checks to ensure you are happy that your records present a true reflection of your financial position.
We will not be held responsible for the use or misuse of the data produced by this tool.
The most notable limitations I am aware of are:
No data is available for prior to January 2017.
The tool assumes the vests to steem rates change linearly over time as an approximation, but this isn't quite the case in practice.
The currency conversion rates used are hourly averages until December 2017, and thereafter minutely averages, with a couple of short gaps (less than 3 hours) which have again been linearly interpolated.
If you have too many transactions on your account, the report may not cover the range requested (so as not to overload servers)
---
This is another step in a slow process of refining these tools, so they can eventually be combined into a proper tax calculation package as time allows. If you have any suggestions, I'd be pleased to hear from you! :)