Steemerica 2019! The Steem Conference of the Americas - Early Information Release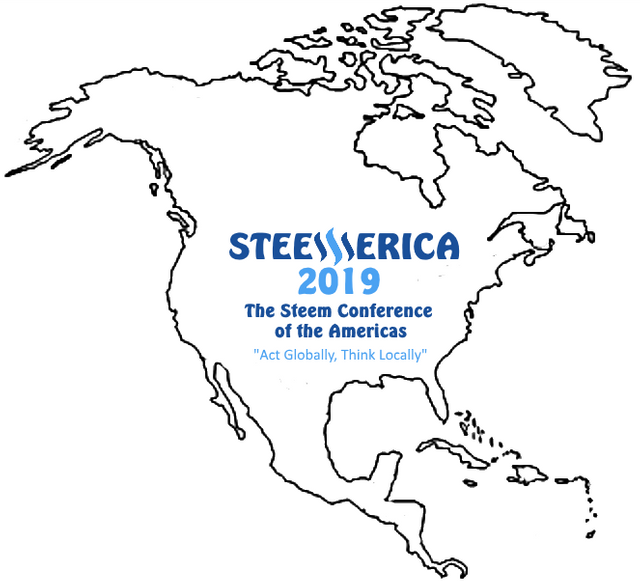 What is Steemerica 2019?
Steemerica will be a lot of things, but perhaps the simplest thing to call it is, The Steem conference of the Americas
Some have called it a "steem family reunion"
Others have called it a "steem meetup"
Still others have said, "steem trade show", "steem exposition" or "steem education & business & marketing opportunity"
Is this the same kind of thing as that conference that happens annually in Europe?
Well, no. It's not related at all, but also, sort of yes, in as much as it's about steem and steemians and in person meetups and all the other Steemstuff that goes with these wonderful things.
But it's not intended to compete, it's intended to complement that one and all the other meetups and conferences, like SteemCreators, which my witness partners @rhondak and @gmuxx keynoted at last month in Toronto, for example, or SteemFiesta in Peru, which I am personally attending next month as well. Complementary, continuing, and definitely NOT "competing" with these other valuable, excellent experiences.
For two years people have been clamoring for a steem gathering event of scale closer to the western side of the world. After discussing this with large stakeholders and platform builders, and even some of the other event facilitators, I was told that having even more events was a "good thing" and encouraged to proceed. There can never be enough chances for steemians to gather, meet, learn, educate, share, enjoy and party with each other!
So whatever you want to call it, as long as it's related to steem and steemians, well....
We say, YES! It's that, and that, and that and the other things too!
We're calling it Steemerica 2019 and our proof-of-brain based, community oriented theme is:
"Act Globally, Think Locally!"
Many will quickly identify that this phrase is a flip on the cliche' often said as "Think Globally, Act Locally", and the idea to use it as our event theme evolved from a conversation with fellow witness @EngineWitty during a chat about communities, charity and growth on the chain around the world and in our "local" environments combining the realms of the physical, virtual and social aspects of this amazing world of steem we live in together.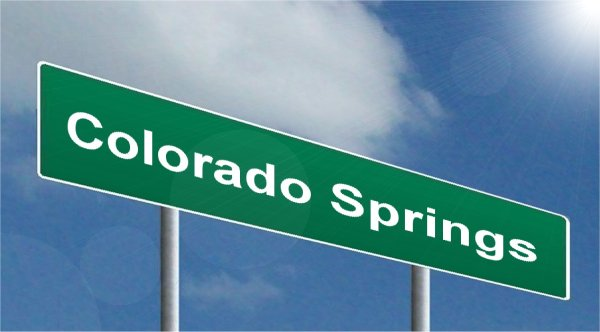 Here's what has been worked out so far
Steemerica 2019 will be hosted in Colorado Springs, Colorado, USA
Colorado is roughly central enough to Canada, USA, and South American countries, while offering a mid-sized North American city which can accomodate tourism, public transportation, hotels and motels and housing, larger scale banquet and gathering spaces, and is moderately priced for travel from most locales as well as being fairly affordable for visitors compared to comparably equipped locations that would suit this sort of event.
Colorado Springs is an amazing location for those that want to explore natural and historic wonders such as Pikes Peak, Garden of the Gods, Cheyenne Mountain (Famous for housing NORAD, as shown in the movie War Games), amazing Native American historic sites such as the astounding Cliff Dwellings and Mesa Verde national park.
The City itself houses our Air Force Academy, a University, and major attractions such as museums and galleries. Nightlife and dining options are abundant and range from the Whimsical "Airplane Restaurant" which is a 275 seat restaurant built inside a decommissioned military cargo airplane, right in the city, to casual al fresco cafes and 5 star gourmet experiences.
Suffice it to say, Colorado Springs is NOT a boring city :D
The event will probably be in June, with specific dates still TBD, based on expected attendance and venue availabilities. We hope to have committed dates ASAP but no later than the end of the year, leaving about 6 months lead time for folks to make their travel and scheduling plans in plenty of time.
The goal is to accommodate as much as possible of what we know so far about various regions' school seasons and summer breaks and centrally locate the event for ease of travel from South America, USA and Canada.
The intention is a four day conference, with 3 days on-site for speakers and presentations and other aspects of the gathering such as a steem trade show environment for the dApp and business builders to share their wares and perhaps even the first ever "steem swap meet" for our makers and artists to exhibit their creations for sale for STEEM of course! The fourth day, (a "middle" day) of the event will be a chance for various communities and groups of friends to go off-site to the local attractions and spend time with each other, in a sort of sub-meetups within the meta meetup event.
This is a ambitious undertaking and all the details are presently very early in the planning and subject to change, but suffice it to say, we intend for this event to be epic and a tremendous amount of time and attention is being paid to every detail. Because we don't want to set false expectations, please watch this blog as we move along over the next 10 months toward June of 2019, which will be here much faster than we all expect it to be for sure.
In less than a week since the original announcement of this event, no less than five prominent Steemians have stepped up and committed to speaking at the event, detailed dates pending , of course.
Speakers & intended topical areas already confirmed (pending dates as previously noted) for the presentations include:
We believe we can accomodate about 2 dozen speakers at 30 min or so each with breaks across three days. We hope to include a little slice of all the things that represent our ecosystem with prominent leaders and movers and shakers from each segment of the diverse world we call the "Steem Platform" at large.
If you would like to represent your App team, your project or community on the chain, or suggest a speaker, please directly message @SirCork on steem.chat or in discord under the same name on all platforms.
Aside from the daily speakers, other tentative options being considered for during the 4-day conference include ideas such as:
An offsite day on the 3rd day, to allow the various groups, teams and platform sub-communities a chance to commune with each other, explore the amazing local attractions and spend time with each other outside the hustle and bustle of the event at large. That off-site day would lead into an off-site night as well, for those that want to do a little partying together around the city.
On the other days, we think about 6 hours of speakers and presentations with breaks and lunch will make for some interesting, and information packed days, and allow us to get a couple of dozen thought leaders, movers, shakers and change agents to the podium to present their game changing ideas and offerings to the entire community.
Some ideas still on the drawing board include:
A steem trade show
A steem makers and artists and crafts steem-swap meet
Meta event games and contests woven into the week such as steem scavenger hunts or games like a presentation attendance points race and so on.
Great ideas keep pouring in and each will be chosen based on cost, feasibility, interest levels as the planning continues and venue capabilities.
Speaking of venues, here is just one of the places we are presently considering as the hub for our daily events: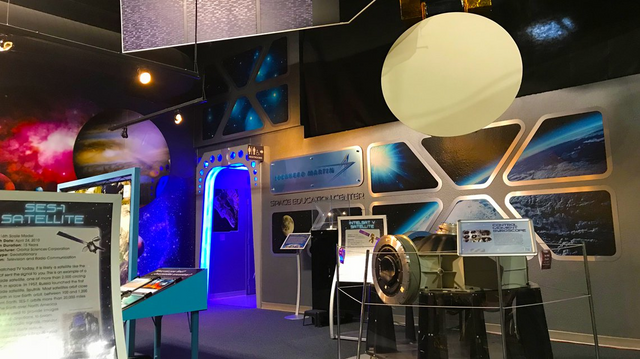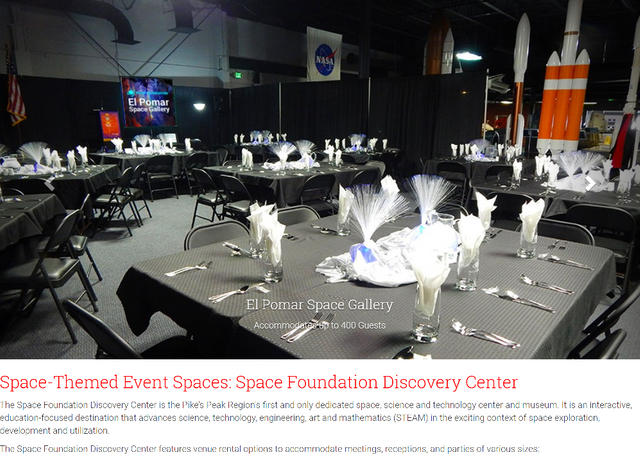 Learn more at : https://www.spacefoundation.org/events/venue-rentals
At night, we know you crave a good time, and this platform is loaded with fantastic talent.
While nothing is near finalized yet, these are some early ideas for the evenings.
Day One: Casual Meet & Greet Mixer with live steemian music and comedy entertainment by several of our best performers, homegrown on the chain by and for steemians.
Day Two: Main Banquet & Open Attendee Talent Show
Day Three: Off Site Night / Onsite Games Night for those not attending offsite activities
Day Four: Farewell Party with live DJ and karaoke.
Naturally, we will live stream, facilities permitting so that those who cannot attend can enjoy these presenters as well.
At least one venue we are examining provides kitchens, so one fun idea presented to me is to find the "foodie" communities and have our super chef steemians actually sort of "cater" hor dourves for the daily gatherings. Imagine being able to put your Italian grandma's meatball recipe or good old Mom's chocolate chip cookies on the snack buffet table, with a stack of cards next to it with links to your cooking blog :)
The ideas pour in with each new person and community we mention the event to, so we are definitely still ironing out the kinks and crinkles. There are still 9.5 months ahead but they will fly by on a steemian's calendar before you know it, so rest assured, we are most assuredly not resting on getting a solid event planned, which we are certain will be enjoyed and remembered by all who choose to attend.
Other Information:
There will be an admission ticket fee, available in just two simple tiers.
"Early Adopter" tickets will be available in limited quantities at a reduced rate as soon as dates are known, to ensure we can reserve all the space and services we need to accommodate everyone and everything we have in store. We expect these to be approximately $100.00 USD in cost, and represent at least a $50 per ticket savings over the "regular" admission price.
"Regular priced" tickets will be made as affordable as possible and only on ONE tier, without any confusing levels or schemes to make things complicated. Right now, our gut is telling us that approximately $150.00 per person makes sense.
This event is not being created to make a profit for the organizers, but rather to ensure we have a fun, comfortable and professional environment for our guests and speakers, as well as amenities such as high speed internet, kitchens, catering, sound support, and so forth needed for the event to be a success.
The main banquet will be optional and an additional fee per diner. Vegetarian and Non vegetarian options will be available and the ticket purchase form already accommodates querying this preference.
Do note, that if funds from ticket sales permit, we hope to be able to modestly compensate our presenters and mainstage entertainers in some fashion for their effort in joining us, but of course they will be getting this incredible promotional opportunity for their various concerns as well. We can't make promises now, but heck I'm sure we will at least buy you lunch! Again, a lot of this will be clearer as we finalize some of the more specific details about timing, costs and attendance rsvp tallies (aka ticket sales. ).
JOIN US IN COLORADO AT STEEMERICA 2019!
Keep watching this blog for rapidly developing details every few days as we approach the event!
Steemerica is being organized by @SirCork with the help of his teammates on the @NobleWitness team, as well as other witnesses, investors, platform community leaders & so many other awesome steemians just like YOU!