The popularity of saffron potato is increasing in Bangladesh.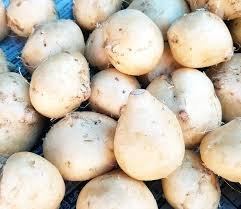 image source
Types of potato varieties. It looks like Latim. There are two types of white and white with clouds.
These small potato potatoes are very tasty to eat and are eaten raw. It can be seen in the Dhaka market during the winter. The need is great too. It is often seen in grocery stores, and it is also seen that it is sold on the pavement. Fruit shops are also eye-catching. Although there are many regional names, we are better known as 'Swad Alu', 'Kishore Alu', 'Kesar Alu'.