SteemFest๔ Updates: Mobile app live, evening venue day 2 revealed and Art at SteemFest
Ok ok, now its really getting close, with 11 days to go :D My week was filled with lots of loose ends taking up time. But also the beauty of being here, is that so many things can be arranged on short notice. It's as if the whole economy is build on "last minute". Great to execute on last minute ideas and make them happen on the spot. I ordered all print materials, got the first goodiebags gifts arrived, ordered some other gifts for all attendees.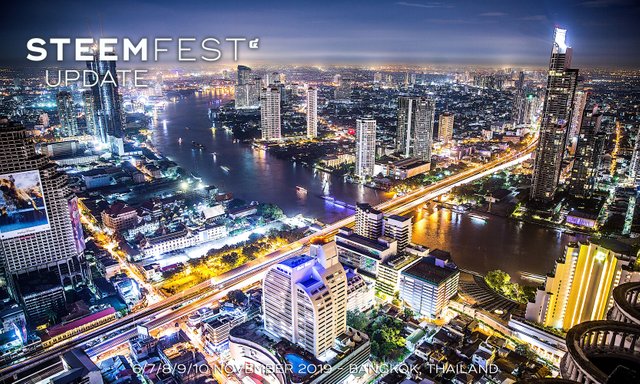 Chao Praya river by night
In between I managed to dedicate some family time: we went once to the "Children's Discovery Museum" and one time to a Fantasia Lagoon waterpark on top of a mall. But then back to the computer, finalising draft schedule, working on transportation matters and gazillions of chats. I'm now very integrated and using LINE-chat app mostly these days :P
Visited YELO House: A funky former warehouse type venue with small artist offices, galleries, a cafe and restaurant. On the top floor we will be hosting the 4th iteration of Art at SteemFest in the SteemFest weekend. YELO House is only 2 stops away from Prince Palace Hotel using the Khlong Saen Saep boat (9 baht - 25 ct).
Art at SteemFest feat. Inktober by OCD & CreativeCoin
Saturday 8 & Sunday 9 November: Yelo House, Siam
This year OCD & CreativeCoin decided to
support the Global Inktober event on Steem
by engaging with artists on the Steem Platform to make works around the daily themes set out by the Inktober "challenge". Selection of the results of these artworks will be on display (and for sale) on this pop-up art gallery in the center of Bangkok's Siam at Yelo House.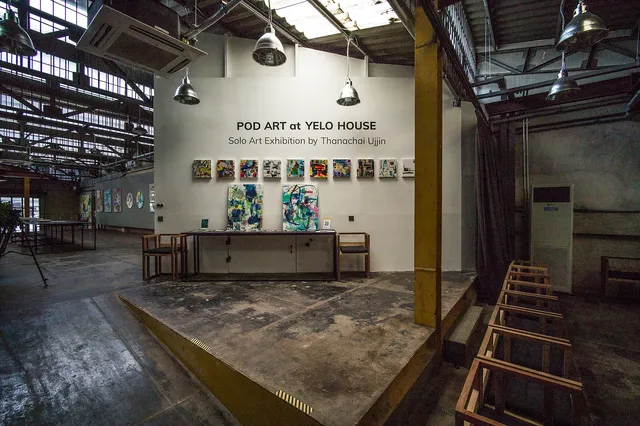 Yelo House
A great way to start your day of the "DIY CityTrip Weekender", speaking of which...
SteemFest Mobile App released
Today the mobile app for SteemFest was released in both Android & iOS appstores. The app goes pink, as SteemFest goes pink. The app contains:
Offline maps: Don't get lost in Bangkok, because this offline map has got you covered.
DIY Sights & Audioguide: Bangkok's best sights and walk the integrated offline stored audioguide
Notifications: Enable notifications and receive realtime updates during SteemFest
Interactive timetable: Check out the program minituosly and read details about speakers!
Connect & Remember: Scan fellow attendees' badges and follow on Steem!
Download now via steemfest.com/app
Friday evening venue: Baan Rim Naam @ Talad Noi
Also pretty (too say the least) happy with last minute reshuffled evening venue for friday night: Since the Conference Day 2 got rescheduled, and the original evening venue was in the basement of the new day 2 venue (are you with me?), I found it to be pretty boring to stay in 1 place for such a long period. It also happened to be that when I just arrived in BKK I accidentally read
this blog
by
@hangin
where I noticed they were walking in the area of Conference Day 2. They had stumbled up a wonderful venue, and when I saw their pictures and read their words, decided to check it out myself. I was sold immediately and I asked about availability and we negotiated a price for exclusive use for Friday 8 november!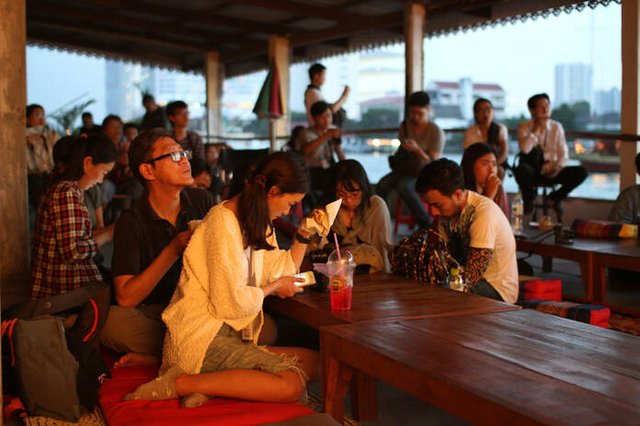 Baan Rim Naam impression - let's get there to enjoy the sunset!
Baan Rim Naam is a former warehouse turned to unique 180 degrees river facing, cafe / restaurant hangout. The place breathes laidback & chill, a wonderful ending of a full day of talks. The owner Florian is "architect" (his words) and fell in love with his first arrival in Bangkok 16 years ago and basically never left. He makes furniture, or curates them at some case. Upcycling: fixes old cupboards, chairs and unique design elements after which they get a spot in the Baan Rim Naam venue, adding up to the uniqueness of the place. This evening we have a 13 course fingerfood & barbeque served by our dedicated catering team. By default the music is pretty laidback, speak-easy, but there is room (and gear) for performances, so let me know if you want to! A little garden adjacent and plenty of drinks available.
Get the Grab (Bangkok) Ridehailing App, with SteemFest discount codes for free rides!
Grab is Asia's number 1 Ride hailing & delivery app. Much alike what many of you know as Uber. I've been using their services for a lot of taxi rides, groceries, food deliveries and some of my suppliers used them for courier services to get samples to me.
For SteemFest we partnered up with Grab and they offer some decent discount codes which can be used for both new users as well as existing users (like myself :D). See all details about those (valid only during SteemFest days travelling to & from Steemfest venues) discount codes here.
FYI Winners of PeerplaysGrants announced in the original blog post.
Reminders:
Have a great weekend!
@roelandp
Rewards from this post will go to organising @steemfest
(simply by setting the beneficiary)
SteemFest's ticket reductions are made possible by generous donations from: