The FIRST EVER STEEMFEST 2019 Skateboard + First ever Steemit Skateboard. Created by @cmmerch.
Hey, Hey, Hey Steemit folks! As always the CMMerch Team is dedicated to creating new and unique products and today we would like to unveil something very special.
We are well aware that Steemfest 2019 is going to be happening very soon. We have been neck high in orders for Steemfest & other Crypto Communities, but we really wanted to get this out before Steemfest went down. We have been working on this specific project for about a week now and we are happy to finally announce its done!
@sirlunchthehost & @cmmerch present to you the first ever STEEMFEST BANGKOK 2019 Limited Edition Skateboard.
Disclaimer
We made a short video because we want to showcase
Proof Of Work, Proof Of Concept
We firmly believe in being able to produce the items that you are selling yourself.
no photoshop authentication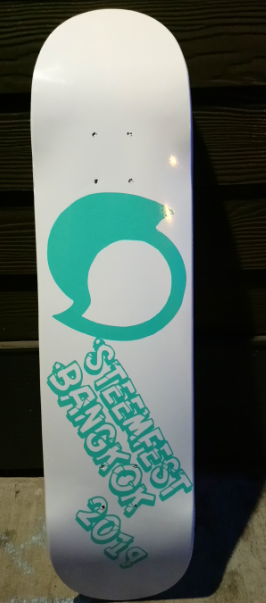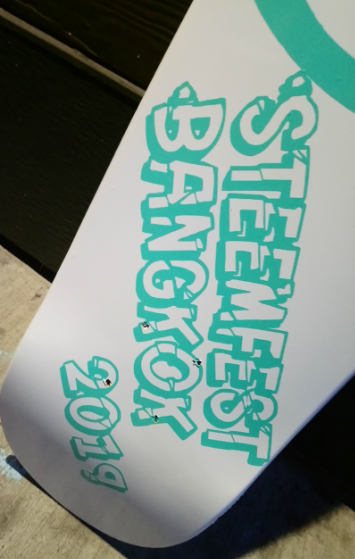 No Photoshop pics of what things could look like. We Proof Of Work Round Here.
Details:
We pride ourselves on hand making and crafting each item and this one is no exception to the rule. We aren't knocking, crypto related stores that use third party/outsource the actually crafting. We just merely like to be able to to have control and say over whats being made and how. Also, we can give better prices than most "Crypto Stores." For example; The avg price for just a regular t shirt on any given third party store is $20 + dollars. Cmmerch prides itself on being able to sell shirts for almost half that price and still deliver the same if not better quality. Also, most third party crypto stores only offer the run of the mill items with little to no customization for the customer. We on the other hand can customize down to the last small detail.
Want a Custom Steemit Skateboard? We will be producing 5 custom Steemit Skateboards for the first 5 people to order.
-We will accept Steem as a form of payment.
-Free Shipping
-Comes finished and grip taped.
-Customize the Skateboard with different colors and put your own steem name and style on it.
-Comes with a free T-Shirt.
Price and Payment depends on how deep you want to customize and will be discussed upon approval of what the product should look like and be.
To order, leave a comment or reach out to sirlunchthehost via discord.
CMMERCH is always looking for investors and donations. We are Steemits first non third party Culture,Clothes and Merch Store.
We will be releasing a longer video showcasing the Skateboard later!
CMMerch BTC ADDY:
3MoHRK1zjxEyZWz8BBwbJFwR36ocTpXgP1
CMMERCH LTC ADDY
MPFouXE15dk6ZJdotCnHskQzY2aqzmEoWC