Crowdfunded Dreams Report and 2nd Chance to Enter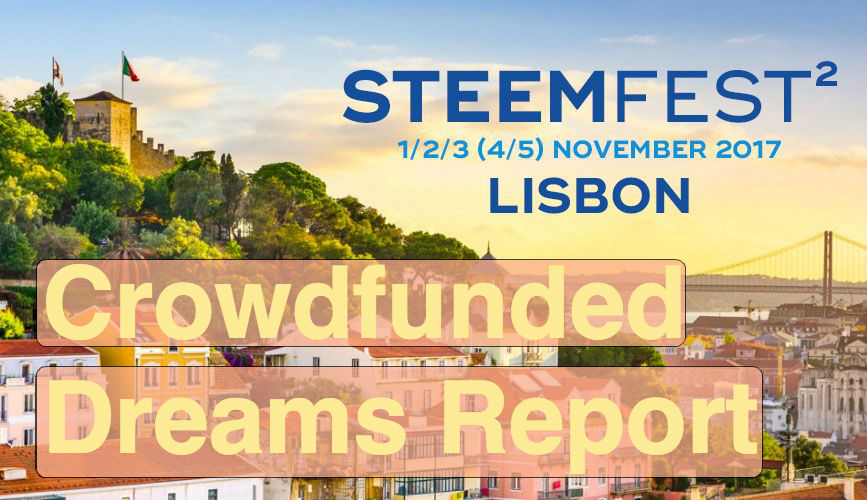 Budget
| Source | Current Dollar Value |
| --- | --- |
| Remaining SP from last year | $172.83 |
| 1st SteemFest Dreams Post(Estimated not yet paid out) | $402.55 |
| Total | 575.38 |
This is a great start! If we keep getting support like this we we will send several Steemians that would not make it otherwise! Please give your support by upvoting this post!
Top Upvoters for the first post(still time to upvote!)
These are the people that are funding your dreams
@thejohalfiles
@steemaccess
@riverhead
@roelandp
@eeks
@wackou
@fabien
@adol
@pharesim
@vandeberg
@inv
@fminerten
@hipster
@abdullar
@rossco99
@xeroc
@steempty
@htooms
@steem-id
@picokernel
… and 366 more
Contest Entries so far
Rewards from this post and all posts from @steemfestdreams will go to support the SteemFest dreams of deserving Steemians.
This will be a weekly post. Announcements for winners will happen well ahead of SteemFest to allow time to make travel plans, ticket purchases, etc.
Enter Now
Make a post about why you want to go to SteemFest AND what you would need to make that happen. Mention @steemfestdreams. Put a link to your post in the comments of this post before the 7 day payout period. You will also be able to submit an entry for each @steemfestdreams post.
Please help by resteeming. @steemfestdreams only has 31 followers so far!