It's Time to Decide the Winner!
We have finally purchased a ticket for SteemFest in Krakow and it has your name on it! Actually it has @steemfestdreams name on it, but it will be awarded to one of the Steemians listed below!
We also have over 100 STEEM left in the account, plus the liquid rewards earned in this post, and the last power down that will go to the lucky winner for travel expenses!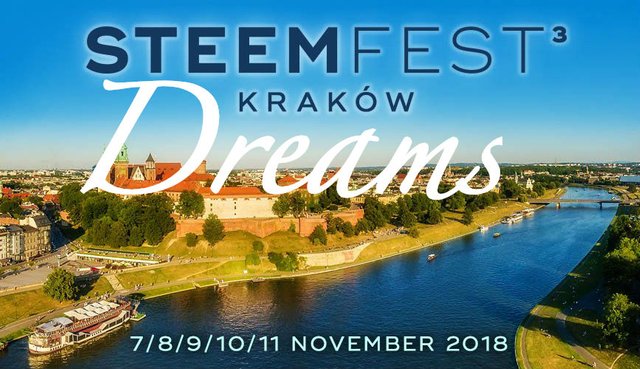 If you are on this list, please give a comment to let us know if you are still planning to make it to SteemFest. If you are not on the list, but submitted an entry before today, please let let me know in a comment ASAP! We will also reach out to any serious contenders to make sure you still plan to attend before awarding the ticket.
The judging process will begin by the 3 judges now and the winner will be decided by the time this post pays out.

Official Steemfest Info:
Official SteemFest Website: https://steemfest.com/
Official Travel Reimbursement Fund: https://steemit.com/@t-r-f

Freedom Tribe is a community of Steemians that promotes life, freedom, truth, love, and happiness. We support witnesses that support our values and our projects like @steemfestdreams.
The witnesses that @freedomtribe currently votes on are:
@gtg, @jesta, @roelandp, @timcliff, @ausbitbank, @aggroed, @xeldal, @riverhead, @busy.witness, @pharesim, @teamsteem, @nextgencrypto, @arcange, @fyrst-witness, @steempress, @complexring, @mahdiyari, @enginewitty, and @happymoneyman
Scroll down to the bottom, where it says: "You can also choose a proxy that will vote for witnesses for you. This will reset your current witness selection." Underneath that, type "freedomtribe"
Click SET PROXY and you should see this screen:



Please Upvote and/or Resteem for Visibility!
As always, all rewards are used to help contest winners Steemfest dreams come true! Visit the steemfest-dreams-chat in the Freedom Tribe Discord if you have questions or want to chat with other SteemFest Dreamers! Thank you for supporting the dream!
Delegate 50 SP 100 SP 200 SP 300 500 SP 1000 SP 2000 SP 3000 SP 5000 SP to @freedomtribe