Please Help Make a SteemFest Dream come True for @everlove
Hey Steemians,
This is @richardcrill. You may be aware of the SteemFest Dreamers campaign I started. The goal is to help Steemians that need a little help to make it to SteemFest. You can see my first post about it here.
We are changing things up a bit now, to try to gain some more traction. We now have our own @steemfestdreams account! No rewards in this account will go to me(@richardcrill). This account is entirely for helping others make their SteemFest dreams a reality.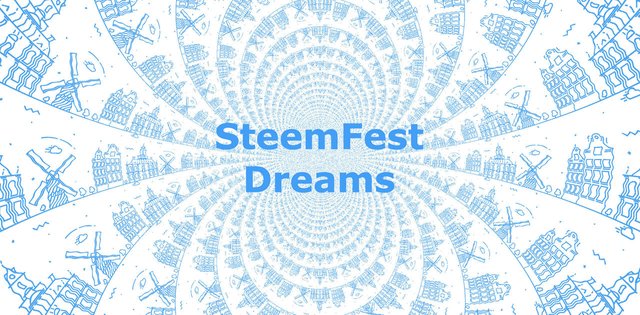 This first @steemfestdreams post is dedicated to one particular Steemian - @everlove. If you have seen any of her posts, you might already know that she is an artist, part of the @gardenofeden community, and she is trying to make it to SteemFest.
I feel especially motivated to help @everlove because she is someone who has devoted herself to volunteering so she does not have the funds needed to make the long journey. She has not given up though. I know from speaking with her in chat that she is still trying to make her SteemFest dreams a reality, but she still needs to raise funds to make it happen.
Here is the comment @everlove left on one of the SteemFest Dreamers posts:
What a generous offer. There is nothing like paying it forward to make the world go round in a joyous spin!! Seems I need to be checking out some of the community links you shared above. Steemit has so much to offer--it's incredible.
My beloveds @quinneaker, visionary and founder of the @gardenofeden, and @saramiller will be making the trek to Amsterdam. Sara will be presenting yoga, and I know her class will be waaaay better with live music of the Tibetan bowls, which I just happen to play. https://steemit.com/openmic/@everlove/openmic-night-contest-entry-rejuvenation-with-the-tibetan-bowls
I will be delighted to also play them under the moon, over the water, in the still of the afternoon shade, or in anyway for anyone who needs a free opportunity for healing.
I have art that will be submitted for sharing at Steemfest and I will be blessed to connect with others of like mind with valuable offerings. I believe my experience in living in conscious community can provide great perspective and inspiration for the development of the Steemit community. I will be sharing the power of living the dream and showing an example of what it means to be the change.
One of my greatests gifts to Steemfest will be my artistic eye in photographing the event. I'm truly great at capturing the moment, so I have much to offer this community and am grateful for the opportunity to be making a difference.
I am a full time volunteer at the @gardenofeden and hence have no income to purchase tickets, hotel, airfare, etc. It would be a dream come true to attend and participate in this Steemfest event. Steemit is a huge part of my everyday life --it's truly a dynamic exchange as it appears to be developing in alignment with my values.
I would be incredibly blessed to receive assistance in realizing this Steemfest dream. I admit it feels a bit weird to be asking for assistance for myself, as I live my life in service to others. I am accustomed to reinvesting all that is received into feeding, housing and educating people. As is in my nature, I will guarantee, without a doubt, I will multiply the gift and pay it forward.
Thank you @richardcrill and @lindseylambz for being who you are and for sharing your hearts and passion with others. I am grateful to know the fine sentiment of your offer, whomever is chosen to receive the present.
A bit more about me and my life of service. https://steemit.com/life/@everlove/filling-the-bellies-of-those-in-need-a-photographic-journey-of-lives-changed
Here is your chance to make a fellow Steemians SteemFest dreams come true. Please upvote for @everlove. All liquid rewards for this post will go to her.
Also, if you feel motivated and have the funds please consider making a direct transfer to @everlove as I know she would be very appreciative but would never ask for that herself. Also take a look at her blog if you want to see how much of a loving, kind, creative soul she is. Here is her introduceyourself post
To have a chance to have your SteemFest dreams promoted in the next SteemFest Dreams post you must upvote and resteem this post. Once you have done that, get in contact with me @richardcrill through steemit chat.
Also, this is a brand new account so please resteem and follow to help us grow awareness!