@virtualgrowth with tickets to fly to Steemfest (and Fundraiser)
Officially going to Steemfest now with airline ticket and going with one of the @cybercodetwins!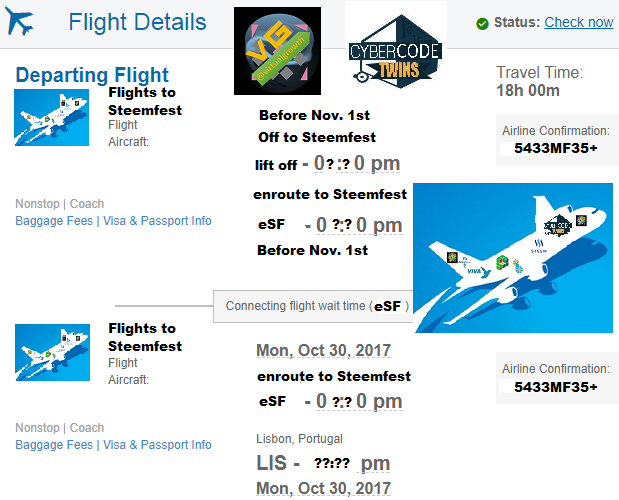 Will be coming to #steemfest with one of the @cybercodetwins who has be a great inspiration and person to get involved and do many things in the crypto space. Look forward to introducing her to many people in our steemtastic community and likewise introducing many great members of our community, to her, that I have had the pleasure of working with for just over the past year since last summer.
Thank you to the @cybercodetwins, they made sure that I got a ticket to BlockCon last week. Which was a great experience meeting all sorts of great people and projects while also getting to listen to numerous great talks and conversations to continue to learn more about blockchain, crypto, and more!
BlockCon 2017 Starts Tomorrow in Santa Monica, California
Meeting Lots of Great People at BlockCon!
BlockCon 2017 in Santa Monica Videos
And also for finding out that @ned will be in San Francisco along with other people that I look forward to meeting and having a fun evening with.
A Night with @ned and @sneak - Smart Media Tokens SMTs and more
Looks like the trip will be costing me 1500 STEEM (dollars)+ and will be a priceless experience to be more than worth it! Did some posts to help raise funds and mention my plans to go and now I am officially going.
Stemfest - Getting Closer - Sharing Links - and Raising Funds
Why Will SteemFest Be Better Because Virtualgrowth Is There?
Reaching 2500 Followers, SteemFest fundraiser, and what may I help with @ Steemfest
My Steemfest 2 Ticket Giveaway Nomination & Entry
Great thank you to @cybercodetwins helping and inspiring @virtualgrowth in hosting first crypto meetup and getting the opportunity to give a talk on crypto together at Google Launch Pad!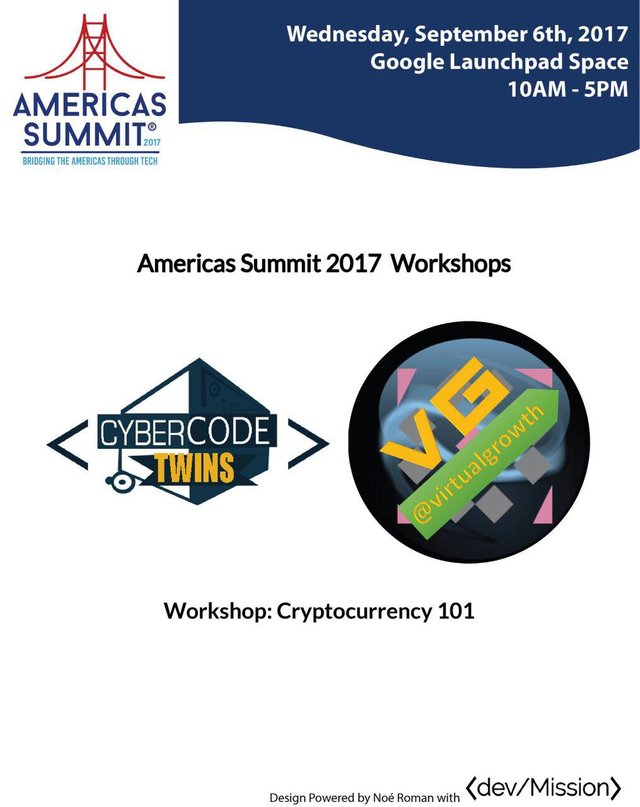 virtualgrowth to speak at Google Launchpad Space in San Francisco September 6th
Heading to San Francisco to give Crypto 101 workshop at Google Launchpad today!
Virtualgrowth visiting Google LaunchPad and other places
Las Vegas for MeetUp & 1st to be interviewed for Blockchain Documentary
Las Vegas - Food, MeetUp, and Interviewed by SirLunchtheHost
Virtualgrowth to be in Vegas This Week: Crypto MeetUp and Blockchain Documentary
Will be great to meet many people in the Steemit community who have been met "virtually" through being online, interacting through the STEEM blockchain and other means typing and talking to each other. Working with many people, projects, ideas, and opportunities. With many more to look forward to!
STEEM earned from this post will go towards #steemfest travel expenses.
Best,
---