Long Ride Home. Going to SteemFest & Looking for Ticket Discount. What Should I Post About Next?
Tomorrow I Board the Train to Moscow
True to my self identification as a Modern Nomad, my situation changed very quickly. My sister plans to make some renovations to the house I was staying in, so I am staying for a couple of days at my brother's place. And I've already got a train ticket for tomorrow.
The train ride is going to be about four days, with some very sporadic internet connection, which means that even if I wanted to post something, there are some good chances that I wouldn't have an ability to. This trip would take me through Siberia, and most of Russia back to Moscow, removing about 6000 km between Amsterdam and me. Which brings the next topic. :-)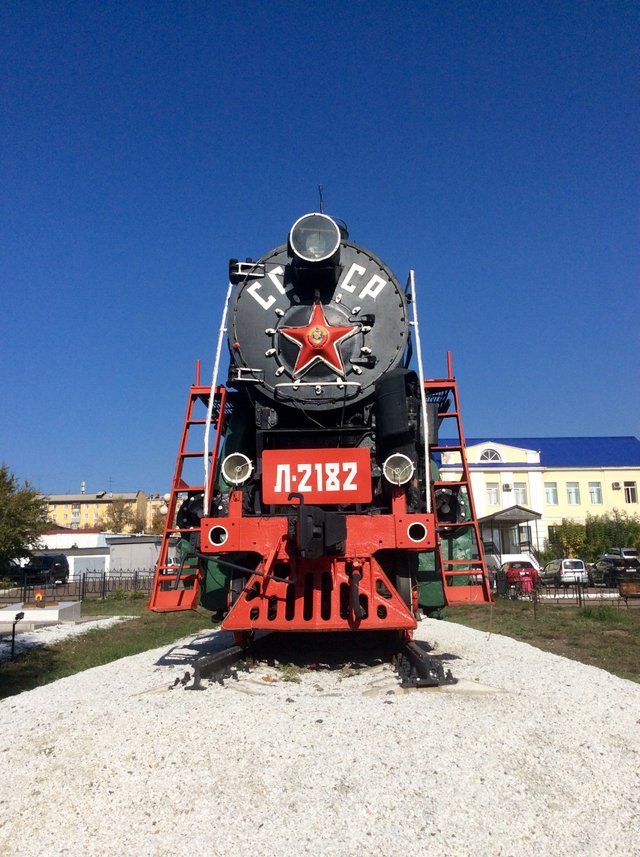 Not this train, but the Ulan-Ude train station is just across the road from this one.
I am going to SteemFest. I am also looking for 2 more people, to buy tickets with for the 10% discount.
While it might be somewhat hard for me to do so, I am obligated to go to SteemFest. We've already talked with @roelandp about a presentation slot to talk about Mapala, which is going to be done by @anasya, with me co-presenting and helping out during the Q&A segment.
I am also going to be taking some interviews for @rusteemitblog and which are going to be posted both in Russian and in English. There is another project that I am taking part in, and that is most likely going to be announced some time before the SteemFest, and perhaps I'll be able to bring some physical things from it to the SteemFest. But since it isn't ready yet, I am going to be all mysteeeeerious about it!
Anyhow, to facilitate going to the SteemFest, me and @anasya are looking for 2 more people, who haven't bought their tickets yet, so we could order together for the 10% discount. Please contact us in Rocket.Chat, comments or #steemfest channel!
We've already booked a four room at the VolksHotel, and will be sharing it with @phenom, and I think @saramiller. Unfortunately, they already got their tickets, so that isn't going to help us in any way. Still, I hope to see you all at the SteemFest!
---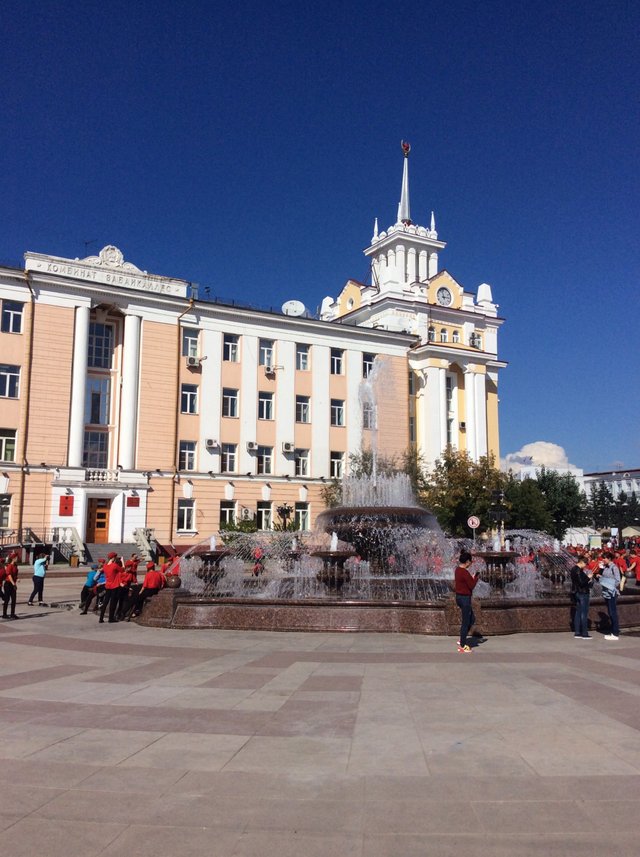 The fountain at the central square of Ulan-Ude & the theater building.
Question to the readers. What I should post about next?
I have quite a backlog of material that I planned to post about. I even owe a post translation to @getonthetrain, that he asked to translate to Russian, since it might be interesting to Russian community, because it is about a Russian sect. Problem is, Russian to English translations are really easy for me, while English to Russian are a bit harder. Doing translations for @rusteemitblog helps me to get better at the latter ones, but it is still something that takes me some effort.
I have a list of stuff that I could write about next, and I would like to get some input from you, my readers about what would you like to see next. Another thing is that I rarely see much feedback, and would like to hear from you.
Which one should I do next?
Do another travel post — there are posts from my 2014 trip, posts from Tunka valley, maybe even a post about Ulan-Ude, since I've got a ton of photos of the cool places in it. There are photos of Ivolgin Datsan, which is a really holy buddhist temple.
Do a geekery post — this is something that I've haven't done, but would like to. Well, maybe my posts about webcomics could be considered geekery? But what I'd like to talk are some pen & paper roleplaying games. I think I'm the first person in Moscow to own a Planescape boxed set, which was released back in 1997, iirc. However these days I like weird RPGs, like Sig (which is heavily inspired by Planescape), or stuff by Jenna Moran like Nobilis (diceless game about Sandmanish gods struggling against the enemies from beyond Creation), Chuubo's Marvelous Wishgranting Engine (which is related to Nobilis and is also really cool), and stuff like that. I rarely get to play the games, so writing about them might scratch an itch for me.
Do a technology related post — We are planning to make a Decentralized Organization with Mapala, and there are a lot of interesting things about setting it up. I think that BitShares promises to enable some of the stuff that we need, but with the lack of clear documentation, my iOS gadget interacting with it is going to be quite an adventure, and I will need some help.
Something more "esoteric" — Perhaps a post about shamanism, how it is practiced in Buryatiya, and my experience with it. Perhaps a post about the Tarot system, how you can use it for analysis even if you don't beleive in magical mumbo-jumbo. Symbolism, Structure and Analsysis is where it is at, as far as I am concerned.
Something else? — There are various other themes. I could review more Music Creation Apps for iOS for example. But perhaps you have a better suggestion? I'd like to hear it!
---
Naturally, all the SBD gathered by this post would go towards allowing me to go to SteemFest. I am really looking forward to seeing you there!