Time to Buy SteemFest Tickets! Don't Miss Your Chance to Win a Free Ticket and Travel Expenses!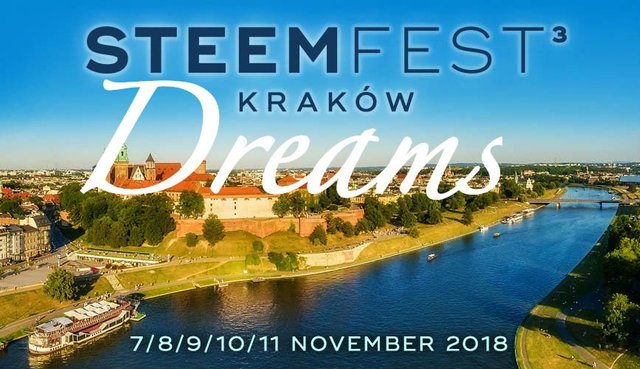 Last week, @roelandp announced that tickets are now available at https://steemfest.com/ and the first names of speakers. Today he posted more names and info to checkout!
One important note from @roelandp's post is that ticket prices go up in 21 days! We will buying at least one ticket, two if we can get enough funds together. After that we will focus on building the funds for travel expenses for the winner or winners!
You Still Have Time to Enter to Win a Ticket for SteemFest! (and possibly travel expenses too!)
There is still time to enter the contest as we continue to raise funds! If this is the first your hearing about the contest, please checkout this years announcement:
https://steemit.com/steemfest/@steemfestdreams/win-a-free-ticket-to-steemfest-in-krakow-poland-and-possibly-an-all-expense-paid-trip-depending-on-support-for-these-posts
Entries so Far
We have a lot of great entries so far, but don't let that stop you from keeping the dream alive. You still have time to enter to be considered along with these lovely Steemains! If you have already entered, but don't see your post here, please let us know in the comments or the discord.
Please show these posts some love with votes and comments
Top Ten SteemFest Dreams Supporters from Last Week
These are the people that are supporting your dreams. We want to give a huge thank you to all of these accounts and everyone that is keeping the dream alive!

Official Steemfest Info:
Official SteemFest Website: https://steemfest.com/
Official Save the Date :https://steemit.com/steemfest/@roelandp/save-the-date-steemfest-krakow-poland-7-8-9-10-11-november-hotel-packages-now-available
Official Travel Reimbursement Fund: https://steemit.com/@t-r-f

Freedom Tribe is a new Steem community that promotes life, freedom, truth, love, and happiness. We support witnesses that support our values and our projects like @steemfestdreams.
The witnesses that @freedomtribe currently votes on are:
@gtg, @jesta, @roelandp, @timcliff, @ausbitbank, @aggroed, @xeldal, @riverhead, @busy.witness, @pharesim, @teamsteem, @nextgencrypto, @arcange, @fyrst-witness, @steempress, @complexring, @mahdiyari, @enginewitty, and @happymoneyman We expect to fill out the rest of our witness votes over the next few weeks as we continue to research the witnesses that are actively supporting the Steem ecosystem.
Scroll down to the bottom, where it says: "You can also choose a proxy that will vote for witnesses for you. This will reset your current witness selection." Underneath that, type "freedomtribe"
Click SET PROXY and you should see this screen:



Please Upvote and/or Resteem for Visibility!
As always, all rewards are used to help contest winners Steemfest dreams come true! Visit the steemfest-dreams-chat in the Freedom Tribe Discord if you have questions or want to chat with other SteemFest Dreamers! Thank you for supporting the dream!
Delegate 10 SP 20 SP 30 SP 50 SP 100 SP 200 SP 300 500 SP 1000 SP to @freedomtribe