Steemgg is Live!
Today, we are pleased to announce that Steemgg, the first HTML5 gaming distribution platform based on the STEEM blockchain, is Live!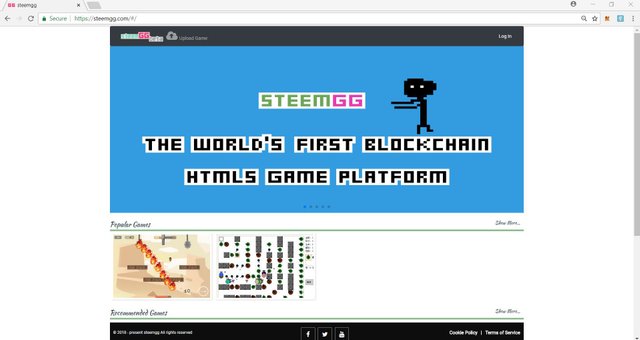 ---
What is Steemgg
---
Steemgg is a game distribution platform based on the STEEM blockchain. Steemgg allow game developers to upload their game through our platform onto the steem blockchain, and in doing so, game developers get earnings for their creation through the means of upvote, some of which is provided by our official account @steemgg.
At the same time, gamers can visit our site and directly play the games uploaded by game developers, without needing to download or pay. They can then choose to support the games they like through upvotes. Similar to steemit posts, they are incentivised to upvote the games they liked by getting a share of the voting reward.
For more information about our project, you can find an introduction to our project here.
---
How to Use Steemgg
---
Using Steemgg is easy. Here is a little set of instructions for you.
1) First, head to our site https://steemgg.com using your favourite browser.

2) Click on Log In. You will be redirected to SteemConnect to log in.
3) You are now logged in. Your username should be visible at the top right corner of the page.

What you do next depends on whether you want to play a game, or upload a game
To play a game:
Simply Click on a game that interests you and start playing! Clicking on the game will you to the game page.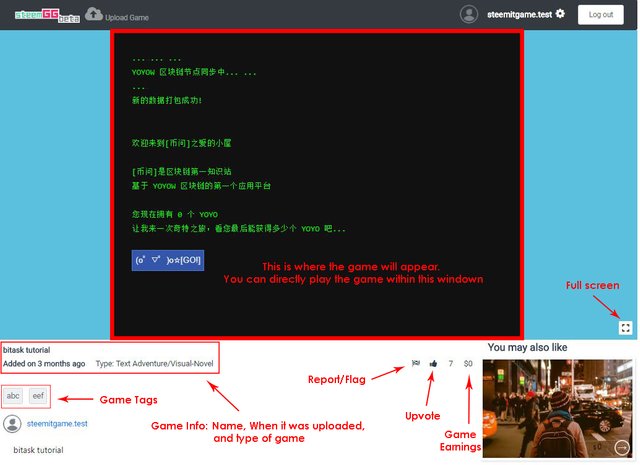 You can make the game full screen by clicking the square button at the bottom right. Toggle back to browser by hitting the Esc key.
Scrolling down the screen, you will see the name of the game, the author of the game, and when it was first uploaded. Underneath that, you will find the detailed game description.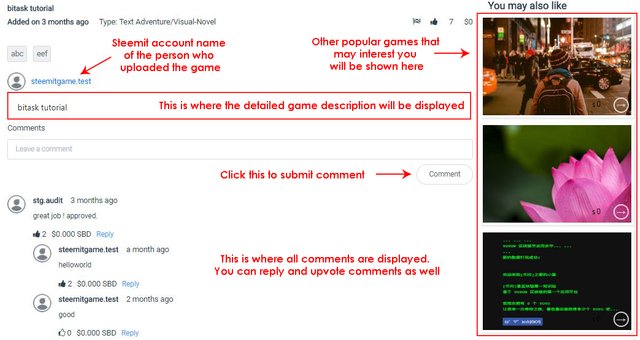 If you like the game, you can support the game developer by upvoting their game. This can be done with the little thumbs icon on the right just under the game. You can choose the voting power % that you want to use to upvote the game.
You can also let the author know what you think about their game by leaving a comment below. You can also reply or upvote other people's comments here.
You can also report the game should you find the game offensive, inappropriate, or suspected plagiarism. Note that we discourage flagging a game just because you don't like it - you can leave a comment for the author to see so they could improve in their next game. When you click on the flag, you will be asked to make a comment as to why you think the game should be taken off our site. Our moderators will review these comments to see if the accusation is indeed valid (to avoid misuse of flagging), and then communicate with the game developer to see if the problem can be fixed. Only when the game developer do not comply that we will remove the game from our site. Note that traditional downvoting is not available on our platform. This is to discourage misuse. If you have a problem with a certain user or game, please use the report function or speak to us at our discord channel.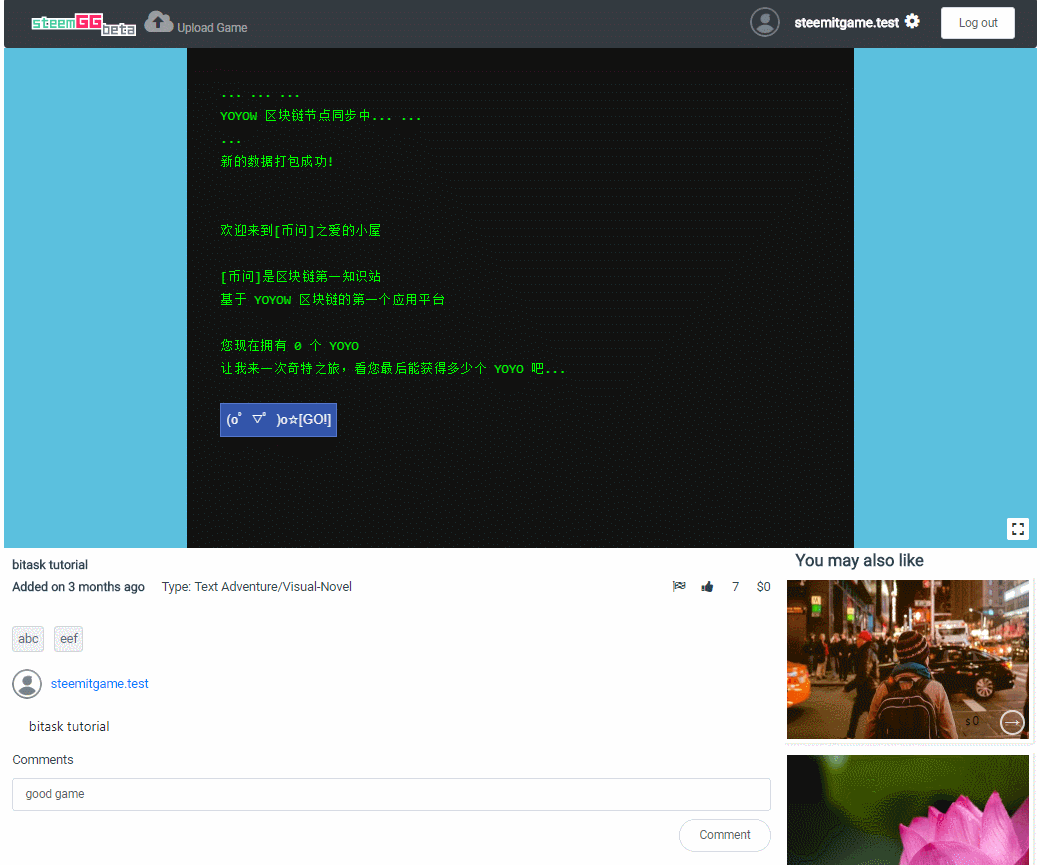 To Upload a game:
To upload a game, you first need to access the upload game page by clicking the "Upload Game" button on the top of the page. This will take you to the uploading page. There are two parts to the page. The first part, "Game Information", allow you to enter the name, description and cover image of your game. You can then choose the size and type of your game. Finally, by clicking the button "Click to Upload", you will bring up a prompt to select your game for upload.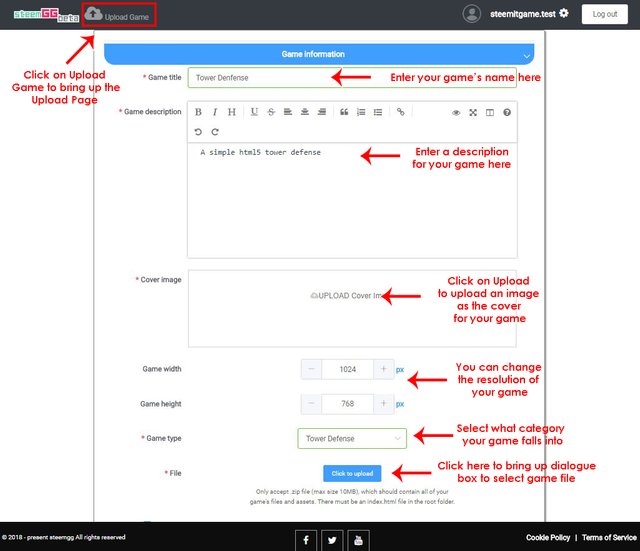 Note that currently, we only support html5 game formats. Please upload your game as a zip file. The zip file should contain all the game files, as well as an index.html file in the root folder of the zip file. Note: You should zip the game files at the PARENT directory of the folder containing the index.html file, but not the CURRENT directory of index.html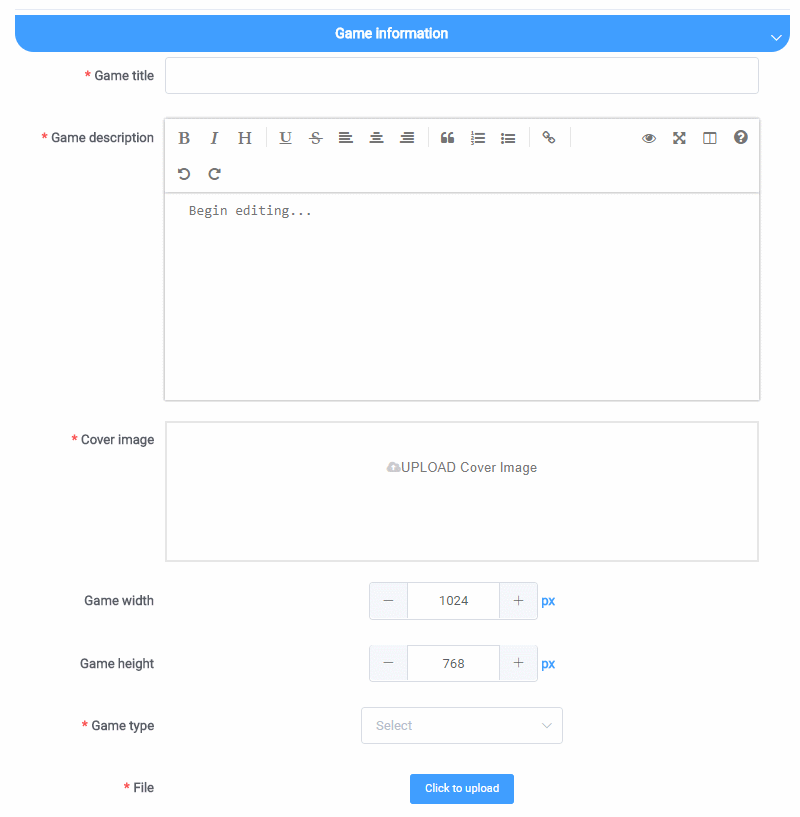 Note that while in general there is no requirement as what game you upload, we do require that the game is your own (or have the permission to publish the original game developer who made the game). As a token of accepting this requirement, we required all games uploaded to have the poster's steemit username embedded in the game somewhere, and checking the box that indicate that you have acknowledged that you have the rights to publish this game, before you can actually upload the game.

Once you clicked "Create", your game will be uploaded onto the system. However, your game would need to be approved by one of our moderators before being available for the public to play. The role of a moderator is to make sure the quality of the game uploaded is up to scratch, and that the game content is not illegal or overly offensive. If your game do get rejected, you have the chance to either modify your game based on the moderator's comments, or you can communicate with us on Discord to put forward your case.
You can track the status of your games on your profile page. This can be accessed by clicking on the cog wheel button beside your username on the top right of the Steemgg home page. This will take you to your profile page.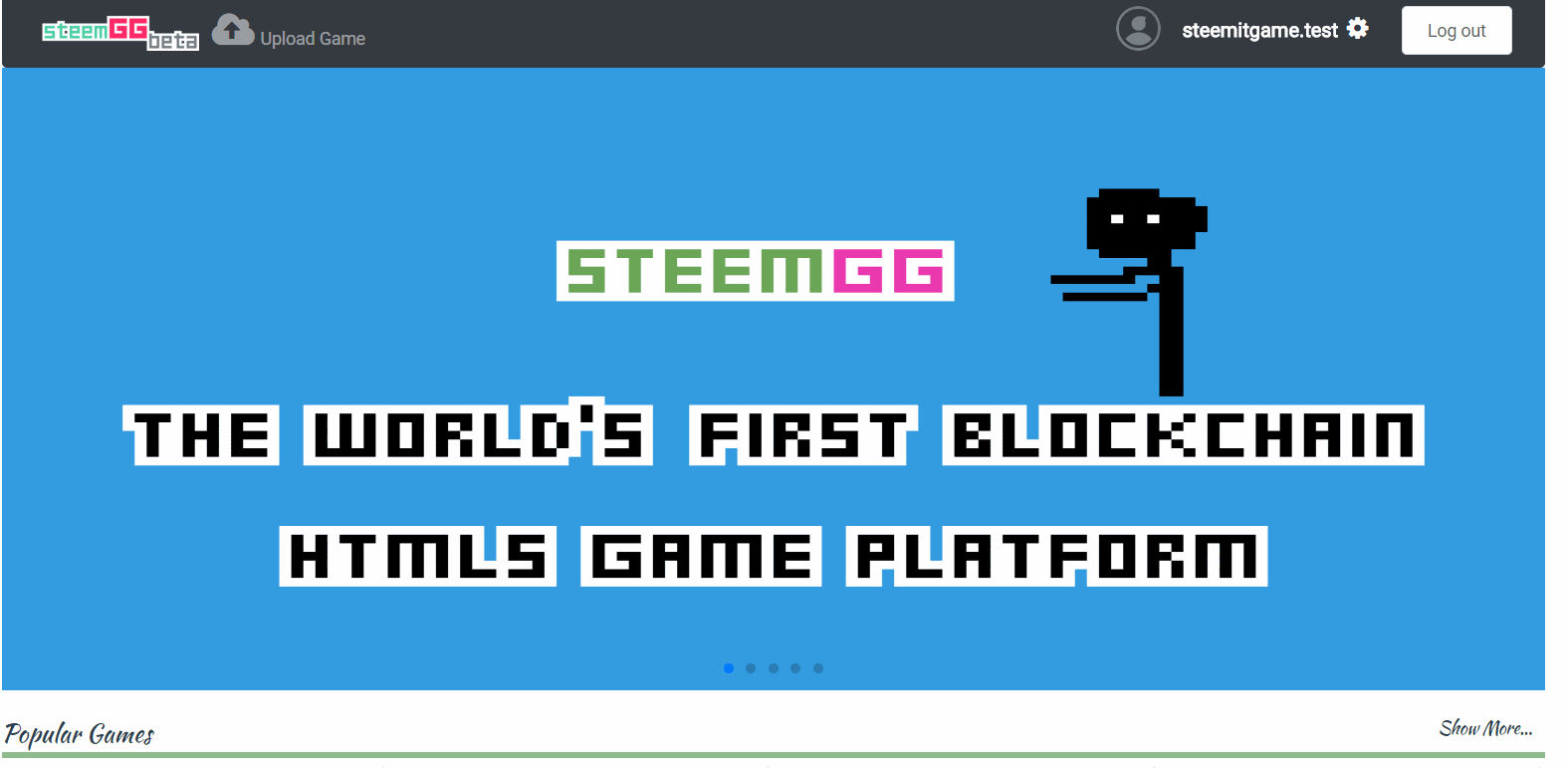 The Live Games tab shows all games that have been approved and are live.
The Pending Games tab shows all games that you have uploaded that are pending for approval.
The Reported Games tab shows any games that you uploaded that have been reported.
Even with your game uploaded and approved, you would need to create a new post to receive upvotes. In order to circumvent the 7 days limit for rewards in the STEEM blockchain, you are allowed to make multiple posts for each game so that you can earn rewards indefinitely. To make a post for your game, you can do it on the uploading page, filling in the bottom section "New Post for Game". You can choose either to use the game description as the content of your post, or you can write a custom post.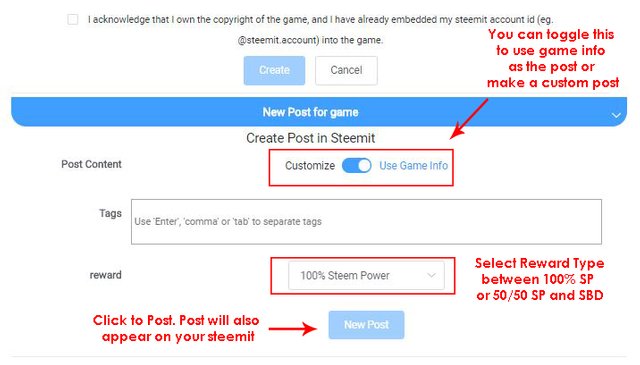 Alternatively, on the "Live Games" tab on your profile page you would have the option to make a new post for each of your Live Games. Note that we would recommend not exceeding per day for each game to avoid being accused of spamming. We would also recommend that each of your new post should contain new information, such as updates that you have done, new game instructions, or even just responding to comments on your games.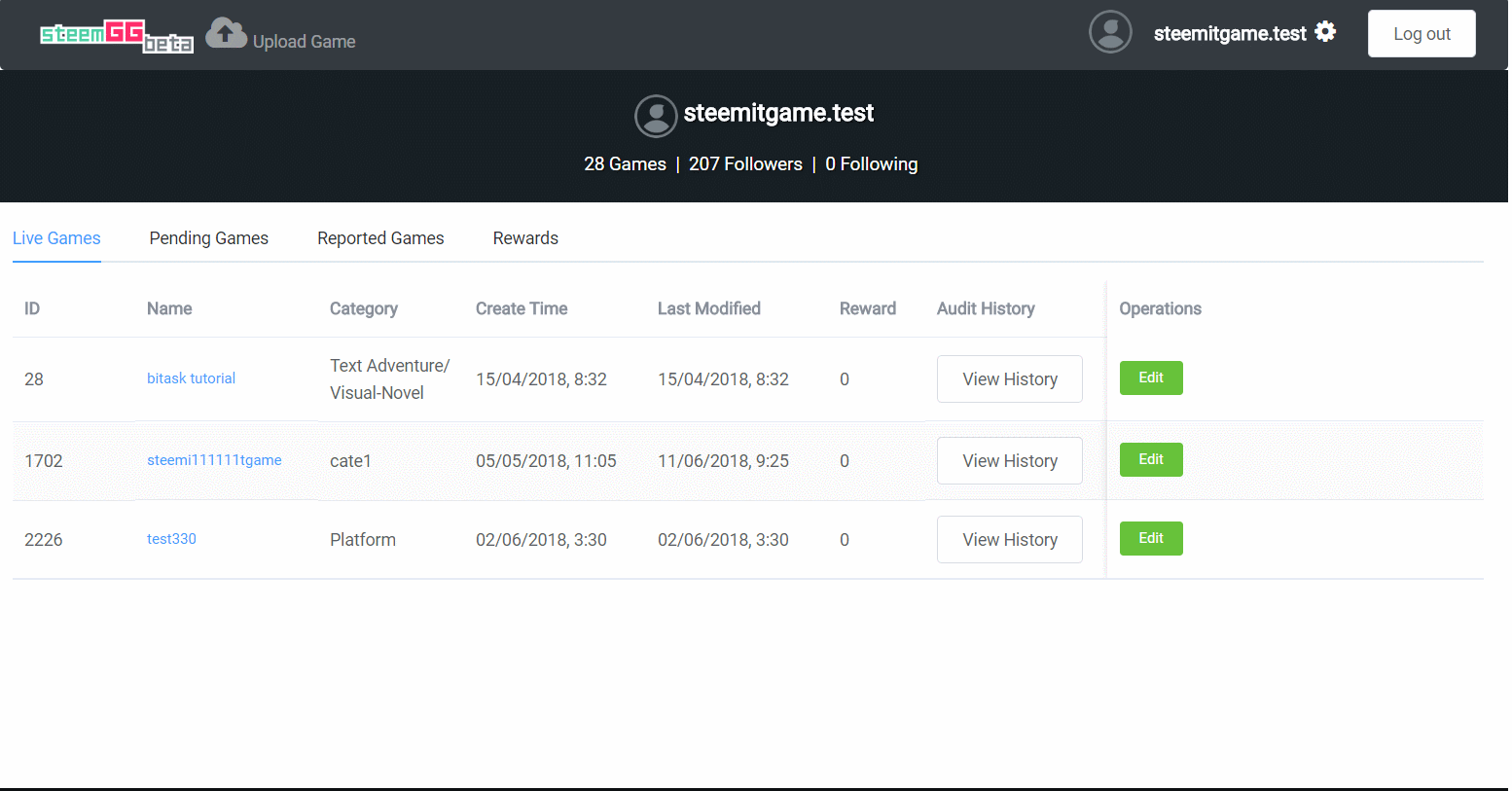 Should you have any trouble at any one of the steps above, please feel free to contact us on our discord channel, and we would be happy to answer any questions
---
Other Important Information
---
Browser Compatibility
As the UI is based on the framework of Vue, Steemgg should have the same browser compatibility as Vue in most cases.

However, We recommend using Google Chrome, Mozilla Firefox, Apple Safari or Opera to access our platform.
Platform Compatibility
Right now, our platform only supports PC. Windows, MacOS and Linux(Desktop) are all supported operating system.
Currently We DO NOT support Mobile. However, we aim to provide mobile support in the near future.
Official Upvotes
Currently, the @steemgg account is committed to upvoting every single game that is approved on our platform. Depending on whether we get significant delegation and the overall traffic of the site, this arrangement may change. We will update everyone when that happens.
We also have a curation trial @steemgg.curation that will be following the same voting rules as the official @steemgg account. So by following our curation trail you will be helping to reward game developers who are posting games on our platform. Note that we deliberately created the @steemgg.curation account such that the official account @steemgg is least exposed to security breaches. So if you would like to delegate, please delegate to our official account @steemgg.
Commission Fees
Currently, for each post, Steemgg will be taking 25% of the rewards. Almost half of that will go towards the monthly costs of the servers to make sure your game stays permanently. A part will also be going towards the SP and SBD pool of the official @steemgg account for promotion activities of the platform (competitions, game jams etc), games promotion (we will be writing regular reviews of good games uploaded onto our platform), and in general increasing the voting power of @steemgg such that games are better rewarded. Of the 75% of the reward remaining, 25% will be shared between all users who voted on the post (Curation rewards), while 75% of the reward goes to the creator of the game. So if a total accumulated amount of 100 SBD was obtained for the post after 7 days, Steemgg will get 25 SBD, curators will get 18.75 SBD and the game creator will get 56.25 SBD.
If circumstances change in a good way (e.g. if we get significant delegation or if we get a large number of users) that is enough to support the running costs of our platform, we will consider lowering our commission. We will update everyone when that happens.
---
Calling All Game Developers
---
Currently, our platform only have a few games, as a demonstration of the capability of the platform and provide gamers some examples of what they will see on our platform. However, we would need YOU, the game developers, to provide us with good contents to strive! So we are calling all game developers who already have a html5 game or two, to upload your game onto our site. All you need to do is to embed your steemit username into your game somewhere, and you are ready to go! We look forward to seeing your brilliant games on Steemgg!
---
How to get Involved?
---
If you are a steemian that support our idea, there are many ways you could help!