#STEEMGIGS: I will write an 800 to 1000 words (or more) article/blog for you!
Description
---
I've been blogging online for years but not professionally. My professional blogging/writing skills have developed further in the last 2 years since I have been active in another writing site.
Since my articles there have always been rated a high score and I have also been upvoted by @OCD and @curie here on separate occasions, I can confidently say I will be able to write a good article for you. ☺
Each article/blog can include links and YouTube videos plus images too depending on your preference. I would be happy to customize and make any article for you.
Pricing
---
Price starts at 5 SBD for articles/blog posts starting at 800 words up. (may or may not change depending on SBD value)
Delivery of the final ORIGINAL article will be from 1 to 3 days to ensure I have proofread and edited my article properly. I will also be sending it to you for proofreading and approval on your end.
English articles only. For Filipino articles, I don't have any samples... :(
Terms and Conditions:
Full payment must be made before any article is made.
A writing agreement may or may not be sent for you to sign and return before we start the project.
Minor edits are appreciated. Full article redo/revision will be subject to addt'l 3 SBD fee.
No same day or rush orders pls.
If in case you will not be satisfied, I will return a certain amount of your payment on a case to case basis. Otherwise there will be no refund.
You are free to post the finished article anywhere you please.
Price: Starting at 5 STEEM
Delivery: 3 day(s) 0 hour(s)
---
Requirements
---
It is important that you provide the following:
Topic/Subject
Picture/Image Files (Your own. Otherwise I will look for free images)
SEO keywords you prefer (if any)
Blog/Website you plan on publishing it
Send me the details via any of the following:
Steem.chat (am using the same username there)
Email: artgirlforhire(at)outlook(dot)ph
Disclaimer:
In case the topic is something I can't relate to, I'm sorry but I may decline it.
For Steemit samples of my previous articles pls see some of my original blog posts below:
I also write better, longer and more detailed articles on Bitlanders. Currently I am near the top in the leaderboard. :D
For other blog/article samples pls send me a message.
XOXO,
Portfolio
---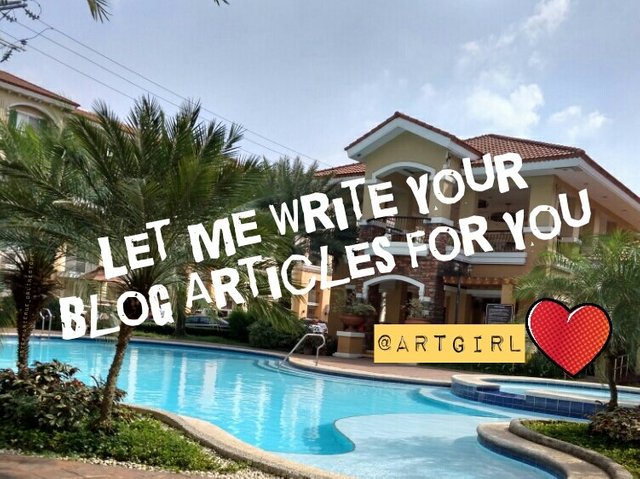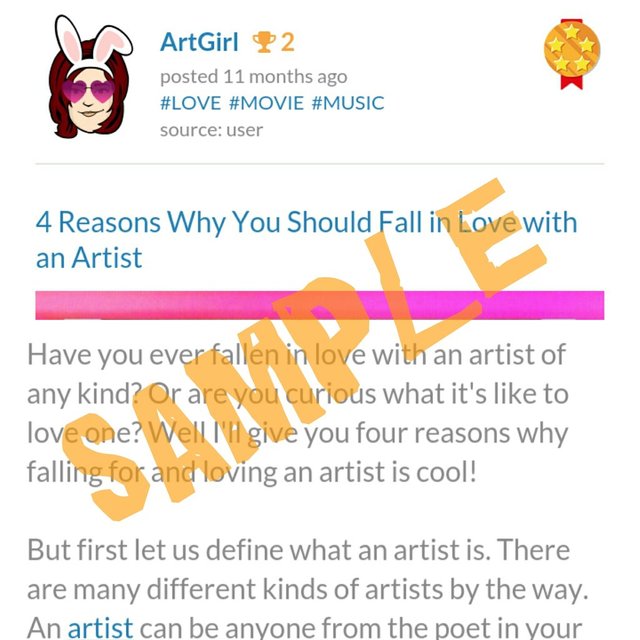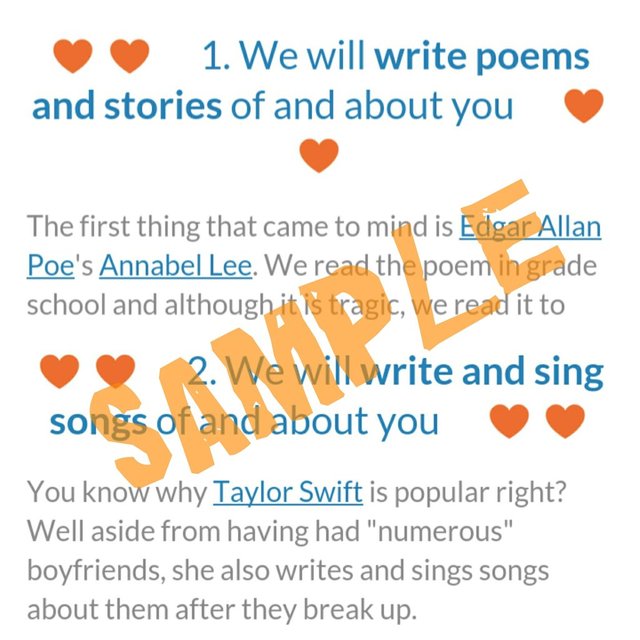 this post was made on STEEMGIGS Where everyone has something to offer