Kindly Visit Your Profile On SteemGigs.org And Fill In An Indepth Steem Profile (For Everyone) - Get A Comment Upvote For Participating.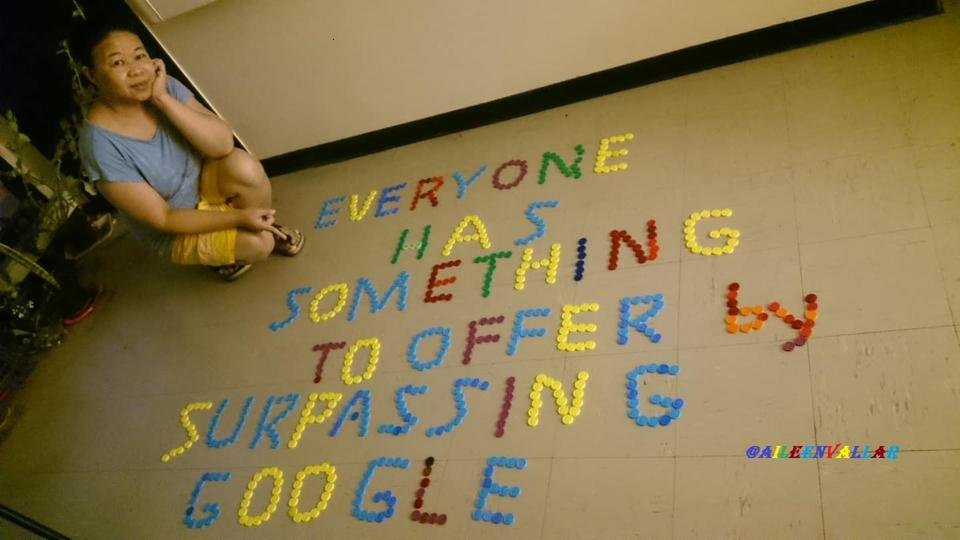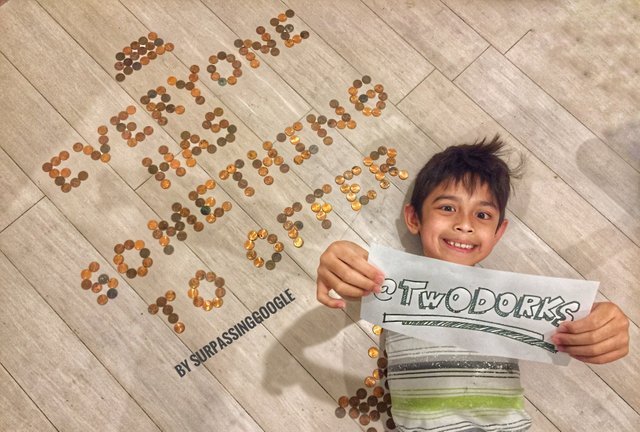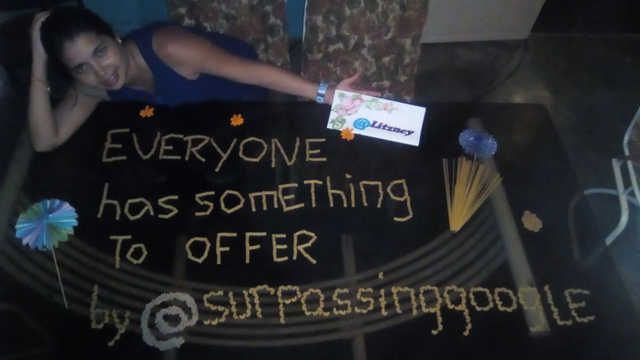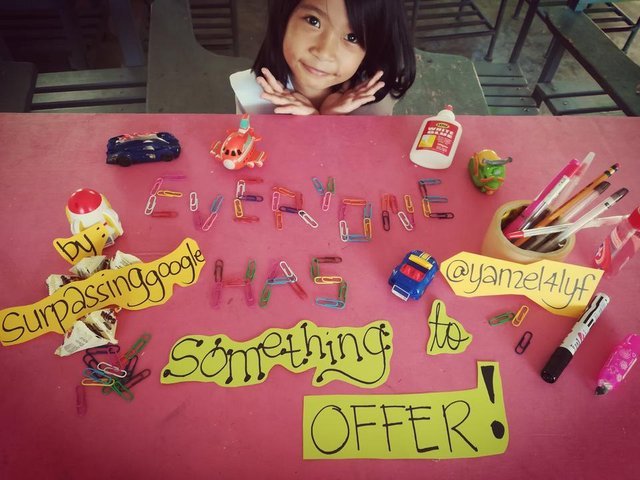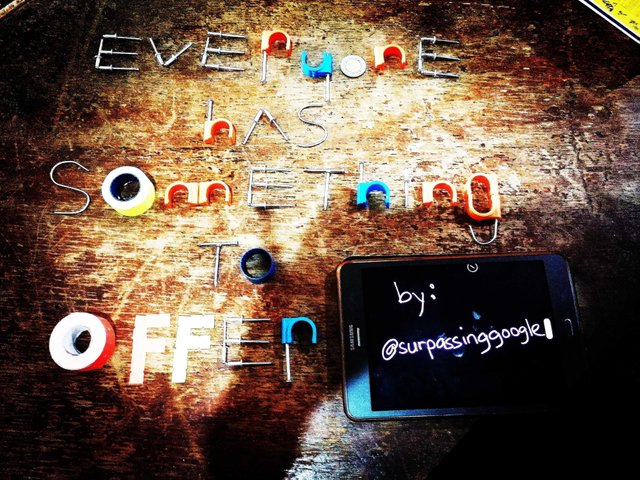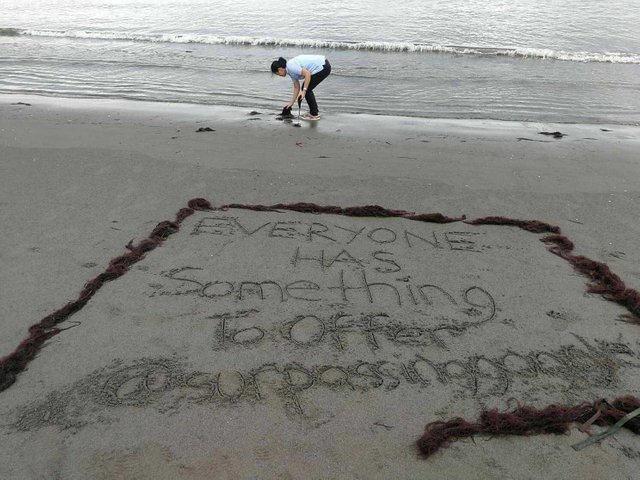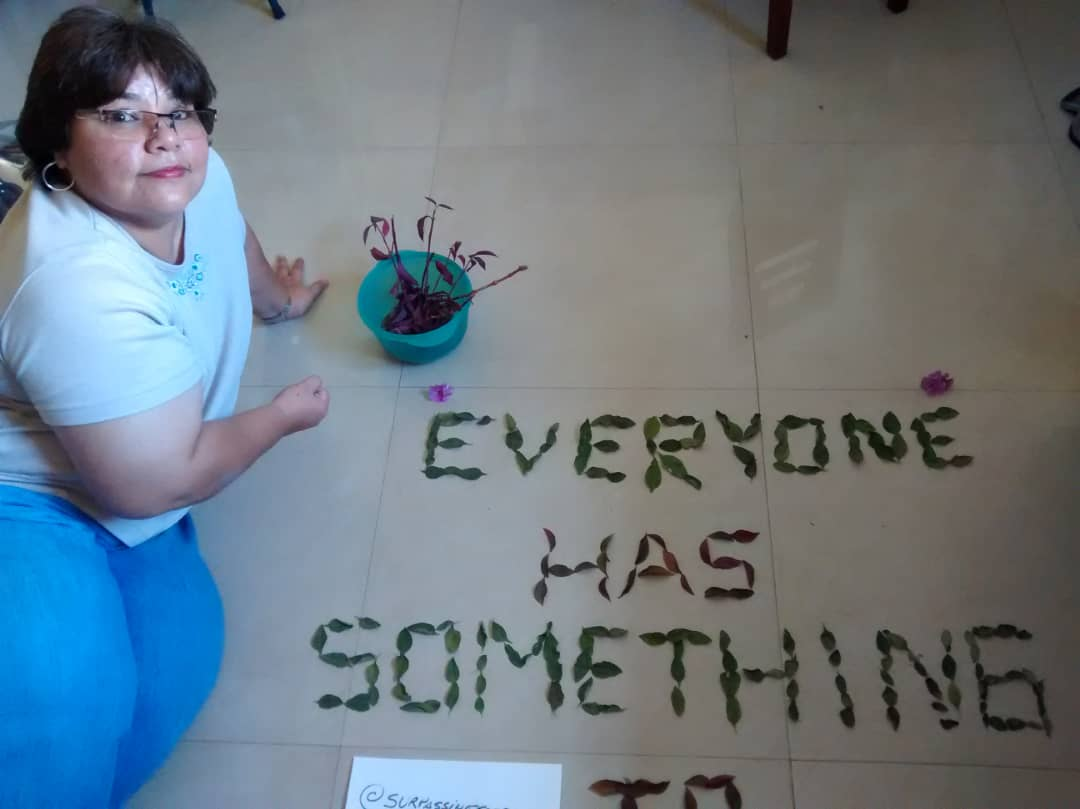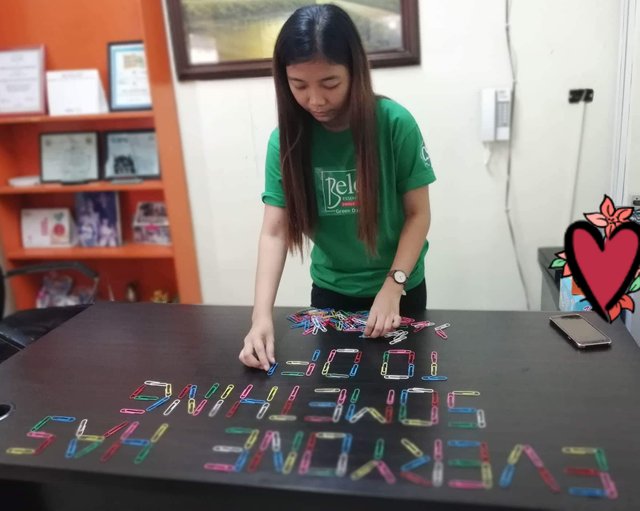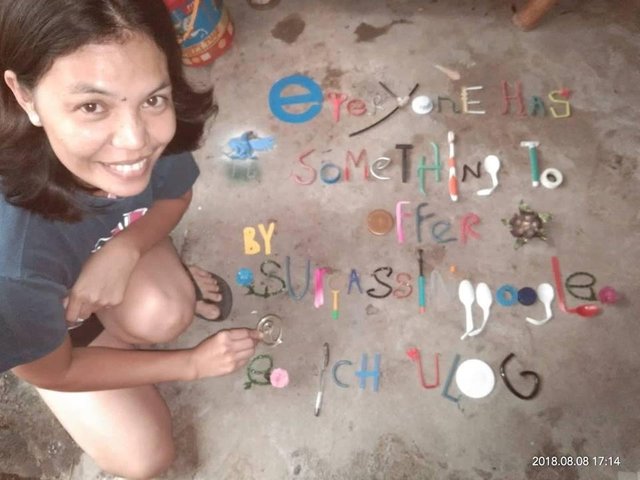 "Everyone has something to offer". @surpassinggoogle
Kindly Visit Steemgigs.org To Create An In-depth Steem Profile
Please login on https://steemgigs.org, then click on your profile thumbnail on the top right and then on the 'edit profile' tab and proceed to filling-in an in-depth steem profile. See screenshots: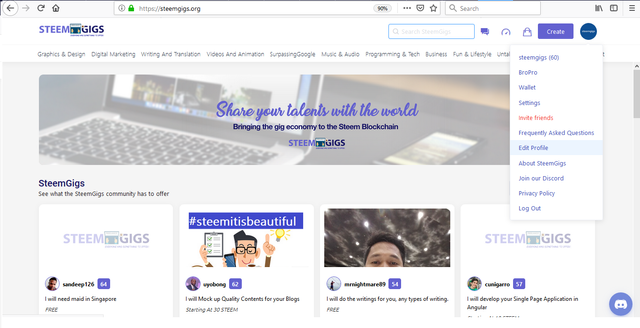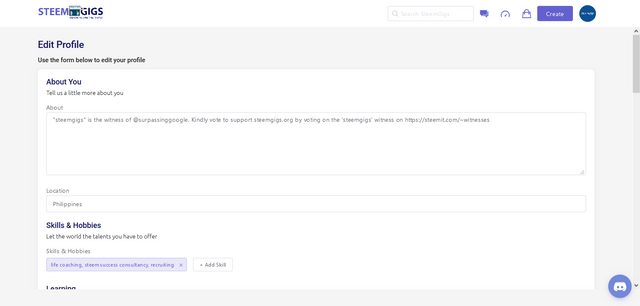 We have added fields to this portal that enables you to be expressive and free. Simply follow the flow of the template as we have added fields like, 'what are you currently learning'; 'your interest, hobbies, skills'; 'what you would like to help with'; 'i made this' etc
It is for everyone, whether you consider yourself an expert or non-expert. On steemgigs. 'everyone has something to offer'. 
When you are done, simple leave a screenshot of your profile under the comments to receive some upvote. You can find your profile on 'https://steemgigs.org/@steemusername'
Everyone Has Something To Offer
The above will be evident on 'https://steemgigs.org' over the course of time. We want to build every noble dream and for this to be the case, we must be able to curate 'humans' too and each human. (Everyone has something to offer)
We must trigger the art of dreaming in people and incite attempts at out-of-boxness globally and we can do just this.
We must also understudy our existing community and mine its wealth. 
We are already on track to accomplishing this. We are currently integrating a basic framework into the steemgigs.org search engine, that enables it to 'search by users'. Then, we have added more fields to our 'edit profile' portal that is modeled to 'mine the human' and uncover potential, whether talent or un(dis)talent.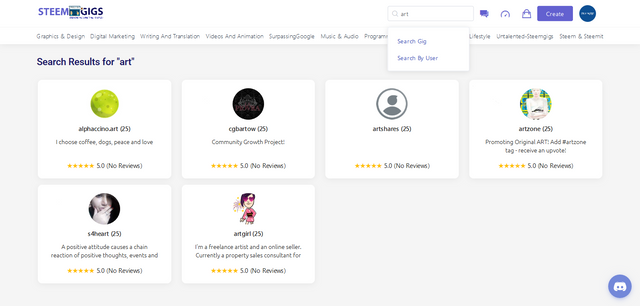 Imagine a fun linkedin-like aspect to steemgigs.org......
In the near future, we will be able to search the entire steem blockchain and provides result based 'even on a steemit.com profile's content', so that we can uncover the wealth in the entire steem community and seamlessly incite these ones to begin to offer something on https://steemgigs.org
This type of promotion for SteemGigs will turn out organic and will be very community-driven. Besides us at SteemGigs curating 'humans' on the steem blockchain, users who visit SteemGigs to locate a gig and fail, can also search the entire blockchain for potential talent in a particular niche and reach out to these ones to consider offering a service on steemgigs.org
In general, we want to remove all barriers to entry, when it comes to the 'dream-building' industry. At SteemGigs thus, as we desire to emanate forth 'brother talent' as opposed to 'just talent', we will develop in-depth knowledge of our community. This should form our very strength.
Eventually, we would have reached out to the entire globe, every home, with 'everyone has something to offer'.
We celebrate the resulting breakthrough with the teardrops tokens.
Try steemgigs.org/bropro
BROPRO allows you to exchange teardrops tokens for more than 'just talent'; these ones are un(dis)talented brothers (sisters included) who actually want to play a role in historical history, by helping you through the process of building your dreams.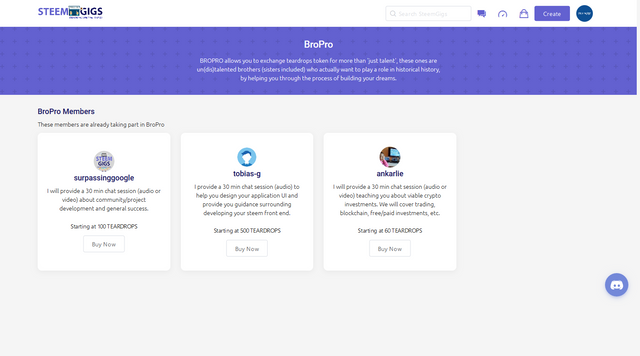 This feature was added some two days ago and is still very basic but it now exists. It give some utility to the teardrops tokens
Kindly visit.
Did You Know?
Special Note
To get your first 50 teardrops tokens, participate here:
Participation is simple! To participate, you will need to have submitted your 'best email', subscribed to the UloggersTV YouTube channel and joined the teardrops SMT telegram group 
I will be sending you 50 teardrops for each successful entry. Make sure to invite friends who are steemians as well to participate. I will also teach you how to access your tokens, where you need directions.
The teardrops token will also form a token of influence on each of these three steem-based websites; https://steemgigs.org, ulogs.org and @macrohard etc
The teardrops token is also currently on steem-engine but only a small portion of it was issued and on the steem-engine market to help us gain insight into the 'dynamics of the tokens on an exchange'. 
https://steem-engine.com/?p=market&t=TEARDROPS (Currently priced at 0.1 steem each)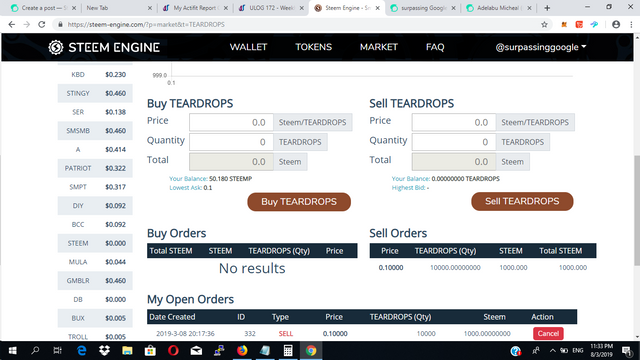 SteemGigs' Development Tasks 
There has been recent development on steemgigs.org, which you can track on our GitHub and by visiting steemgigs.org to explore the site. You will also find 'open issues' that you can contribute code to.
You Can Support The Development Of The SteemGigs Project
my "Thank You" is hefty.
Kindly Vote On The 'steemgigs' Witness. 
Dedicating My Entire Steem/Steemit Journey To My Mum
If you want to support an extra witness and you support mine "steemgigs", it will be really helpful.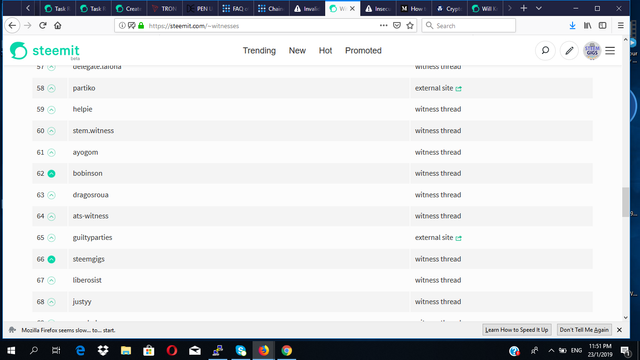 To vote my witness, simply visit https://steemit.com/~witnesses and upvote "steemgigs" or simply click Here to do it on one click! 
Your Boy Terry, whether bulls or bears