1R at Probit Sold Out within 11 second - 2R Begins MAR 23, 1PM (KST)
Today, we started our 2nd IEO via Probit Exchange. Because of the bear market, we actually didn't expect much of the sales demand, so we set the 1R sales for 3,025,000 HUNT (worth $60,500).
And then, this happened…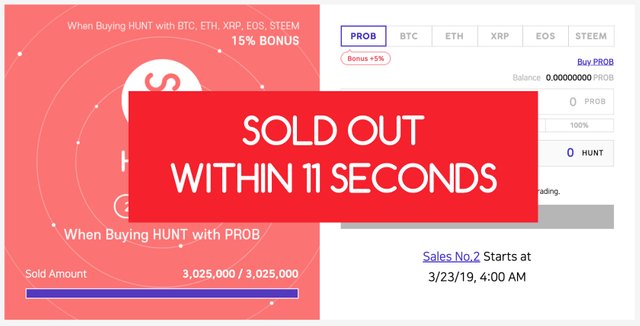 It sold out WITHIN 11 SECONDS!! We thought at first this was a bug or some system error, but it was true that the 1R amount has been sold out for 11 seconds. Apparently total of 13 investors clicked the purchase button far more quickly than others :)
As you remember, our first round via IDCM also achieved over 100% within 3 mins, and this 11-second-sold-out proves that the external investors see Steemhunt and Steem DApps highly promising.
So, we discussed with Probit, and decided to run the 2R sales tomorrow as below:
March 23rd, 2019, 1PM (KST)
We don't like FOMO much, but please prepare in advance to sign-up the exchange website and complete KYC so that you won't miss our sales again if you have a plan to participate in our IEO :)
2R Sales via Probit Exchange
https://www.probit.com/ko-kr/ieo/hunt-round1/1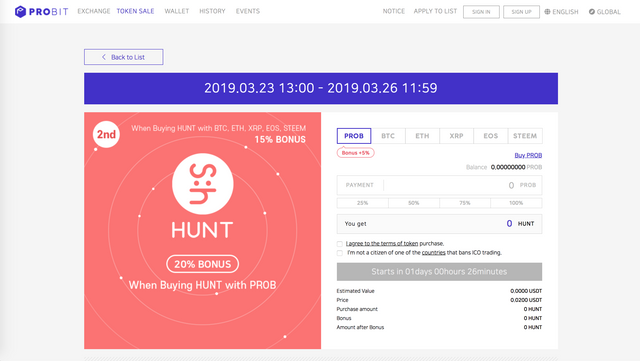 Plus, our IEOs for the external investors are definitely bringing so many traffics to Steemhunt.com. Today, our DAU has reached over 30K!!