Enough 8 Angels
Enough 8 Angels
When many people are enamored of the promise of 72 angels in heaven in a certain way, it is enough for me to meet only eight angels. I am not young anymore, at the tender age of 58 years, I must know myself: "Give me angels who are not young, but their love is always young."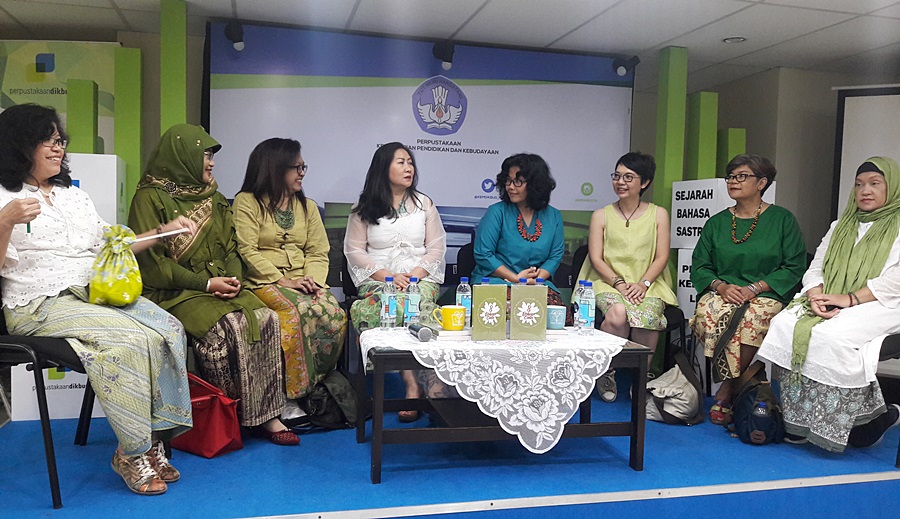 Eight Writers PKK - photograph by Kef
My prayers are fulfilled. On Saturday, March 31, 2018, the eight nymphs are waiting for me at the Library Kemendikbud, Senayan, Jakarta. They are: Sanie B. Kuncoro, Swan Awanti, Tuti Nonka, Dh. Vallentina, Ida Ahdiah, Ninuk Retno Raras, Nita Tjindarbumi, and Widyawati Dada. As soon as we met, one by one I hugged and kissed warmly. The combination of longing, affection, respect, and pride, made the meeting happy.
They are Aniters (author alumni of Anita Cemerlang magazine) who have started writing from the early 80s to the 2000s. His magazine was powerless again in early 2004, but the author remains upright with new works, including those compiled in the anthology of short stories 8 Bahasa Cinta. Each contributed 3 short stories, then the book contains 24 exciting stories.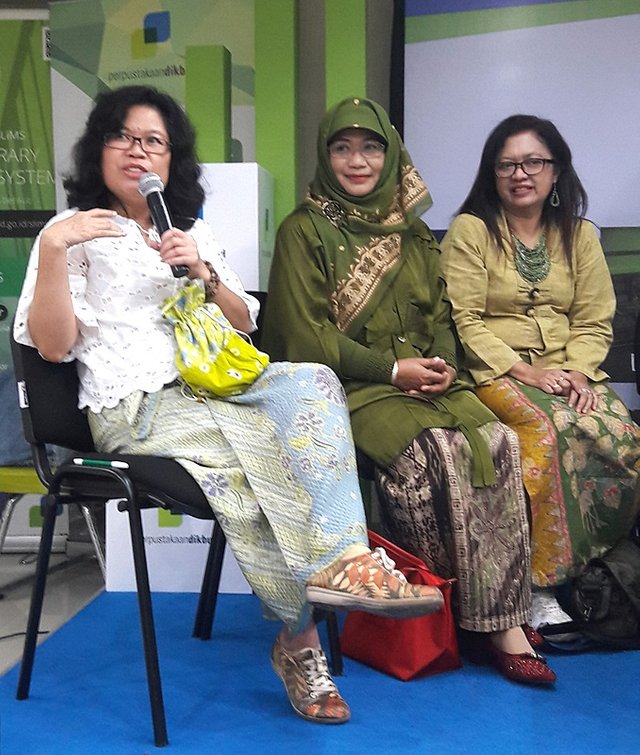 Sanie B. Kuncoro speaks - photograph by Kef
What did they tell us on the small stage for us: their friends and fans? Not complicated and grandiose, but nostalgic about the beginning of their writing fiction and how the fact of the solid, 8 persons to form a kind of dharmawanita. Though they are not in one place. Some are in Jakarta, Tangerang, Yogya, Solo, and Surabaya. In the course of togetherness, they refer to his group as PKK: Perempuan Kakehan Karep (Women with Most Wish). Many want but not all can be done. Apparently their awareness as a new writer appeared later, but directly tangible a book that can increase their footprint.
"Keeping longs," they prescribe that periodically meet. The book that they are born this, according to the plan will get a "sister". If in this first album they agreed to write a story about mother, next will talk about father. We must wait for the concoction of the story. Given the first print of the 8 Bahasa Cinta book is sold out before the launch, it is necessary to anticipate for the next publication. It proves that Aniters still has many fans. Believe or believe?
Thanks to Goodreads Indonesia for hosting this event.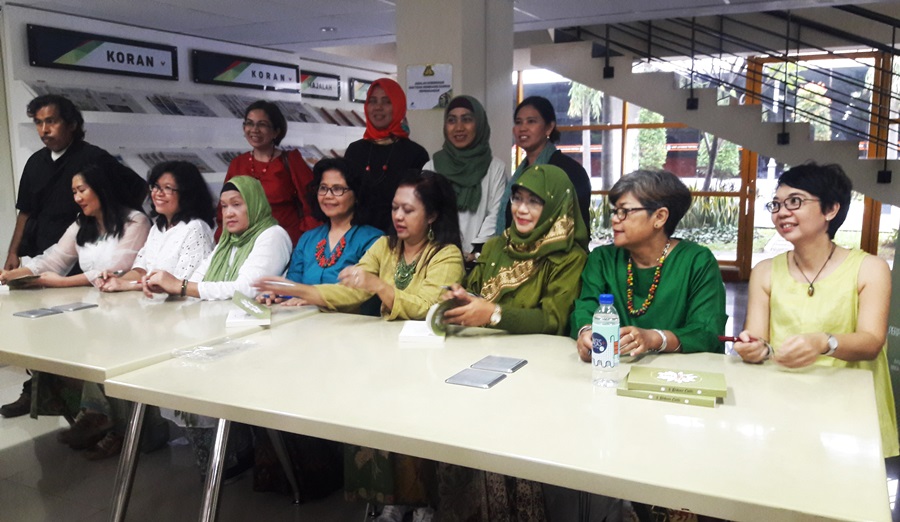 Book signing - photograph by Fans
Cukup 8 Bidadari
Ketika banyak orang terpikat janji disambut 72 bidadari di surga dengan cara tertentu, bagiku cukup bertemu 8 bidadari saja. Aku sudah tak muda lagi, menjelang 58 tahun, maka harus tahu diri: "Berilah aku bidadari yang tidak muda, tetapi cintanya selalu muda."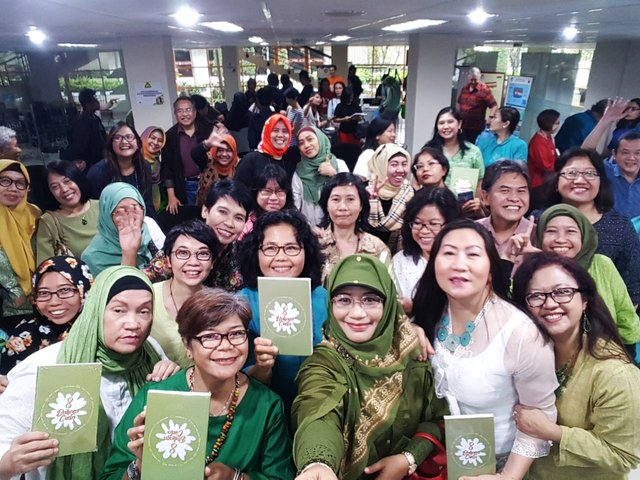 Writers and audiens - photograph by Tuti Nonka
Doaku terpenuhi. Hari Sabtu 31 Maret 2018, ke-8 bidadari itu sudah menungguku di Perpustakaan Kemendikbud, Senayan, Jakarta. Mereka adalah: Sanie B. Kuncoro, Swan Awanti, Tuti Nonka, Dh. Vallentina, Ida Ahdiah, Ninuk Retno Raras, Nita Tjindarbumi, dan Widyawati Dada. Begitu kami berjumpa, satu per satu kupeluk dan cium dengan hangat. Paduan rasa rindu, sayang, hormat, dan bangga, membuat pertemuan itu—meski singkat—membahagiakan.
Mereka adalah Aniters (pengarang alumni majalah Anita Cemerlang) yang telah mulai menulis di antaranya sejak awal tahun 80-an hingga generasi 2000-an. Majalahnya tak berdaya lagi pada awal 2004, tetapi penulisnya tetap tegak melangkah dengan karya-karya baru, termasuk yang dihimpun dalam buku antologi cerpen 8 Bahasa Cinta. Masing-masing menyumbang 3 cerpen, maka buku itu berisi 24 cerita yang tak perlu diragukan keindahannya.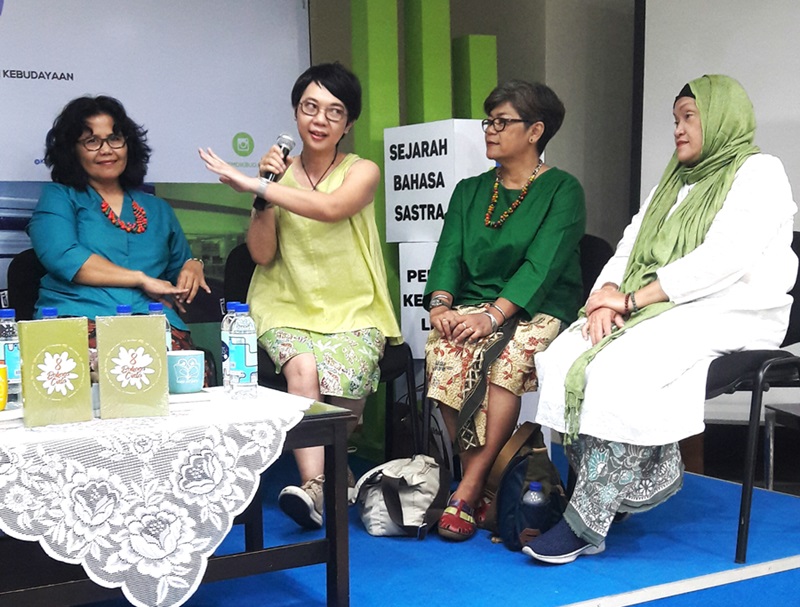 Widyawati speaks - photograph by Kef
Apa yang mereka sampaikan di panggung kecil buat kami para teman dan penggemarnya? Bukan hal yang rumit dan muluk, melainkan nostalgia seputar awal mereka menulis fiksi dan bagaimana fakta ber-8 kompak membentuk semacam dharmawanita. Padahal mereka tidak berada di satu tempat. Ada yang di Jakarta, Tangerang, Yogya, Solo, dan Surabaya. Dalam perjalanan kebersamaan, mereka menyebut kelompoknya sebagai PKK: Perempuan Kakehan Karep (Perempuan Kebanyakan Keinginan). Banyak ingin tetapi tidak seluruhnya dapat terlaksana. Rupanya kesadaran mereka sebagai penulis baru muncul belakangan, tetapi langsung berwujud sebuah buku yang mampu menambah jejak mereka.
"Memelihara rindu," demikian resep mereka yang membuat secara berkala berjumpa. Buku yang mereka lahirkan ini, menurut rencana akan mendapatkan adik. Jika dalam album perdana ini mereka sepakat menulis cerita tentang ibu, berikutnya akan bicara tentang ayah. Racikan kisah itu pasti kami tunggu. Mengingat cetakan pertama buku 8 Bahasa Cinta sudah habis sebelum peluncuran, maka perlu antisipasi untuk penerbitan berikutnya. Hal itu membuktikan Aniters masih memiliki banyak penggemar. Percaya atau percaya?
Terima kasih untuk Goodreads Indonesia yang telah melaksanakan acara ini.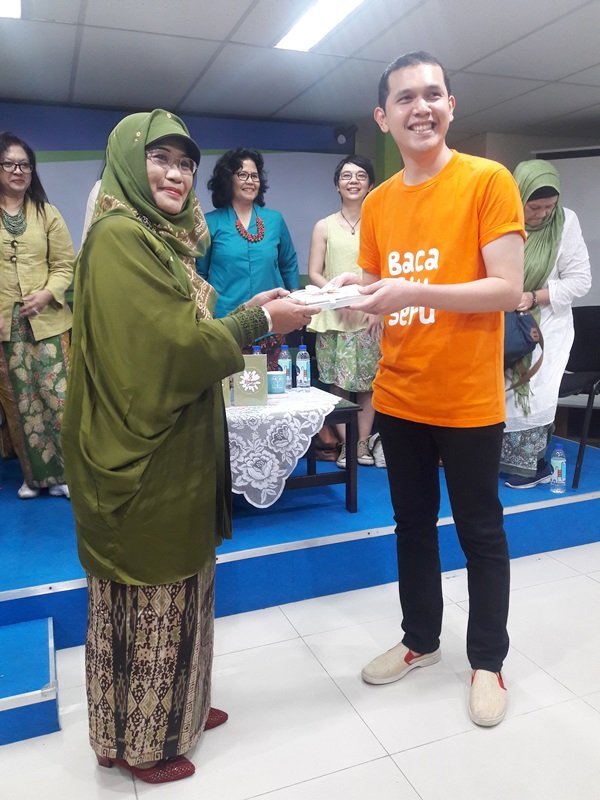 Give a book for Goodreads Indonesia - photograph by Kef
Kef – 4 April 2018