Thoughts on My Monday Muffin!
Let me tell you about my MOIST AND MAGICAL MUFFIN that I am eating now! First off, Jiffy corn muffins get a bad rap because they are cheap like Ramen and made with Lard. I say PFFFFT to that because you can use them as a base for tons of other things. I like to add in southwestern corn and pepper blends and stick cheese on top. That fifty cent muffin mix is now gourmet.
My muffin is crumbling a bit now so next time I'll probably add an extra egg and make a batch with Agave nectar and some mushed up Banana! VOILA!!!! Now you just took a fifty cent box of mix and made gourmet banana bread for all to savor. Sometimes what seems cheap and lowbrow is actually the base for something much grander.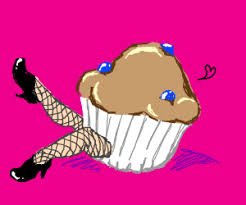 drawception
Do you also like to indulge in muffins? Do you have a recipe for muffins? Do you want to talk about Mondays and/or Muffins? Well then, feel free to leave a comment about all that is fluffy and fabulous. Do you know the Muffin Man? ..... I sure do ;)