STEEMIT EXCLUSIVE - DIGITAL ASSET & CRYPTOCURRENCY RESEARCH
My Jump into the CryptoCurrency Economy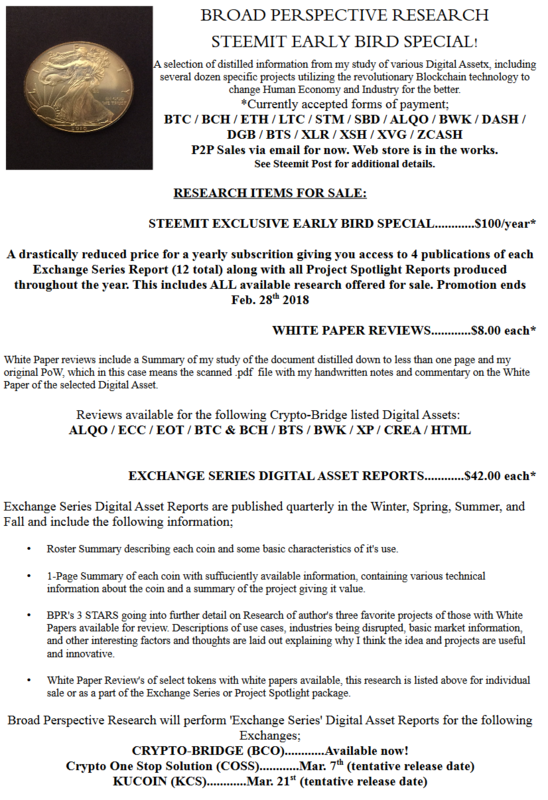 2018 is a year of big changes for me. I am officially entering the new Digital Asset based Economy with my research and reports and I am offering the first publication exclusively through STEEMIT!
The subject of my first publication is the Decentralized exchange, Crypto-Bridge. It includes;
1 Page Summary of 57 different Digital Assets & Cryptocurrencies listed for trade on the DEX, Crypto-Bridge
9 White Paper Reviews
(3) 3 STAR Reviews
For the diehard digital asset nerds I also include scanned copies of my notes & comments on the white papers. This is my Proof of Work for this research project.
The 72 page .pdf document has embedded bookmarks and active links which help you focus on the coins you're most interested in learning about and provide the official information sources for the project to help you get past all of the FUD and misinformation that abounds in the digital asset space.
A video describing how to use the research paper and offering a peak at the document will be available through D.Tube & Viuly later today for anyone interested in seeing more before deciding whether or not to make a purchase.
To purchase any of the research items listed above, please email BroadPerspectiveResearch at Gmail and indicate which information you would like as well as which cryptocurrency you would like to pay with. I'll respond with the payment address and amount (based on CMC price at the time of your initial inquiry or my response, whichever is less).
Once the payment is received your report will be issued via email or a download link for the white paper commentary.
This is an exciting time to be involved with the digital asset space and I'm looking forward to learning more as I expand my research into the COSS and KCS exchanges next. Any questions can be posted here or sent to the email address above, I'll respond as quickly as possible during regular west coast USA business hours.