We are a Positive ROI Bot - Make Returns Of Atleast 1% from Time of Vote
The main goal of this post is to remember that, if 👉you are interested in buying votes/popularity from us, you will get a minimum 1% ROI as of time of the vote. It is possible to get returns up to15%.
We have the positive ROI policy to gain popularity but also for making the community sustainable. We believe that all bots should be Positive ROI bots.
To check out the current round go to https://www.brupvoter.com . To buy votes/popularity we work the same way as other bid-based voting bots.
On a similar but different note, if you are a Steemian with some STEEM power and are looking for a service to delegate to try outs. We have annual returns of 22% right now and the last weeks daily returns are between 12% to 16% APR (Annual Performance Rate). To fully check out are returns over the last 2 months go here https://www.brupvoter.com/en/graphs_roi_sponsors.html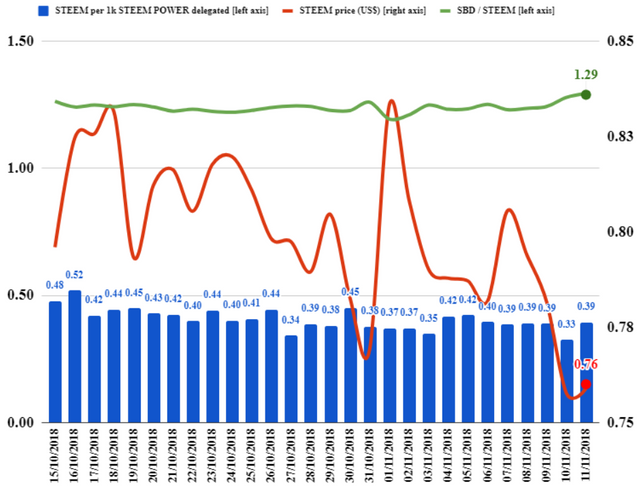 To delegate to us go here https://www.brupvoter.com/en/delegation.html , remember if you are already delegating to our service/bot you will have to include your present STEEM Power + the additional STEEM Power.
If you appreciate the @brupvoter team work as a fair vote promoting service, please resteem this post and help us to grow our community.
Best Regards,
BR-UpVoter TEAM, Nov 14th, 2018 at steemit.com/@brupvoter.
---
Para a comunidade Brasileira e da língua portuguesa
O propósito principal deste post é lembrar que se você está interessado em aumentar a sua popularidade na rede STEEMIT utilizando nossos serviços, você irá receber um mínimo de 1% de retorno (ROI) positivo, calculados no momento da efetivação do nosso voto no seu post. Lembramos que dependendo da rodada de votação o retorno pode ser até de 15%.
Nós mantemos nossa política de Retorno positivo por estratégia de marketing, mas principalmente para manter a comunidade sustentável. Nós acreditamos que todos os robôs deveriam manter estratégias de retorno positivo.
Para verificar nossa rodada atual, vá até nossa página https://www.brupvoter.com . Para promover suas publicações nós operamos de forma simular a todos os outros robôs baseados em lance.
Se você possui STEEM POWER e deseja delegar para nosso robô, nosso retorno médio anual atual é de 22%, considerando o início das nossas operações. Já o retorno das duas últimas semanas gira em torno de 12% a 16% APR (Annual Performance Rate). Verifique nosso histórico de desempenho em https://www.brupvoter.com/en/graphs_roi_sponsors.html
Delegações para nosso robô podem ser realizadas por meio do link: https://www.brupvoter.com/en/delegation.html , lembrando que se você já é um de nossos patrocinadores e já possui SP delegado para nosso robô, você delegar o valor atual já delegado + o STEEM POWER adicional que desejar.
Se você aprecia o trabalho da equipe @brupvoter, por favor, encaminhe este post e nos ajude a crescer nossa comunidade.
Saudações,
Equipe do BrUpVoter.