Ripple Jumps 10% on SWIFT Announcement of PoC Linkage with R3
Ripple has suddenly turned very green after Swift announced they are undertaking a proof of concept trial with R3 to link the latter's Corda to Swift's payment system.
"All trade platforms require tight linkages with trusted, fast and secure cross-border payments mechanisms such as gpi. While DLT-enabled trade is taking off, there is still little appetite for settlement in crypto-currencies and a pressing need for fast and safe settlement in fiat currencies," Luc Meurant, SWIFT's Chief Marketing Officer said before adding:
"With the gpi Link, banks will be able to provide rapid, transparent settlement services to e-commerce and trading platforms, opening up whole new ecosystems to the speed, security, ubiquity and transparency of gpi and enabling them to grow and prosper in the new digital economy.
Given the adoption of the Corda platform by trade ecosystems, it was a natural choice to run this proof of concept with R3."
Corda is a private blockchain of sorts mainly focused on facilitating fiat bank transfers through distributed ledgers to increase speed and efficiency.
They recently announced Corda Settler which can work with XRP. Describing it last December, R3 said:
"When a payment obligation arises on Corda during the course of business, one party now has the option to request settlement using XRP.
The other party can be notified that settlement in XRP has been requested and that they must instruct a payment to the required address before the specified deadline. Once an oracle service validates the payment has been made then both parties can treat the obligation as settled."
The suggestion here is that banks might now use XRP to make international payments, but Swift's Meurant made it somewhat clear that there is "little appetite for settlement in crypto-currencies." Ripple however has turned bullish:
![xrp-usd-price-jan-30-2019-1024x621.png]
(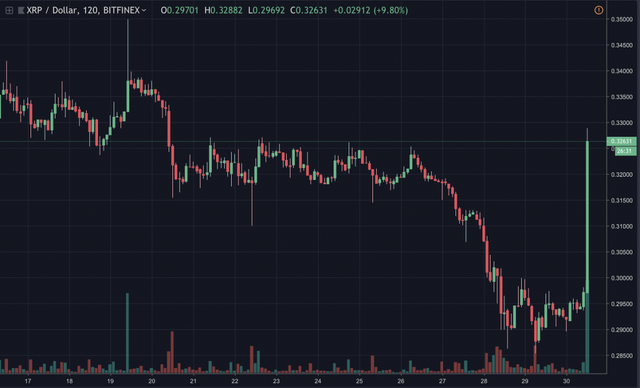 )
In which case they could bring international payment fees and processing times down to seconds, so making XRP irrelevant.
Yet the design would be trusted. The banks could and of course will print as many tokenized dollars as they please and no one needs know of it except for the participating banks. The lack of open source code may make them vulnerable to hacking from within or from the outside. The lack of smart contracts may make it boring from a coding perspective. And the closed nature might significantly slow down any innovation within their systems.
On the other hand they are at least trying to compete, but if they do succeed in streamlining international payments it isn't very clear how XRP can maintain any relevance. While BTC or BCH can claim gold status, eth can brag about giving machines bank accounts through smart contracts that don't need private keys and even stablecoins – at least some of them – can brag about being open rather than in a closed system.
Copyrights Trustnodes.com