MORE THAN 800 FOLLOWERS 🏁 + 100 FOLLOWERS IN 4 DAYS + Repuctation 52 📈
I am on steemit exactly about 2 months, I have more than 800 followers, I have written more than 2200 posts !
I withdrew more than $100 other money is invested in steem power and my reputation !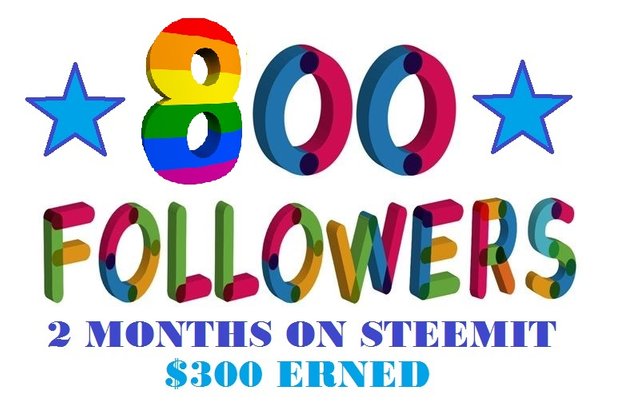 100 followers in 4 days ago I shared this post :


I've learned so much on steemit !
Tools that I use to know my stats :
Platforms that I use to post :
How to add a profile picture to your steemit account
HOW TO ADD MUSIC TO YOUR POST IN STEEMIT
USEFUL TUTORIAL ABOUT HOW TO USE STEEMIT TO BE SUCCESSFUL HERE AND IN YOUR LIFE !
HOW TO GET 50 UPVOTES INSTANTLY FOR YOUR POST ON STEEMIT
How to use smileys or icons on steemit
I wrote two poems : My little poems about steem & steemit
I wrote a proverb : A STEEM PROVERB
I converted my facebook groups into steemit groups :
I recorded good video about steemit, shared good useful information and shared a lot of my self.
I have met very good people here.
Plus I am doing contests and giveaway recently.
Earning money online 💰, read interesting news I share 💬, helpful and useful topics I write about 💡, get motivated by me ✍ & have a good life☺

Keep following @Clixmoney for more motivational results.
---
Youtube channel - Twitter - Instagram - GOLOS - FACEBOOK GROUP -RESTEEM TO BE RESTEEMED
---
The giveaway continues I still send 0.02 SBD to random people who will upvote and resteem my new posts.
Take a look at the history of my wallet and you will see how much SBD were sent to random people.
---
More I will earn more I will give ! Spread the news and everyone will be happy ☺.
Go ahead, upvote and resteem and receive your prize !