I Published My First DTube Video Today!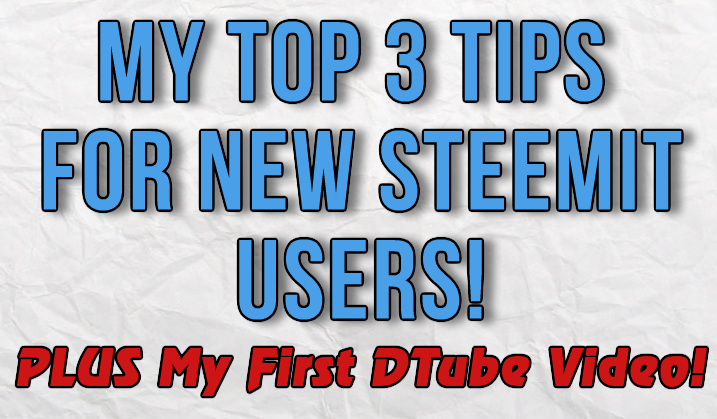 Hello there!
I've been a SteemIt member for almost a year now! I joined in October of 2016.
I have to say that SteemIt is probably one of the most enjoyable social media/content sharing outlets that I have ever come across. I have my own online business which I started in 2008, so as you can imagine, I've seen dozens of social media platforms come and go.
So what makes SteemIt different from all of the rest? Well, the cryptocurrency aspect, of course, and the fact that it may just be one of the only uncensored platforms left.
When the people who created the Internet were dreaming about what it would become, I don't think they quite imagined the Internet as it is today. Let's face it - The Internet has become riddled with huge corporations who are are slowly but surely creating monopolies right under our noses.
When I envision the men and women who made the Internet "happen" huddled around a conference table discussing their collective vision, I like to believe that what they envisoned was something that was free, and would be there to benefit the "little guy." In other words, it would something that everyone would collectively build together, and everybody would have an equal say, and equal ownership in. It would be owned by nobody, but at the same time, owned by everybody.
I think it's safe to say that it's become something other than that. Money and greed have crept their way in to a once level playing field and tilted the odds in their favor. Gone are the days when the average "Joe" or "Jane" could create a website about something they loved and easily earn a nice side (or even full-time) income from their toils.
This brings me to the beauty of SteemIt. You see, SteemIt has once more flipped the odds in favor of the "little guy" (or gal). This is a place where ANYONE can come and share ANYTHING they want and be confident in the fact that nobody is going to silence them. We can once again express ourselves freely without worrying about whether or not some nameless, faceless moderator in the cloud is going to decide he or she doesn't agree with what we have to say!
And now, it's been taken a step further! We now have DTube! Yes folks, our very own crypto version of YouTube! Well, maybe it's not that big yet, but I'm betting it will be, and much quicker than most people think!
I actually just found out about DTube yesterday, and so I decided to make my first video.
I couldn't think of a more fitting topic for my initial offering than to share 3 tips that have helped me and that I think will benefit SteemIt newbies.
Some of you may find this basic, but I'm sure you might pick up a thing or two.
Now, I'm not a "whale" by any means. However, I have done relatively well for myself on SteemIt, considering I haven't written a ton of articles. I try to put out quality content when I do write, and I think that's one of the things that all SteemIt members should focus on.
Anyway, if you want to find out about my top 3 tips for new SteemIt users, head on over to my DTube video and check it out. It's a little more than fifteen minutes long, as I tend to ramble a bit, but I think it will be worth your time.