Guardians of the light ( Guardianes de la luz )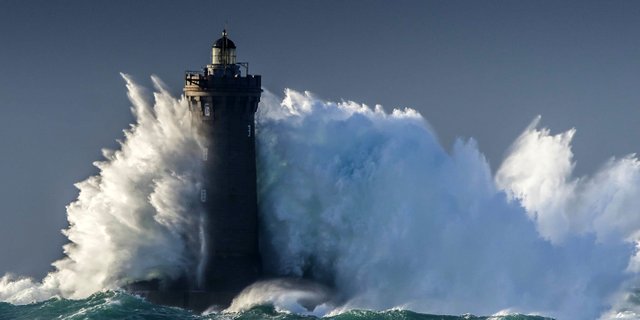 How can you reflect the light of Christ?
In what area does God call you to obey Him today?
At the Hatteras Island lighthouse, off the coast of North Carolina, in the United States, there is a monument to everyone who worked at the light stations since 1803. Shortly after moving the structure to the mainland, due to the erosion of the coast, the names of the guardians were engraved on the stones of the old foundation, and these were placed in the form of an amphitheater in front of the new site. In this way, as a plaque explains, visitors can today follow in the footsteps of the historical guardians and also "watch" the lighthouse.
Jesus is the supreme giver of light. He declared: «I am the light of the world; He who follows me will not walk in darkness, but will have the light of life "(John 8:12). What a drastic statement! But Jesus did it to reaffirm his relationship with his heavenly Father, the Creator of light and life, who sent him.
When Jesus saves us and we follow his teachings, we restore our relationship with God, and he gives us power and purpose. "The light of men" (1: 4) shines in and through us, spreading into a dark and sometimes dangerous world.
As followers of Christ, we become "guardians of the light." May others see his light shine in us, and find the life and hope that only He can give!
Read: John 8: 12-16
Jesus the light of the world
12 Again Jesus spoke to them, saying: I am the light of the world; He who follows me will not walk in darkness, but will have the light of life.
13 Then the Pharisees said to him, You bear witness about yourself; your testimony is not true.
14 Jesus answered and said to them: Although I bear witness about myself, my witness is true, because I know where I have come from and where I am going; but you do not know where I come from or where I am going.
15 You judge according to the flesh; I do not judge anyone.
16 And if I judge, my judgment is true; because it is not me alone, but me and the one who sent me, the Father.
GOD BLESS YOU
((( español )))
¿Cómo puedes reflejar la luz de Cristo?
¿En qué área te llama Dios a obedecerle hoy?
En el faro de la Isla Hatteras, frente a la costa de Carolina del Norte, en Estados Unidos, hay un monumento de todos los que trabajaron en las estaciones de luz desde 1803. Poco después de trasladar la estructura a tierra firme, debido a la erosión de la costa, los nombres de los guardianes se grabaron en las piedras del antiguo cimiento, y estas se colocaron en forma de anfiteatro frente al nuevo emplazamiento. De ese modo —como explica una placa—, los visitantes pueden seguir hoy los pasos de los históricos guardianes y «vigilar» también el faro.
Jesús es el supremo dador de luz. Declaró: «Yo soy la luz del mundo; el que me sigue, no andará en tinieblas, sino que tendrá la luz de la vida» (Juan 8:12). ¡Qué declaración tan drástica! Pero Jesús la hizo para reafirmar su relación con su Padre celestial, el Creador de la luz y la vida, quien lo envió.
Cuando Jesús nos salva y seguimos sus enseñanzas, restauramos nuestra relación con Dios, y Él nos da poder y propósito. «La luz de los hombres» (1:4) brilla en y a través de nosotros, extendiéndose a un mundo oscuro y a veces peligroso.
Como seguidores de Cristo, nos volvemos «guardianes de la luz». ¡Que otros puedan ver brillar su luz en nosotros, y encuentren la vida y la esperanza que solo Él puede dar!
Leer: Juan 8:12-16
Jesús, la luz del mundo
12 Otra vez Jesús les habló, diciendo: Yo soy la luz del mundo; el que me sigue, no andará en tinieblas, sino que tendrá la luz de la vida.
13 Entonces los fariseos le dijeron: Tú das testimonio acerca de ti mismo; tu testimonio no es verdadero.
14 Respondió Jesús y les dijo: Aunque yo doy testimonio acerca de mí mismo, mi testimonio es verdadero, porque sé de dónde he venido y a dónde voy; pero vosotros no sabéis de dónde vengo, ni a dónde voy.
15 Vosotros juzgáis según la carne; yo no juzgo a nadie.
16 Y si yo juzgo, mi juicio es verdadero; porque no soy yo solo, sino yo y el que me envió, el Padre.
DIOS TE BENDIGA