Is Burning the Best Way to Save Steem from Inflation?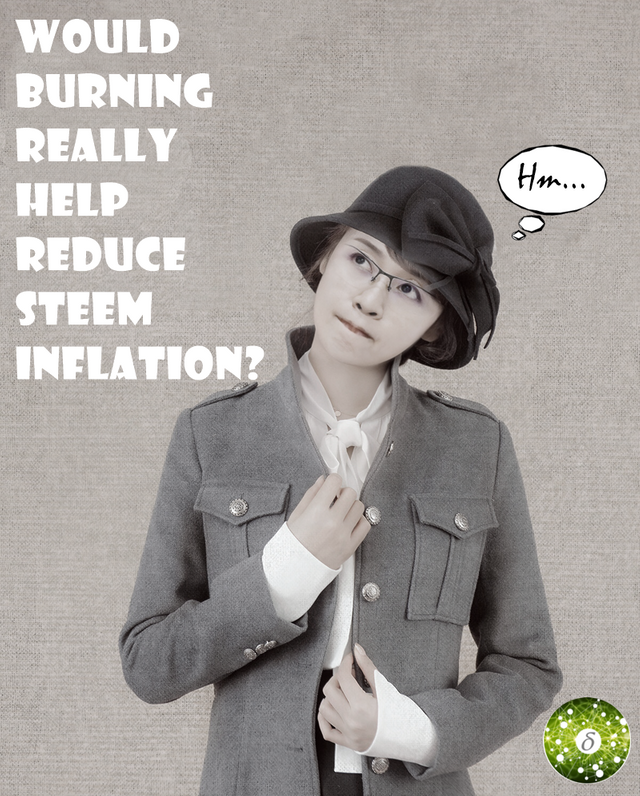 Cover brilliantly created via Pitu, Photopea and PhotoScape
Hi everyone!
It has been a while since I pen down any thoughts within the STEEM ecosystem as many who has been reading my thoughts are still unable to see a much holistic view of making STEEM more valuable outside the box .
So far I have noticed in this vast community that I have been observing, maybe it doesn't do enough justice as I am still surrounded by majority day-wage earners, home-owners and digital nomads, or the other side of the extreme traders and Steem-blockchain limited business dealings (like selling votes)
And recently ever since #newsteem is born many are taking the point to create quality content which rightly justified with their posts now...
With extra content creation and contests running at the same time.
More over the Steem Burn Initiative that encourages writers to preset beneficiaries to @null with a certain % to be sacrificed to keep the steem value up is now been taken seriously.
To be frank, some of my main posts ARE starting to place tiny bit of % to be burnt but most of the time the SCOT tokens are the ones are being burnt first due to their massive downfall values as most writers (including myself, because I need to replenish my lost fiat for #steemfest ) will earn the SCOTs more and then convert them back into STEEM or even to other pegged crypto currencies.
I am actually supporting this burn initiative, but with the limited ability I have...
Simply because I am one of those who are sliding off from an average earner to a below income owner because of family obligations; and just by burning steem, it will not really help.
Because how can you encourage struggling individuals with the need of real money (at present fiat-dominant time) to put food on the table when you are asking them to just sacrifice some of their % earnings for the greater good ?
Actually this could actually work due to steem value is sliding off its grip the last 1 year and that tiny % sacrificed for burning doesn't really hurt much as before...
Yet what if when STEEM / SBD actually starts to moon, will people still be able to just burn them off for the sake of maintaining the value of steem?
Personal Note:
Just so you know, I am not against #newsteem , just that there HAS to be more than this, and that is one of the reason why I am heading over to steemfest via my main account identity.
What if....
... there are other ways to keep the clutches of monopoly of just a mere few holding most of the STEEM crypto and keeps fluctuating when they really need to put food on the table (and sold of a huge bunch of crypto and plummet the steem value) ?
What if...
... we open up the holding of STEEM crypto coins outside the writers circle, with 2 possibilities:
holding like bonds
these people just hold the steem and not even circulating: hence creating inaccessibility of such steem / sbd and reduce liquidated circulation?
becoming investors with "tiny dividens"
Unlike content curators who delegate to gain upvotes in return, these are sole investors sitting their STEEM in SP (Steem Power) as part of a strong curating team manually curating while they earn slightly a little bit of curation along the way?
---
This is what D.S.E.S initiative has been doing: with the help of real world charity investors who have been purchasing steem / sbd from @gtpjfoodbank (because they are donors) and park under this account while they keep earning dividen like stockholders.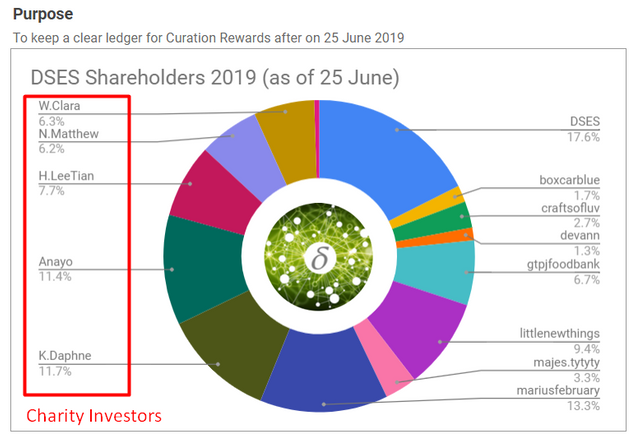 Other delegators like @boxcarblue , @majes.tytyty, @mariusfebruary, @devann will get their dividens sent to them every 3 collection from this account when I login via Steemwallet / collect the rewards from other dapps.
(This actually allows me to send more at one time instead of tiny bits daily because these are all done manually)
But this is only part of it.
Currently in my spare time I am planning proposals and searching small businesses (in the real world) who are starting out in their business and needed exposure about Steem in order to absorb and limit the liquidated circulating STEEM in the market .
I am not sure whether this could be a brilliant idea / a disaster, either way, from my limited (and a little simple-minded) view of economics is: when circulating steem in the market reduces, its value starts to increase.
This is a win win situation for those who are hodling the crypto (like long-term bonds) and let its value keep rising.
And the more bond hodlers out there, the less steem floats in the market; the less steem floats in the market, the more valuable its value (because of the scarcity in the market)
---
That being said, this proposal is not overwriting the Burn initiative
Why?
Because when this runs hand-in-hand, the scarcity of steem in the market could (theoretically) increase, hence its value as well.
What do you think? Will this idea work?
And this is only 50% of my idea revealed. Because no doubt right now buying steem via charity investors is working, but that is just not enough for mass hodling because we are still a small number of people in a community compared to 7 billion people (not counting most of the kids) in the world; and many more and more people starting their entreprise business.
I know I am one of them who's at least trying .
Are you a business owner in Steemit who is trying to introduce your products to the world of Steemians?
If you are, look for me at @littlenewthings#8151 and let's talk!
Until then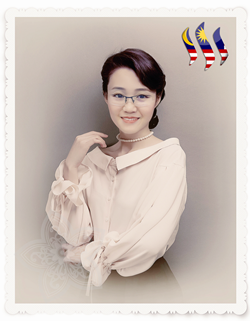 #dses
initiative member.
A technology can come and go; but when a lifestyle is applied to it, it becomes a new revolution.