How people earn SteemPower on Steemit for maximum profit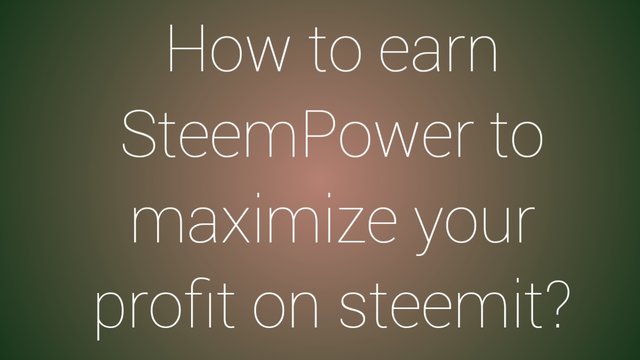 Welcome Steemians!
Today, our topic is "How to earn more on steemit with a little amount of investment". Mostly, the people are focusing on SteemPower rather than Steem Dollar to increase their vote value and get long term benefits from that. There are many ways to get SteemPower in your account. Like, if you do an investment on your posts and getting SP in your reward/payout after 7 days. You can also get SteemPower as a curator reward either by selling upvotes through bots or directly giving upvotes to quality content on Steemit. If you're selling through bots, then you'll get your complete vote value in your account and SP as a bonus after curation on those posts.
Many people delegate SteemPower on rent either on weekly or monthly basis. So, you can get from someone you can afford in your initial investment and then create your own bot on SteemBotTracker and then promote your account on Steemit and social media. You'll easily save few bucks with initial investment by this way.
There is another way of trading if you wanna try. Buy some Steem or Steem Dollar and do investment on post's when price is low against Dollar. If the price goes up then try to transfer in your wallets or exchange like binance and when price is in down trend, try to do small trade's on coins those are gaining satoshi's to keep your money on same level and buy more when you feel like you're getting the best amount of Steem if you buy again. This is only the option if you're are in loss while Investing in bots.
The only reason people spending huge amount of Steem/SBD on post's to bring them infront of maximum audience and they know, they will cover their loss with SP if they didn't received any upvotes value from them. And if they got upvotes on quality content, then you can imagine the profit they'll get because that post will be in trending in 5 different categories.