I'm Hosting the #2 India Steemit Accelerator in Bangalore on 30th July! This is What You Can Expect!
It's time to kick things up a notch! Steemians from Bangalore, India get ready for an interactive session on Steemit. Last month, I held the #1 India Steemit Accelerator in Mangalore city. Overall the response was great! We had a good number of participants at the mini-conference and the event received an excellent press coverage as well!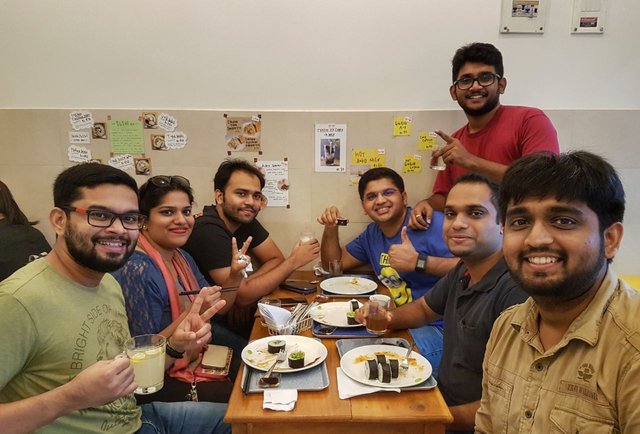 L-R: @firepower, @andreanoronha, @rjsudeep, @srinidhi, @speedracer, Neilnoronha and @sanjayjkamath
Check out these two posts on the last event:
Today as a follow up to the #1 event I organized a small meetup of local Steemit users at a local cafe. It was a casual gathering where a few friends discussed our individual Steemit journeys over a nice meal. I'll write about that in another post. But first...
Bangalore, 30th July 2017!
The first event received a fantastic response and there was a great demand to hold another such event in the IT hub of India! This event is on the 30th July 2017 (Sunday) morning 10AM - 2PM. The conference location and seating capacity is being finalized but the time slot and date is final!
The seating will be limited to around 30 people or so. +/- 10. If you can make it to the event, kindly reply in the comments below so I can get a headcount for the same and ensure there is ample seating available to accommodate everyone.
As you might know, I'm funding this myself so I welcome your support and encouragement. Hopefully I can finalize location that is reasonably priced and one that offers ample seating capacity.
The most important thing to remember is this: If you have a talented friend or family member whom you know can benefit by signing up and using Steemit, then please get them to the event!
What Can I Expect At The India Steemit Accelerator?
Complete basics of Steemit from account creation to using the markets.
Networking with other users from the country.
Experience sharing with key members of the platform from India.
Interactive session with ample opportunity and time for QnA.
Mentoring on how to make the most of your time spent on Steemit!
Meetup with other like minded Steemit users.
I'll be posting the final details within a week but please keep your schedule free. If you live in Bangalore, then I hope to see you there. Based on the success of this event, I hope to evolve and take this format further up North and East of India as the user base from India continues to grow and as long as I find it feasible.
If you are from Bangalore or nearby cities and want to stay updated at a faster pace then you can catch me at #India on Steemit.Chat!
This is a free-to-participate event!
---
If you like my work kindly resteem it to your friends. You may also continue reading my recent posts which might interest you:
---