Successful #2 India Steemit Accelerator and Steem Cryptocurrency Meetup 2017 at Robert Bosch India HQ!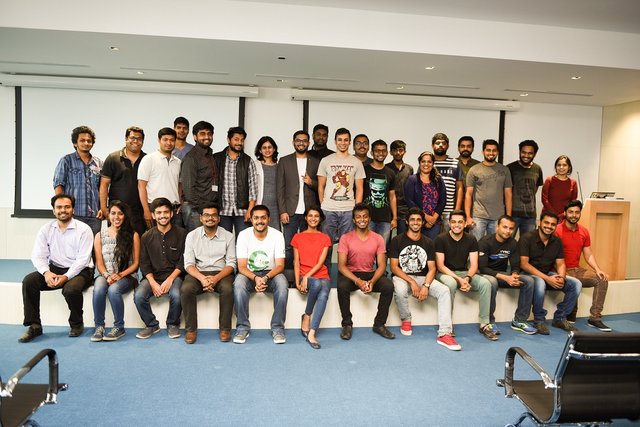 When the first India Steemit Accelerator took place in Mangalore, in June 2017, many Steemians from India wanted me to organize something in Bangalore, the IT hub of India. Finally on the 30th of July, the #2 India Steemit Accelerator took place at the Robert Bosch India Headquarters at Bangalore and over 30 people attended the program.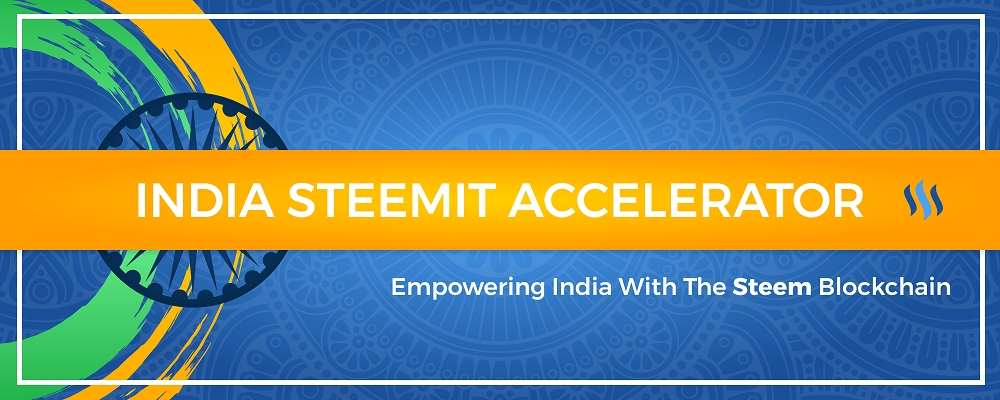 This was special because of the association of this event with Bosch. It happened thanks to a friend who is a well known Industry analyst who connected me to Bosch as they seemed very interested in providing the venue for a such an event. It's true, having a solid network can make the difference between waiting on the sidelines and getting things done!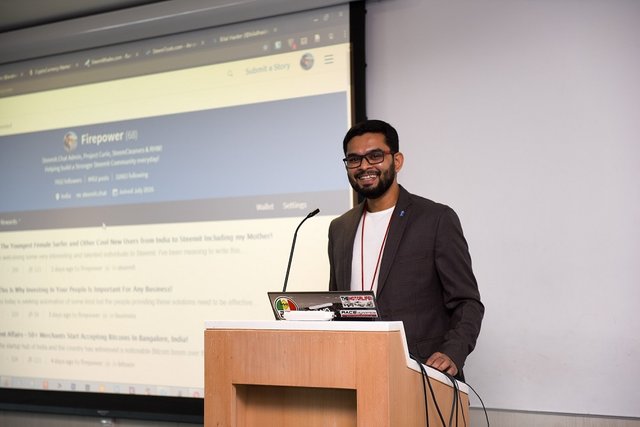 Can you see the happiness on my face!
I wasn't expecting to get a conference venue at the premises of one of the biggest names from the world of engineering at a such an early stage of this project and was really happy to be speaking at this location!
Dear Steemians! This event was fully funded with your support on my previous blogs!
Check out these two posts on the last event:
The purpose of this initiative is diverse:
Create awareness and buzz about Steemit platform and Steem cryptocurrency amongst social media users and amongst the Indian media .
Engage with existing users and help them better understand this platform.
Onboarding of new users to the platform who can add value to the network and also derive great value from it over a period of time.
Scale up onboarding to include influencers from across this region and make Steemit one of the most sought after social media platforms on the web for brands and users alike!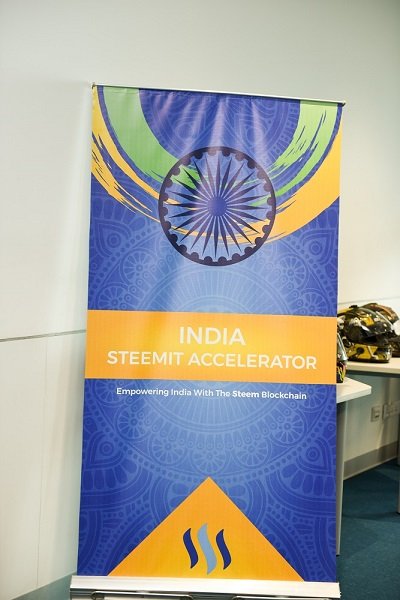 My plan is to try and take Steemit to the masses and following is a quick coverage of the Bangalore event as it went down.
---
Steemit Coaching 1-O-1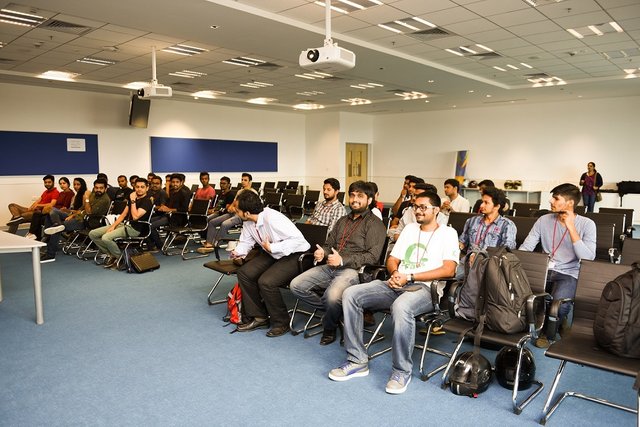 Starting with a round of personal introductions, I discussed blockchain and Bitcoin before introducing Steemit.com to the audience. The audience included start-up founders, students, digital marketers, working professionals, members of Bosch's Blockchain team as well as the Bosch India head for Venture Capital and Startup Accelerator.
@hardikv introducing himself and what he thinks about the Steemit platform.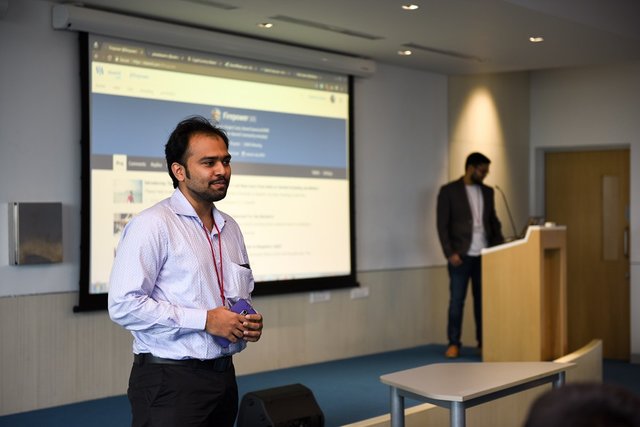 @rjsudeep talking about his first experience with Steem blockchain.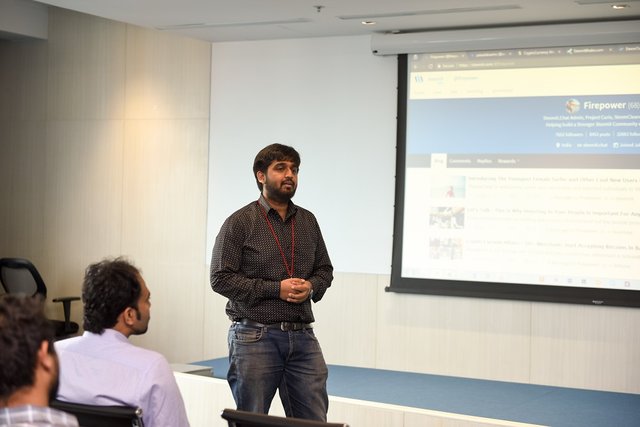 @sanjayjkamath part of the blogger group The3HungryMen introducing himself.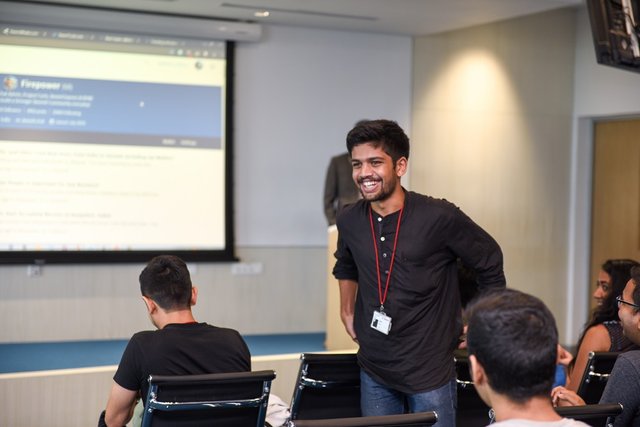 @nandan Is a young magican and enthusiastic about blogging!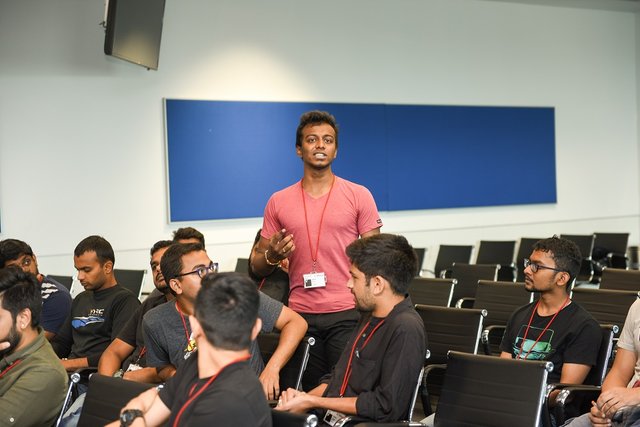 @awakeningartist is of the older members from India and is a fantastic artist who gave a nice introduction!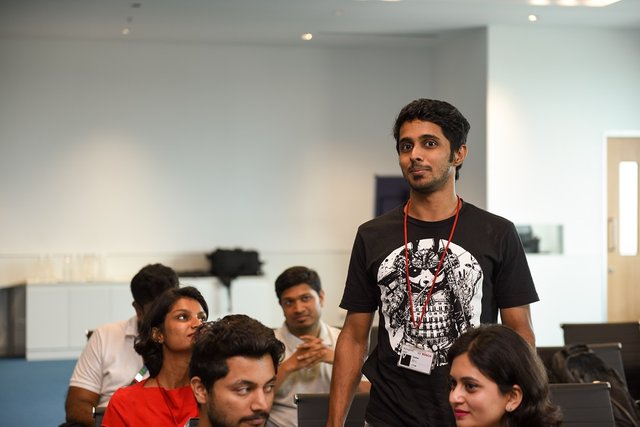 @madnomad is a dear friend and hotelier!
Some of the users like @hardikv and @vishalmukadam mentioned about why they like Steemit during their introductions. I helped @madnomad's friend Athmi create a new Steemit account during the presentation.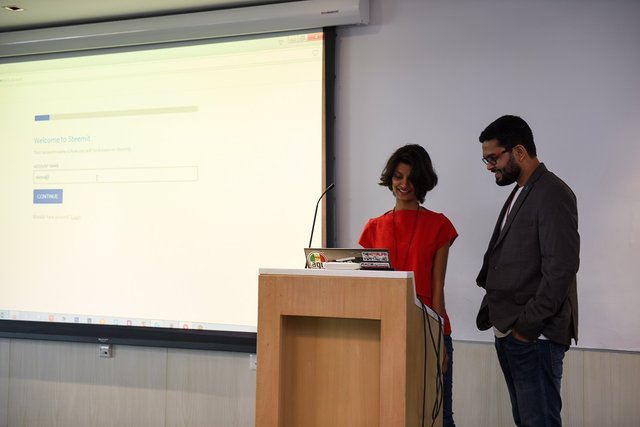 This time around I used some descriptive videos on Blockchain, Bitcoin and Steemit to help everyone understand this new tech!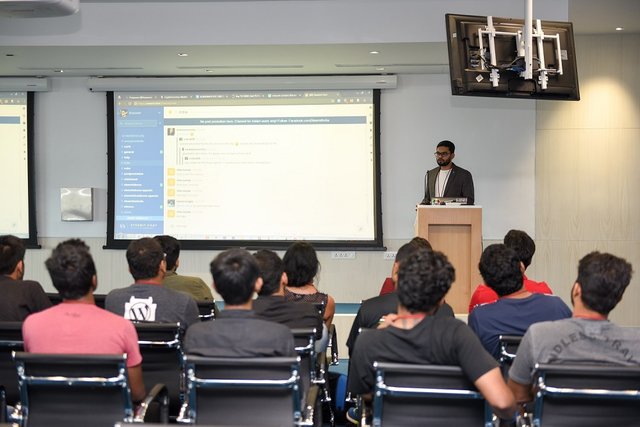 The session was largely focused on Steemit platform and Steem cryptocurrency and this is the summary of what went down!
Introduction to Blockchain, Bitcoin, Altcoins and Steemit.
Account creation and importance of introductions for non-anon users.
Creating/editing/formatting a post, markdown format, adding images and selecting rewards.
How the upvote and downvote system works, and feature comparison with old social media platforms.
Where does the 'money' come from?
Strategies for gaining followers, importance of commenting.
Dos an Dont's on Steemit including use of copyrighted materials.
Steemit.Chat and best ways to use the platform.
How to network with others on Steemit and Steemit.Chat
For existing members I also showed them how to use the Steem blockchain explorer Steemd and SteemDB.
Features of your Steemit account, how the wallet page works and transferring Steem/SBD.
Using Mobile App @esteem and attending @steemfest global conference and pictures from the 2016 event!
How to use Blocktrades.us for quick exchanges and crypto trading platforms such as Bittrex.
How to power up, power down and cash out.
Tax planning from the Indian perspective.
Many other aspects of Steemit were discussed!
At the end of the presentation I gave a Steem memento to Bosch's India head for Venture Capital and Startup Accelerator who helped me put this together.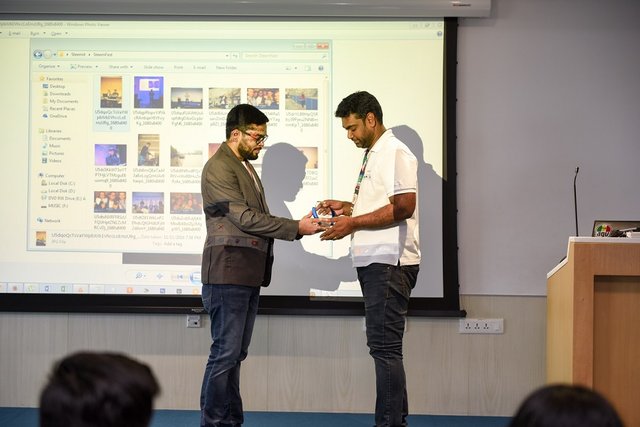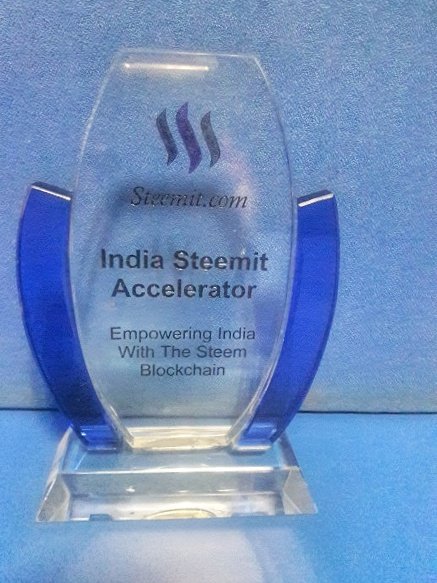 Steem Memento
He also spoke briefly about Bosch implementing blockchain technology in some of their projects. He was happy to learn about revolutionary new projects in the crypto space such as Steemit take shape as it can lead to many amazing things in the future.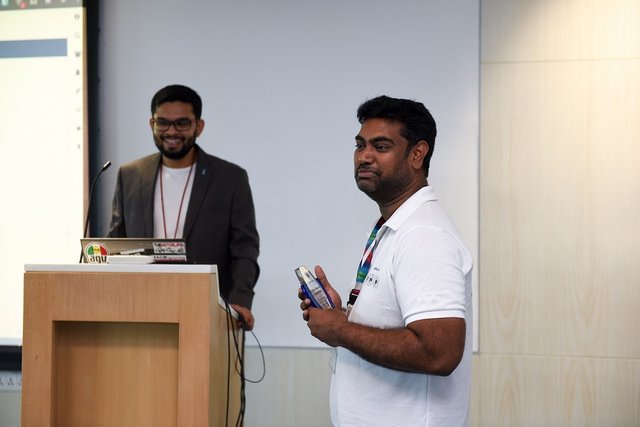 Manohar S Esarapu, Head Bosch India Venture Capital & Startup
F&B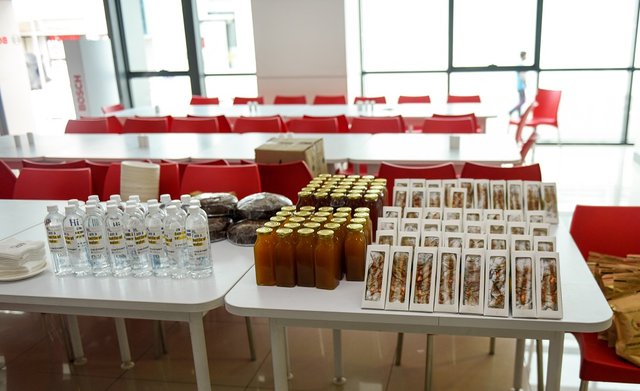 I engaged Chai Point to deliver some refreshments on the day. It was a bit expensive, but the food and beverages were very good and everyone enjoyed it. We had Banana cake, Cottage Cheese Tikka Sandwich and a choice between Apple and Cranberry Ice Teas.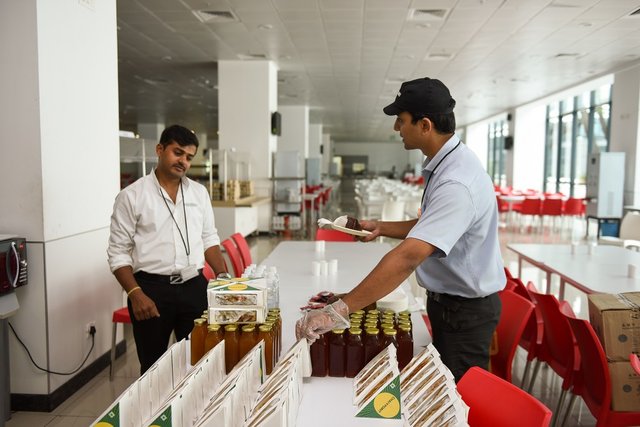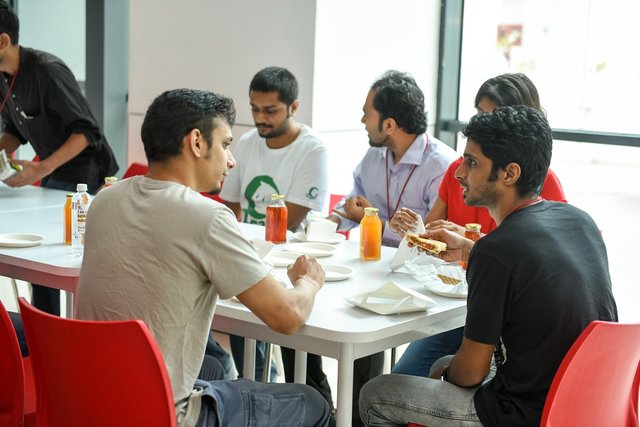 After the break for snacks and lunch, we came back to the conference room for QnAs. The event was originally planned for 2 hours but we started a bit late around 11.30AM as many were late to arrive and we finally closed it around 3.30PM. 2 hours longer than anticipated owing to a highly interactive QnA session.
Special thanks to my friends who assisted me in this event @varunpinto (photos), @sjennon (standee and accelerator program banner design), @sanjayjkamath for getting the standee made and @wolfpack-raj (Press Release)
Some feedback from users who attended the event:
Thanks to everyone who participated in the conference and made it a grand success!
Steemit has the incredible potential to make dreams come true. I'm doing my part to help others achieve theirs through using this amazing platform!
I plan on having a casual meetup in Bangalore in the upcoming weeks. I'm working towards taking the accelerator event to Pune, Mumbai and New Delhi eventually. Bangalore event was feasible cost-wise but other cities may be more expensive to fund myself so I need to figure this out. Hopefully, I can keep this going and keep Steemit in the limelight, and assist in gaining mainstream adoption.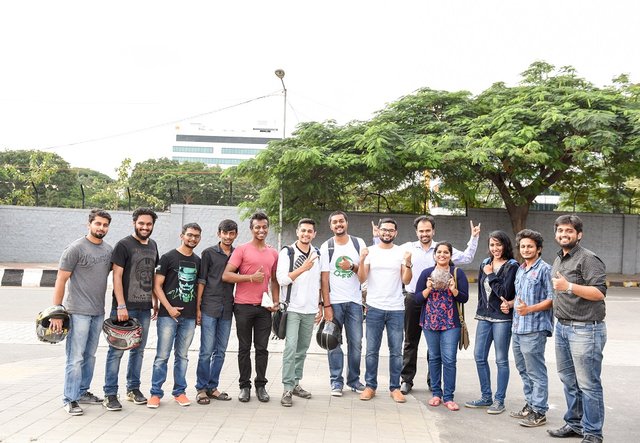 Overall, the #2 event hit the nail on it's head and showed people how Steem crypto and blockchain technology could potentially change business in the social media space!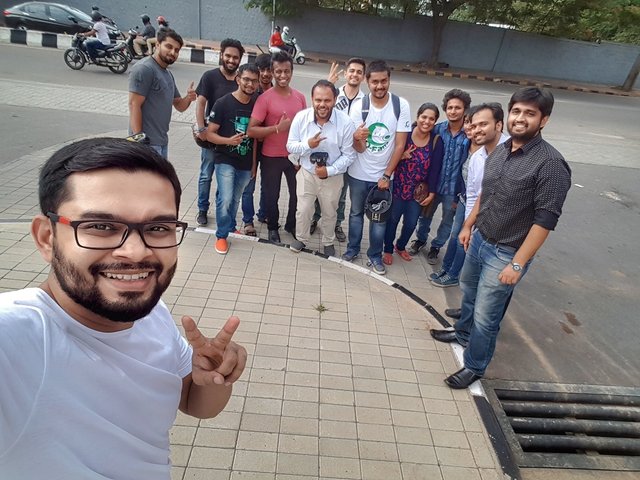 Afterparty!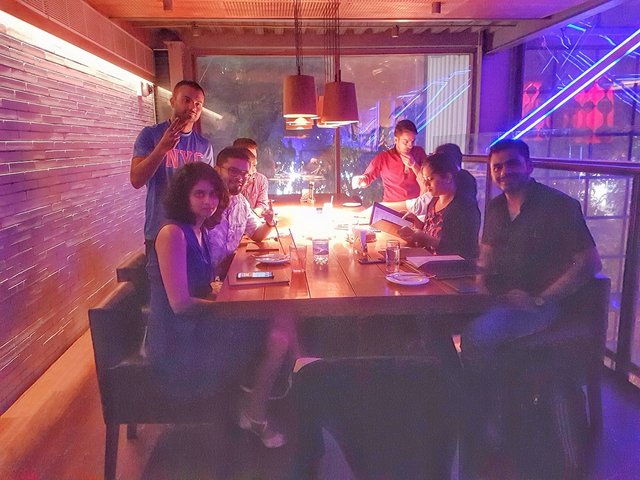 It's always a fantastic feeling to see your close friends support you in your endeavors. On that day I had some of my close friends in town and we decided to go out and celebrate the occasion at one of the coolest clubs in town; LOFT 38.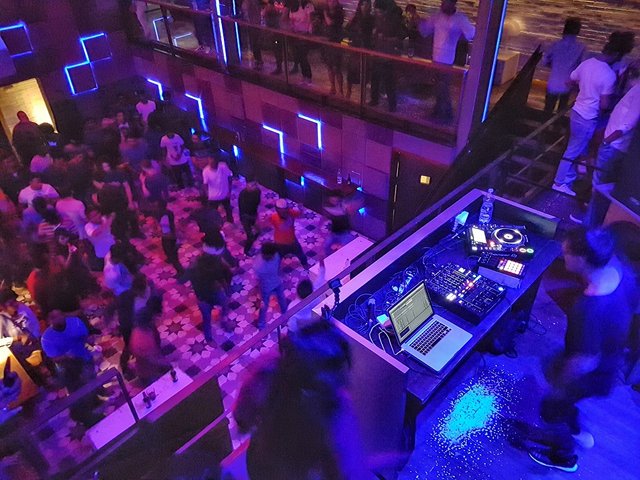 My former classmate is a popular DJ and was playing that night in the club, and it was great catching up with him after many years. We partied for a few hours before calling it a day. This weekend was undoubtedly one of the biggest highlights of the year and milestone in my life.
Thank you for your attention and support!
---
If you like my work kindly resteem it to your friends. You may also continue reading my recent posts which might interest you:
---