PROMOTING GOOD CONTENTS ON STEEMIT
PROMOTION OF CONTENTS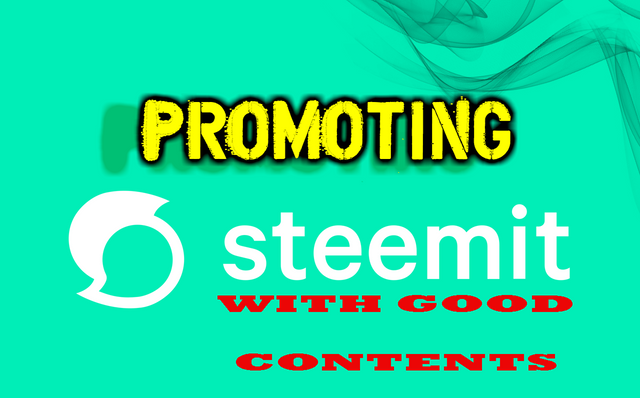 Good day steemians!
I use this opportunity to invite you all to a Whatsapp and Telegram promotion groups. We all know it is sometimes difficult to have your post reach the number of audiences you always yearned for. I understand how frustrating it is to spend hours, days or even weeks trying to come up with some good content that your audience might love and encourage you by upvotes or comments. Most of us are still on Steemit because of some other activities we participate to earn us some extra steem such as writing contest, graphic contest etcetera. Else, we have at some point almost given up because our contents are not appreciated either by upvotes or comments from our audience. I have been there and I am still here that is why I have thought to create a Whatsapp and a telegram promotion group for everyone on Steemit that wish to join it. It is not compulsory to join but all members are urged to always support content shared on these groups.

WHO ARE INVITED TO JOIN?
That is right; I want everyone contents to reach as much audience it can reach. Now this is the plan, the group is for everyone, Americans, Polish, Nigerians, Italians, Spaniards, Australians, Mexicans, Chinese, Japanese, Russians, etcetera. As long as you are a Steemit user and you are on Whatsapp or Telegram you can promote your contents on it and it is encouraged that every member of the group should check out contents that are share and resteem or upvote or comment where necessary to encourage it members.
WHAT SHOULD BE SHARED
We urge that contents that should be share should be more than 200 words if they are written contents. All form of Steemit contest can also be shared on it. Job adverts can also be share. Please no obscene contents or pornographic contents should be share on these groups. No racism related contents should also be shared as I assume we are all one even if we are of different colors. Please try not to post things that will offend members like kicking against gay marriage or being a Muslim or a Christian. These topics are personal issues so do not share what will result in dispute between members. You can write on any topic you like and publish on your blog but if you know it is obscene, do not share on these groups.
The following are the links to the Whatsapp and Telegram groups respectively.
https://chat.whatsapp.com/6e27EaYSRBw8zrTFijc0yL
(Whatsapp group)
https://t.me/promotingpost
(Telegram group)
You may also wonder if the Whatsapp group can accommodate millions of steemit users. YOU DO NOT NEED TO WORRY. That is why we also have the Telegram public group. It can accommodate as many steemit users that wish to join. We can also have more groups on whatsapp if there are users demanding to also join the whatsapp group. Your content will also be shared in other groups that you are not by the admin.
Thank you. Let us encourage each other to make the steem a globally adopted cryptocurrency.

Resteem this post to reach as many Steemit users as possible.