The Whaleshares Blue Report Show #10 With @FreedomExists - 7PM EST and 11PM UTC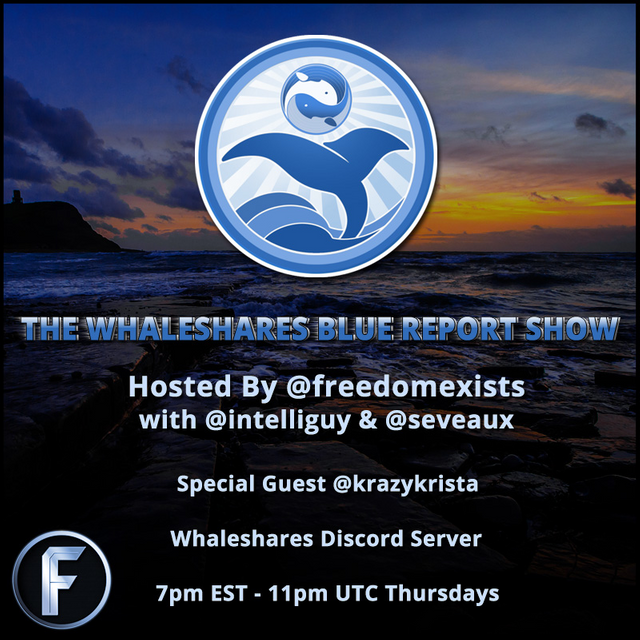 Well hello to all you amazing people of Steemit land and Whaleshares world, I hope you guys are doing great. It's that time again where I need to tell you what we have got coming up in tonight's Whaleshares Blue Report Show, with the launch date for the new Whaleshares platform announced things are getting very exciting indeed. Thank you to everyone who turned up to last week's show, what a show it was! Before I tell you what we have in store I want to thank both @chiefmappster and @seveaux who did an amazing job last week as always, their efforts are greatly appreciated.

The Whaleshares Blue Report is a show built around the Whaleshares community. It has a number of different segments and it's a show that aims to give you guys lots of important, engaging and entertaining things regarding Whaleshares and crypto. As we approach the launch of the new Whaleshares platform we hope the show will serve as a useful vehicle in onboarding people to the new platform.

Starting from this week we have a new presenter for the news segment of the show, and I am very pleased to announce that @steempowerpics will be giving us our weekly Whaleshares news round up from now on. He'll be telling us about all the important updates and information we need to know, as well as keeping us informed of key points in the Whaleshares launch timetable, and what you need to do.

Stepping in for @chiefmappster this week we have @intelliguy. In this epsiode, he'll be talking about sharedrops. Most people see sharedrops as "free" tokens which indeed they are, but there are a few things to be mindful of when you
are eligible to claim free tokens. For instance, he'll be talking about historical trends of whether sharedropped tokens hold their value only short term, or long term, and some varying investment strategies people often use during a sharedrop event.

Coming up it is of course another music segment with @seveaux and it's time for a megamashup again! That's right he will be treating us to lots of songs from all of our previous guests all put into a megamix of 15-20 minutes. After that he'll have a talk with one of the most underground personalities he knows. He's recently discovered some decent music coming from @fracasgrimm who is a radio host himself on mspwaves.

Does she really need an introduction? Our guest on the show tonight really doesn't need one but she is going to get one, yes that's right on the show tonight for the first time as a guest on any of my shows it's another Whaleshares pillar @krazykrista. She says she's a mother, blogger, community leader and witness. She enjoys singing, cryptoeverystuff, writing, listening to podcasts, being in nature, and spending time with her family. Community, learning and kindness are some things that she's passionate about. She hopes to continue to use the blockchain to pay her bills, share her passions and adventures, and make a difference in the lives of other people when she can. She's a rare breed in many ways and I can't wait for her debut tonight!

Community Curation - You're the Judge
Obviously I will have another Community Curation session, casually retitled the 'Cruel Curation' session! This is where I pick on a few unsuspecting audience members, and ask them to present one of their posts. Last week @johnskotts, @kotturinn and @crystalpacheco30 braced themselves for some abuse and presented their posts. As usual I will ask the rest of the audience to rate the presenter's post, asking you guys to give the post a grade between A-F. However, as I always say please remember judge unto others as you would wish to be judged yourself! The presenter who gets the highest scores wins 15 Beyondbits.