The Whaleshares Blue Report Show #11 With @FreedomExists - 7PM EST and 11PM UTC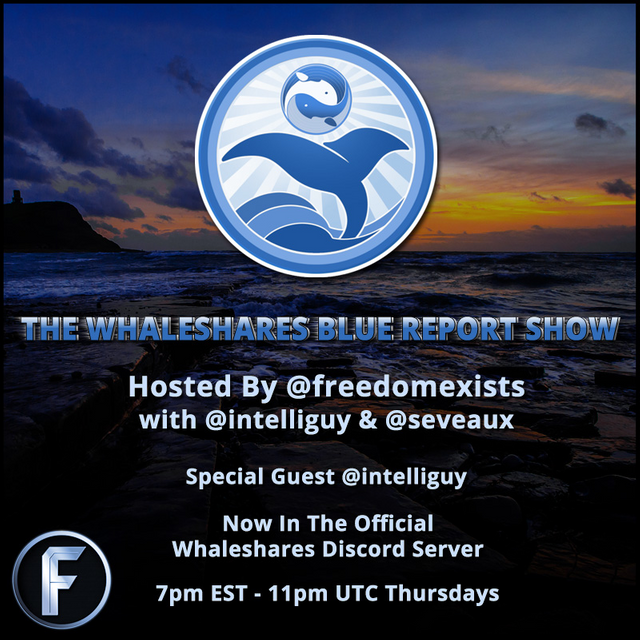 Hey there! I hope all you great people of Whaleshares and Steemit are doing great. It's time for another Whaleshares Blue Report Show and with only six days away from the launch of the new Whaleshares blockchain things couldn't be any more exciting! We've got an amazing show coming up but before I tell you all about it I want to thank everyone who attended last week's show. I also want to thank @seveaux and @intelliguy for their contributions last week, an amazing show it was so thanks guys for your efforts.

The Whaleshares Blue Report is a show built around the Whaleshares community. It has a number of different segments and it's a show that aims to give you guys lots of important, engaging and entertaining things regarding Whaleshares and crypto. As we approach the launch of the new Whaleshares platform we hope the show will serve as a useful vehicle in onboarding people to the new platform.

To start the show we'll be having a news update from our new news host @steempowerpics. He will be giving us an update on all the latest developments happening in and around the Whaleshares community. And I dare say he'll be saying a word or two on the launch of the new platform!

We have @intelliguy back again this week for another crypto chat. In this epsiode, he'll be talking about the recent fall in Bitcoin price and how the media often responds negatively to these events. He will also discuss
the problem of negative social consensus on good projects when FUD (Fear, Uncertainty, Doubt) is deliberately spread.

We will of course have another music show with @seveaux and has he got a show for you tonight or what! He has two of his friends, and two well known names. Priscilla Hernandez, known as @yidneth is the musical guest tonight, she is offering us some new songs she has been working on... will she do it live? Also in the segment @seveaux will be bringing on not a musician but a true supporter of musicians who has come up with a concept that similar to one @seveaux will be talking about, both go hand in hand. What has penssif thought of this time? Tune in tonight and you will see!

In Conversation With....@Intelliguy
Yes that's right not only is this man stepping in again and hosting the crypto chat of the show @intelliguy is also our guest for tonight. It's fair to say he will be doing some talking but I'm looking forward to getting to know him a bit more. He is a man who has had a long and varied journey in the crypto sphere, and I am particularly looking forward to learning more about how he became a witness for the new Whaleshares blockchain.

Community Curation - You're the Judge
I will have another 'Cruel Curation' session! This is where I ask audience members to come forward and present one of their posts. Last week @marshallife, @crystalpacheco30 and @krazykrista braved the abuse and presented their posts. As usual I will ask the rest of the audience to rate the presenter's post, asking you guys to give the post a grade between A-F. However, as I always say please remember judge unto others as you would wish to be judged yourself! The presenter who gets the highest scores wins 15 Beyondbits.