The Whaleshares Blue Report Show #7 With @FreedomExists - 7PM EST and 11PM UTC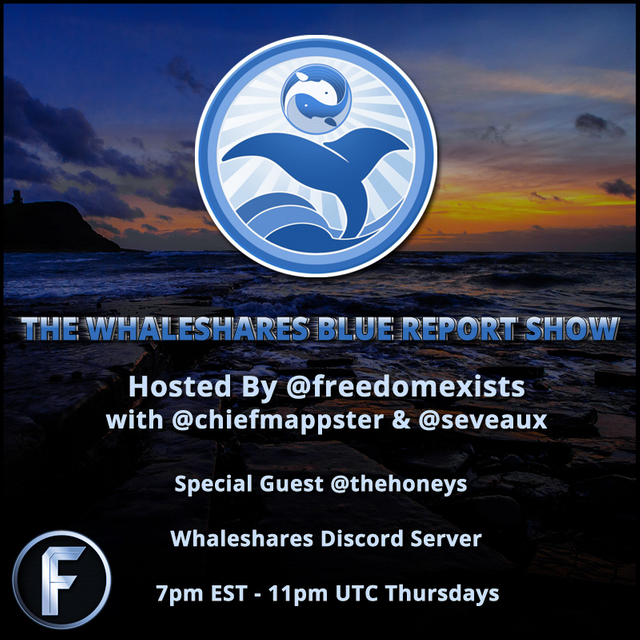 Good evening to all you guys and girls out there I hope you are continuing to enjoy this great summer weather, if indeed you do have great weather where you are! Well, it's time for another Whaleshares Blue Report Show and I'm here to let you know what we have got coming up in tonight's show. I want to thank everyone who showed up to last week's show, and what a great show it turned out to be. I must also thank my main contributors @seveaux and @chiefmappster. For everyone who attends the show you will be given 3 Beyondbits.

The Whaleshares Blue Report is a show built around the Whaleshares community. It has a number of different segments and it's a show that aims to give you guys lots of important, engaging and entertaining things regarding Whaleshares and crypto. As we approach the launch of the new Whaleshares platform we hope the show will serve as a useful vehicle in onboarding people to the new platform. Everyone who attends the show will be given 3 EasyDex tokens.

We'll start the show with another news round up with @thewalrus, he'll be telling us what's been going on in the Whaleshares community, and give us a news round-up of all the most important Whaleshares developments of the week, giving you guys a full weekly update on what you need to know and who you can speak to about anything Whaleshares.

Coming up we'll have the amazing Coffee 'n Crypto session with the crypto wizard @chiefmappaster. In this Coffee 'N Crypto edition he'll discuss the future of DPOS (Delegated Proof of Stake) systems like the one displayed in the Whaleshares chain. How does it help build community and what are the advantages? Is DPOS the best system for community and performance?

We have a rather unique music session with @seveaux tonight. He will be giving us a megamix of all the songs we have heard so far from all his guests in the previous shows. This sounds like it will be awesome and I'm looking forward to hearing the compilation because we have had some great artists on the show. He will also be bringing on @soundwavephoton who is a very interesting chap indeed. He creates great music which is a little strange! He also creates playlists for MSP Waves.

In Conversation With....@TheHoneys
I have to say that tonight's guests may well provide us with a slightly more unconventional show than usual, I am delighted to say we have @thehoneys joining us. They are a married couple from the USA, although @jamiehoney is Australian now living with his wife in America. They are a very busy couple who specialise in helping people break out of habits that hold them back in life. And they are going to do their 'thing' on me in tonight's show, which I have to say has me a little nervous! They also have a book being released in November which they are very excited about. They hope to be part of and build a community on the blockchain - which is what we like to hear!

Community Curation - You're the Judge
I will of course have another Community Curation session, known as the 'Cruel Curation' session! This is the part of the show where I pick on a few unsuspecting audience members, or victims, and ask them to present one of their posts. Last week @alexpmorris, @crystalpacheco30 and @boyerobert were brave enough to present their posts. As usual I will ask the rest of the audience to rate the presenter's post, this week asking you guys to give the post a mark out of 100%. However, as I always say please remember judge unto others as you would wish to be judged yourself! The presenter who gets the highest scores wins 20 Whaleshares.