The Whaleshares Blue Report Show #9 With @FreedomExists - 7PM EST and 11PM UTC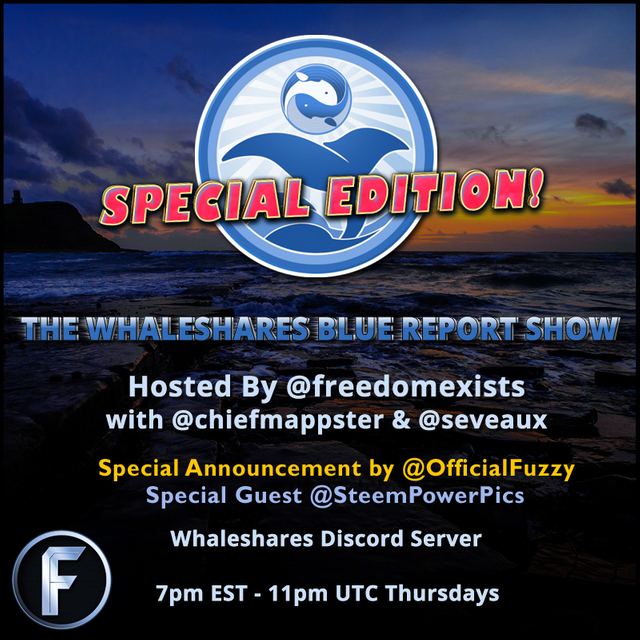 Good evening to all you fantastic people in Steemit land and Whaleshares world, I do hope you're having a great day so far. Whatever day you are having it's just about to get a lot better. Do we have a show for you guys tonight or what! Before I tell you all about what's coming up I just want to thank everyone who attended last week's show, it was another fantastic evening. I would also like to thank my main contributors @seveaux and @chiefmappster who did their jobs amazingly as always. For everyone who comes to the show you will be given some Beyondbits.

The Whaleshares Blue Report is a show built around the Whaleshares community. It has a number of different segments and it's a show that aims to give you guys lots of important, engaging and entertaining things regarding Whaleshares and crypto. As we approach the launch of the new Whaleshares platform we hope the show will serve as a useful vehicle in onboarding people to the new platform. Everyone who attends the show will be given 3 EasyDex tokens.

This week we'll start the show with a Whaleshares news round up provided by @officialfuzzy. He has a very important announcement to make. It's going to be a great show.

Next we'll have another session with the crypto guru @chiefmappster with another edition of Coffee n' Crypto. On this episode he'll discuss the rise of crypto communities. Does a blockchain project need a thriving community to succeed? What are some examples of successful crypto communities? What are some examples of unsuccessful community activities? And what can we learn from all this to make Whaleshares the best community it can be?

Coming up is another music session with @seveaux. On the show tonight he'll be speaking to the wonderfull @isaria and the talented South African @edprivat. They are both singers and instrument players who have already become well known on the Steemit platform for their musical skills in a very short time. They have also attended various shows as a result of their work. The Music Man says he is curious to learn more about @isaria because she is one of the best singers on Steemit and has appeared several times on mspwaves.

Our guest on the show tonight is a man who is known to many, but do we really know the man? I am very excited to be joined on the show by @steempowerpics, who is a real pillar of the Whaleshares community. He's a man who is perhaps a little under credited and I hope that this show will redress that imbalance!

Community Curation - You're the Judge
I will have another Community Curation session, renamed the 'Cruel Curation' session! This is where I pick on a few unsuspecting audience members, and ask them to present one of their posts. Last week @marshallife, @elbrujo and @crystalpacheco30 braved the ordeal and presented their posts. As usual I will ask the rest of the audience to rate the presenter's post, this week asking you guys to give the post a grade between A-F. However, as I always say please remember judge unto others as you would wish to be judged yourself! The presenter who gets the highest scores wins 15 Beyondbits.