The Whaleshares Blue Report Show With @FreedomExists - Announcement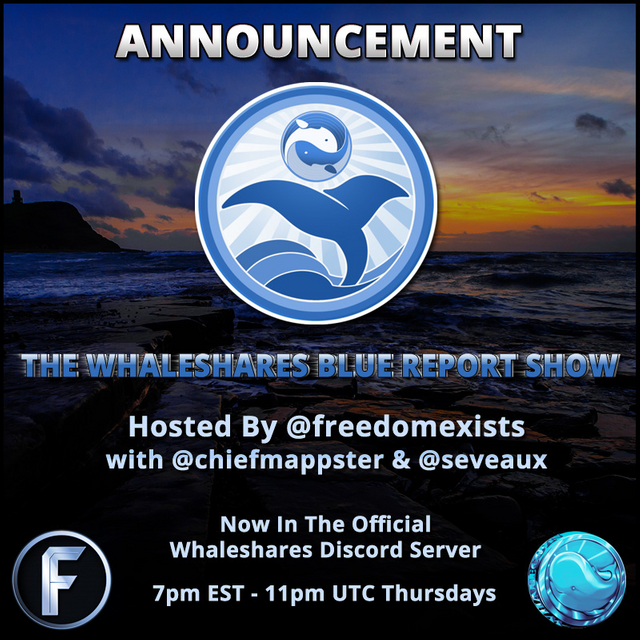 Good evening to you guys, I hope you are doing great. This post is to let you all know that for the next few weeks I will not be in a position to host the Whaleshares Blue Report Show. Many things in my life at the moment have to take priority and unfortunately I just don't have the time to do shows for Whaleshares. This is only a temporary cessation and I hope to be back very soon.

Many of you will know that for the past few weeks @kotturinn has been doing a magnificent job of hosting my other show, the Promote Your Post Show, and I hope that she will be able to continue doing so. This will mean the Promote Your Post Show will continue at its usual day and time, in the new Official Whaleshares server where we have been for a little while now. If you're not already there then what are you waiting for?! Here's a link to the server - https://discord.gg/3pqBXKY

These shows are great fun to do and they have really opened my mind up to things I would never have been exposed to otherwise. I have met some truly great people and the Whaleshares community is an incredibly unique, special and powerful place on the internet. I will still be around and together we are going to make the new Whaleshares platform the best thing that ever happened to crypto.

In the meantime @powerpics and @krazykrista will be hosting an hour long show where you can get whaleshare.io updates and ask questions. It will be Tuesdays at 7pm EST in The Lounge on the Official Whaleshares Discord server. So be there!
Hope to be back with another Whaleshares Blue Report Show very soon. Until then take care guys and keep spreading the Whaleshares message.