Project Hope, repercussions in venezuela (Education)
A few days ago I wrote a publication where I refer to the positive impact that project hope is having on people, I am very grateful for what this initiative is doing with some people in Venezuela, in the publication you can read here, I show the impact outside of the platform through a project that I carry out with some leaders, a project that has its origin in steemit initiated by @crypto.piotr, and that we are taking to the streets of Venezuela in the form of help with food and equipment to some people in need .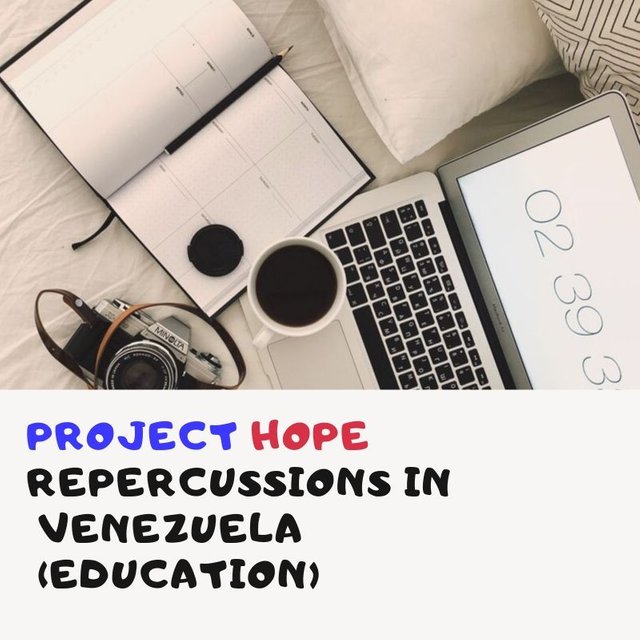 But the project is not limited to only helping families with food, but also trying to deliver a tool in the hands of some people with Internet access, have a talent for writing, want to tell their story and need an opportunity to try to generate some I enter this platform, and they need our support so that their beginning in this medium is not frustrating.
Process methodology.
On this tour it is necessary to make a good effort, I am trying to educate about cryptography, talking about cryptocurrencies to many people who are not familiar with the terms used in blockchain, since most have never heard of cryptocurrencies, much less steemit.
In this process I have tried to be very transparent with the people I am introducing on the platform, explaining to them the fact that they should strive to create quality content, trying to improve every day, have the commitment to interact and support the other members of the platform, I teach you how to publish, the use of tags, prudent estimated time between posts, plagiarism, spam, rewards the ABC of steemit without generating false expectations on them.
I am trying to give them the opportunities that I could not have in my beginnings on the platform, learning opportunities that I found almost a year later through @projecthope.
---
Help me to help
I am not going to ask you for money for them so please continue reading, I just want us to give them the best welcome, to take the time to read their publications, to leave a valuable comment, upvote in their publication, to give them some advice, recommendations, delegations and if possible any help more than this within your reach and you can give.
---
Cruz David
@cruz26 is a young pro-active, hardworking, father of a family with just one year of marriage, but with a huge desire to get ahead but the current situation in our country does not give him many alternatives to overcome and take care of his family, he arrives To steemit with the desire to strive or grow in this ecosystem, this is his introductory publication: My personal presentation
---
Iriannys Guevara
@iriannys is a woman fighter, wife, mother of two children, works in an educational institution in the dining room as a food processor. This woman, her husband is recovering from an Operation where they removed a small tumor that blocked her spinal cord and was on the verge of death, today she successfully recovers from that operation and this is her introductory publication: Hi Steemit, this is my presentation
---
Conclusion
Steemit is more than reward and business, it is friendship, relationships, solidarity, companionship and community, let's make these people feel part of something, feel included, let's demonstrate all the good things that this platform represents, what we receive here we will share and Let's give hope to those who need it.
project hope will continue to expand and bring hope to the streets of my country @cruz26 and @iriannys is just the beginning of many people that we will bring here to add value to this platform, right now two more people are in the process of training that in the next few days we will be presenting in the community, the success they have on the platform will depend on their effort, their learning and the support they can get in us, I for my part I am willing to contribute my share
Thank you friends for your support!
---
PROJECT #HOPE An Initiative to give hope!
@crypto.piotr, @project.hope, @cyberspacegod, @achim03, @lanzjoseg, @fucho80, @neavvy, @juanmolina, @jadams2k18, @machnbirdsparo, @honarparvar, @guruvaj, @alokkumar121, @edgarare1, @flash07, @djennyfloro, @gandhibaba, @reverseacid, @yonnathang, @mariusfebruary.
---