Are You Ready for Smart Media Tokens? NEW SMT INFOGRAPHIC by Grow-Pro + Crucial Info!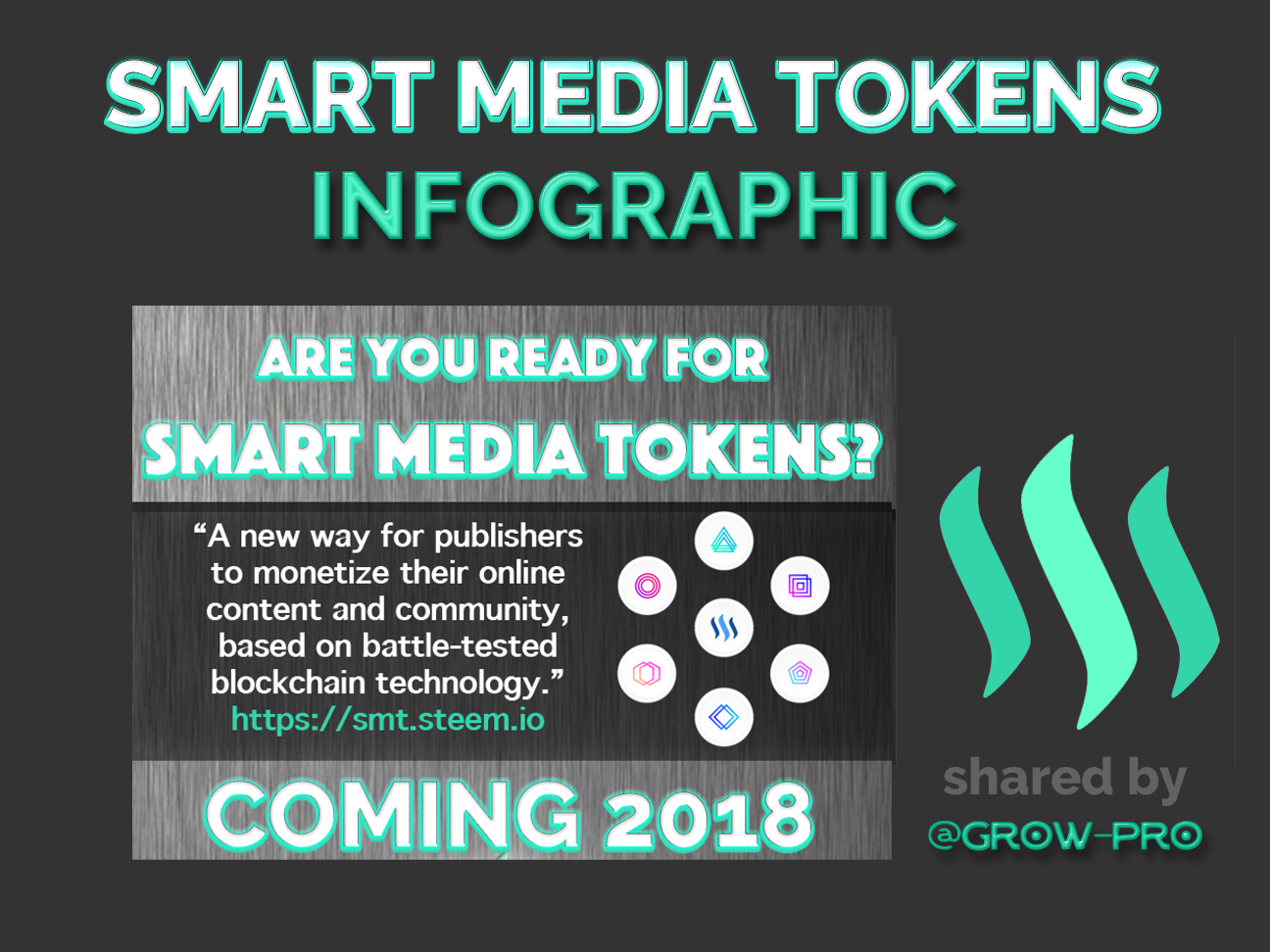 Created BY a Steemit Creator, FOR Steemit Creators
I have been part of many discussions surrounding Smart Media Tokens since the announcement made here by @ned, 5 months ago. There is so much potential coming to Steemit in 2018 and I sense that many creators here still have not yet been able to grasp what SMT's are and how they will further shape the way we create digital content and also how content is rewarded.
BRAND NEW SMT INFOGRAPHIC BELOW!
Below you will find a newly created image, an infographic, which contains some useful information I gathered from the SMT Whitepaper page. It is my intent to offer a more effective means of spreading vital information. I felt that making a graphic that shows the necessary details to spark interest couldn't hurt. Not only can it be shared on Steemit, but almost anywhere across the web. You can pin this on Pinterest, share on FB, Tweet it - up to you! You could save the infographic on your phone and text it to your parents, teachers, or neighbors if you want to school them on upcoming blockchain innovation!
Hopefully, the additional information that I have provided + resources I have linked in this article will enhance the understanding of what is coming. I am sure that as we near the launch of Smart Media Tokens that many more will be sharing details and announcements, but no harm in educating ourselves, right?
Ned Scott CEO, Steemit
---
Rather than explaining it to every individual I meet on Steemit, I made this helpful 'photo' using the information provided on
https://smt.steem.io
•
THE INFOGRAPHIC BELOW IS MOBILE DEVICE & SOCIAL MEDIA FRIENDLY
• I created it 800px width (sized for Steemit posts) and it is a tall image that is able to be saved to mobile devices • This makes sharing information far more efficient and much easier / hopefully translating into a more educated user-base.
SMT INFOGRAPHIC by @GROW-PRO • SAVE + SHARE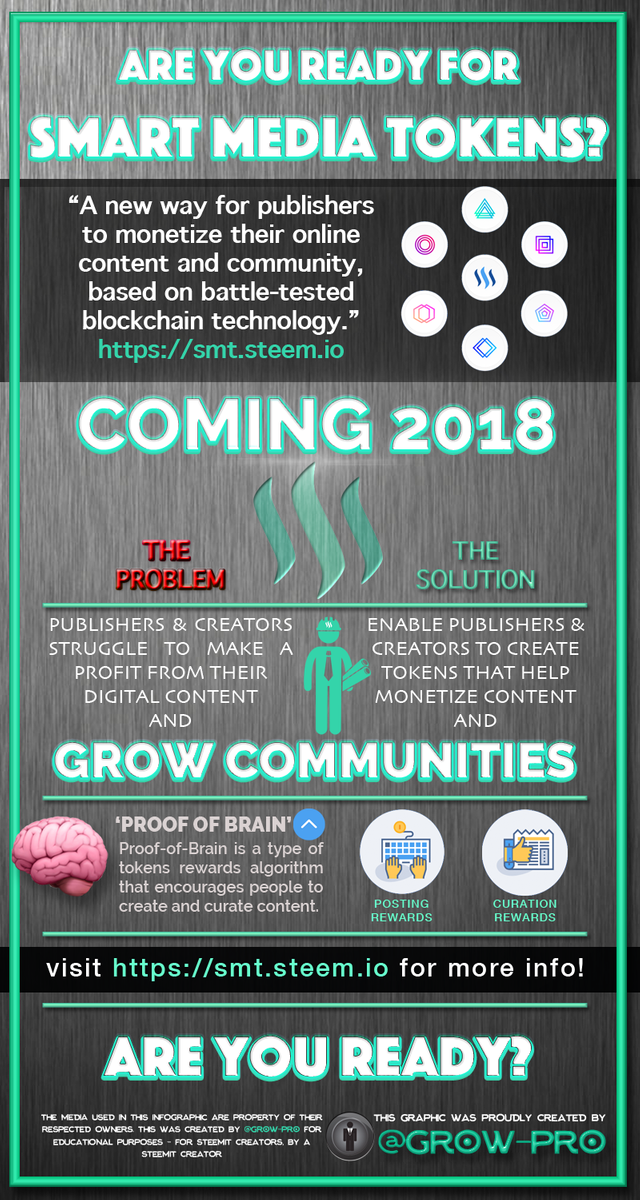 how to save 📲: right-click the image/inforgraphic to save
Alternate Version 1.2 (your early support encouraged a refined version!)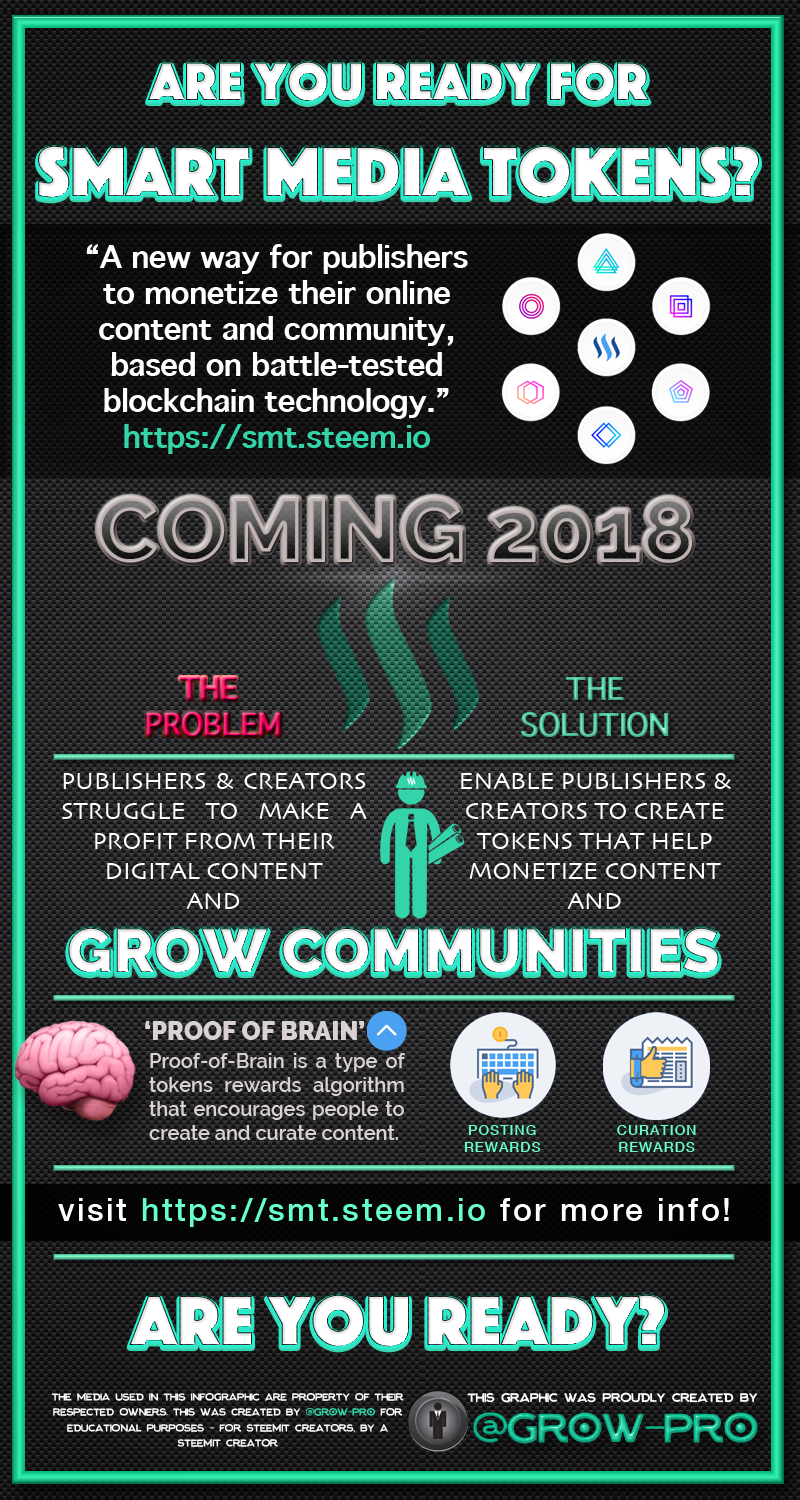 PLEASE SAVE THE GRAPHIC AND SHARE IT WITH FRIENDS!
WHY I DECIDED TO CREATE THIS INFOGRAPHIC:
If the old expression, "a picture is worth a thousand words", holds true, then this one should be worth ten-fold. I have spoken to so many people, not-so-new to Steemit.com, that have no idea what SMT's are, let alone what they can become. That is no surprise, especially when we consider nothing exists like the Steemit blockchain.
We are a part of something so innovative that most of us can only imagine the possibilities it will bring. Sure, there will be instances that show use cases, but until SMT's are fully adopted by the world and are 'released in the wild' there is no current measure for potential.
We truly will not know the full spectrum of possibility until long after they have been launched. Won't it be something exciting to see?
We can compare SMT to Ethereum's ERC-20 tokens, however, SMT has what is considered 'proof-of-brain', plus a token distribution reward system designed specifically for digital content businesses. The way that creativity is rewarded, in our evergrowing digital world, is ready for an overhaul! Wouldn't you agree? Creative digital media is what teaches, entertains, and enhances our daily lives. Why not reassess the way content gets rewarded?
The coming of Smart Media Tokens will surely change the way content is rewarded - in ways we can only imagine now. However, we will all get to see this all unfold and a new chapter of creativity unwind, which is going to be nothing short of exciting!
I just wrote a post last night, A Freelance Designer's Perspective On The Creative Process • An Eternal Process That Is Greatly Undervalued, the way that we reward creative works will soon change. In my opinion, Steemit will further empower creators, inevitably creating a better future - for many!
Imagine the possibilities for content creators, curators, communities, and business!
Soon we will be able to bring those possibilities to life.
I am also a core team member of one of the first SMT's to planned to hit the Steemit blockchain

The Smart Media Pockets project: @JACKMILLER, @grow-pro (myself),@geke, @gniksivart, @heroic15397, @jasonbu, @millennia, @pibyk, @rougebot contributing to this project thus far.
Look for much more information to follow regarding @pockets, an SMT coming this year: SMART MEDIA POCKETS • MUCH MORE SOON TO COME!
Data in the form of images can impel information faster and farther in the ever-mobile social media universe
📲 PLEASE SAVE AND SHARE THE INFOGRAPHIC ABOVE! 📲
how to save 📲: right-click the image/inforgraphic to save
RESTEEM IF YOU THINK IT WILL HELP OTHERS
YOUR COMMENTS ARE ALWAYS APPRECIATED