Steemit Earning Guide Series for Frustrated Minnows & Newbies - Part # 1 - Comment, Comment, Comment!!!
Hi Steemians,
How are you doing? How is your Steemit journey going?
Answer these questions in your mind.
Are you happy?
Are you frustrated?
Are you wondering when you'll be rewarded?
Are you struggling to earn any consistent rewards?
If your answer is yes to only the first question in the list, there is a problem. But every problem has a solution. And I am here to offer you a guaranteed solution.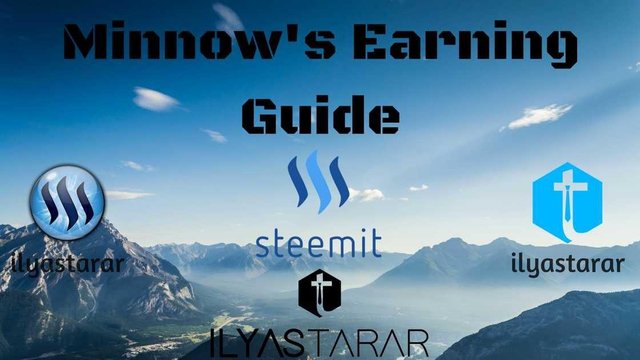 I've been there. The frustration, the expectations, the ignored posts, etc. etc. I've seen it all. It is not nice. I know. But the good news is; I am out now. I am relatively stable and going strong. I have learned my lessons and seen opportunities.
And here I am, sharing with you what I have learned through months of my experience on Steemit. I am going to share with you confirmed ways of earning regularly on Steemit. They are all practical ways.
I don't guarantee you any success if you do not promise to follow my guidelines. But if you do and work hard, I guarantee that you will definitely earn more rewards than you currently are.
So, let's begin with the first one in the series. Stay tuned for more.
Stop Focusing on Creating More Posts & Start Writing More Comments
That is my number one advice for you. As a beginner and a minnow, your posts get very low visibility. Hardly anyone sees what you post. And because you are new, your posts may not be of required quality. Rookie mistakes at times and blunders at others. Accept that.
No One Sees Your Posts
Creating a post is an art and while I can help you learn how to create engaging posts on Steemit, I cannot assure you that every post will be seen by 100 people and voted by at least 10. Your post may be wonderful but it will receive, may be, less than 10 views. Because...
You don't have enough followers who can see your posts in their feed. Also, not all your followers are online when you publish your post.
The new section on the website is where your post immediately goes and can be seen by people on that section. But only for less than 10 seconds because newer posts takeover and so on.
Social media, specially a Facebook group, is insensitive to your links. No traffic from there as well.
So basically, your post gets ignored unless you manually send its link to people to see, as is the case with sending links to voting bots. But that costs money. Spending money to earn that money back is not smart or sustainable.
Comments Have More Visibility
Comments do not go down the drain. They go directly in the comments tab of every Steemian. Comments are happily received and welcomed. More comments makes the author happy because it is a sign of massive engagement on his content.
That's why comments are where you efforts must be focused in the beginning. To be seen, read and rewarded. I'm not saying that you should not post and only comment on others' posts. I am saying that...
You should publish posts once a day at least to learn the art of blogging and keeping your blog active. But you should comment at least 20 times a day because all your comments will be seen.
I hope you understand the importance of commenting now. I am going in extensive detail to make you understand the whole system as I have learned and experimented. I want you to get the basics right and only then you can start earning on Steemit.
Having explained commenting in detail, I now come to the most important part. This is where money is so be attentive.
The Art of Commenting
There are good comments and there are bad comments. Good comments get a reply and sometimes an upvote as well. Bad comments are flagged (downvoted). So by writing good comments, you have more than fifty percent chance of getting upvote on it. But also, by writing a useless comment, you are a risk of being flagged.
I walk the talk. I comment a lot. I have written thousands of comments since the beginning of my Steemit journy. You can see my comments here. Let me share with you screenshots of one of my comments which was upvoted recently.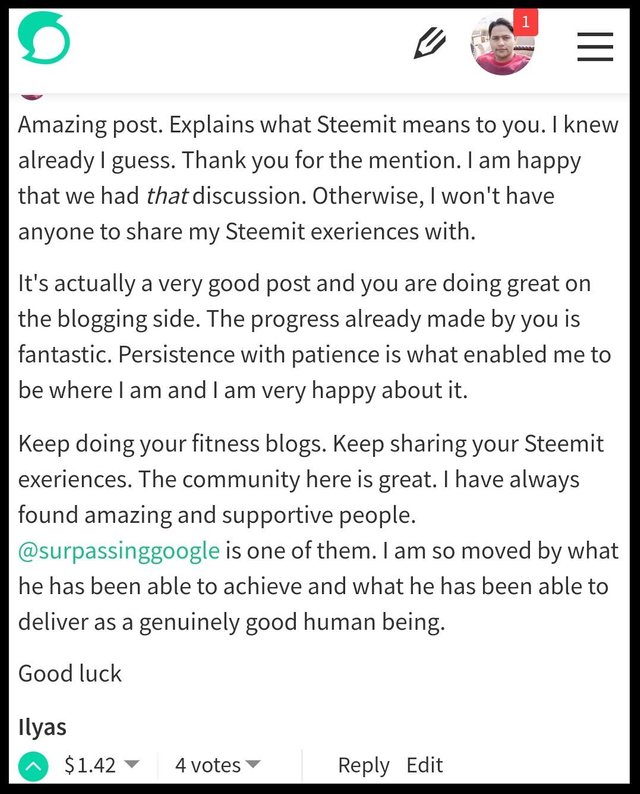 This comment got upvoted to $1.42 worth. Can you figure out why it got rewarded?
Now let's see a sample of bad comments.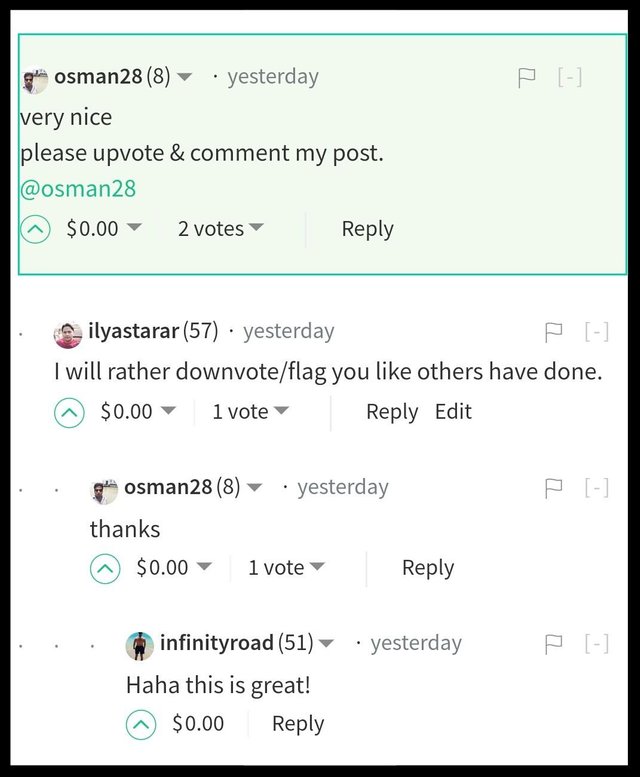 I chose this comments from replies on one of my posts due to multiple reasons. Firstly, he doesn't know that he's at 8 reputation score already due to flagging. Secondly, he's not doing anything about it and rather keeps commenting like that.
Having shared with you the insights and the examples of good and bad comments, here are the tips that you may follow to earn Steemit rewards just by commenting on others' posts.
Before commenting, always read the post till the end. If it is a video, watch it. You will know what exactly the author is talking about. You will also learn new things everyday just by reading good posts.

Start the comment by stating what the post felt like and also mention the main topic of the post. Share also if you learned something new.

Then share your opinion about the post's content. You may agree or disagree with the author if you have prior knowledge on the subject.

End the comment by thanking the author for helping you learn a new thing or enhance your knowledge (if that is the case).

If you followed the author recently, let him/her know that you are glad to follow him/her. But never ask the author to follow you. Just politely let the author know that you are a follower.

If the author is a witness and you voted for him, let him know that you voted for him. I'm talking about ending part of the comment.

Your first comment on a post should never be short. Write a few sentences. Make it a habit to write longer comments.

Don't share your link in the comment unless you have written at least a 100 word opinion about the topic and include a link as a reference.

"Nice post" and all such comments (follow me I follow you , upvoted, see my posts etc.) are BAD comments. They will get you flagged. You will not earn anything. On top of that, your reputation will fall below 25 instead of going up.

Comments do not need hectic formatting like posts, making them a relatively easier option. You can include pictures, gifs and videos in your comments to make them more detailed. But it's not compulsory.

Always track your comments. See which authors reply and which ones upvote your comments. Interact with those who reply and closely follow those who appreciate comments with upvotes. Wise authors like @kus-knee, @dragosroua, @surpassinggoogle and many more encourage good comments with upvotes.
I can go on about the benefits of commenting but let me stop here. These guidelines are enough to get you upvotes on your comments. One trick is in my sleeves still and I will disclose it in the next post of this #SteemitEarningSeries. Stay tuned.
Supreme Example of Steemit Success via Comments
If you look at the profile of @charles1, you will see an insane number of posts.
For your understanding, posts and comments are collectively considered posts by Steemit and hence both are upvotable.
Back to the point. After seeing his number of posts, see his blogs, reputation and followers. See the rewards on any of his posts. The major reason of his huge success is...
He comments.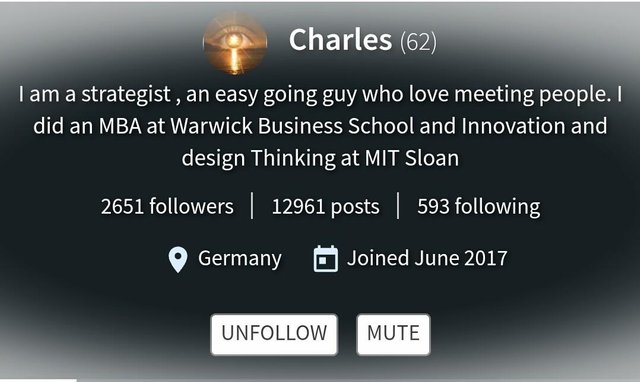 He joined Steemit the same time as I did. He's at 62 reputation, 1818 SP. But look at 12961 posts.
Let's see his SteemitBoard.com snapshot.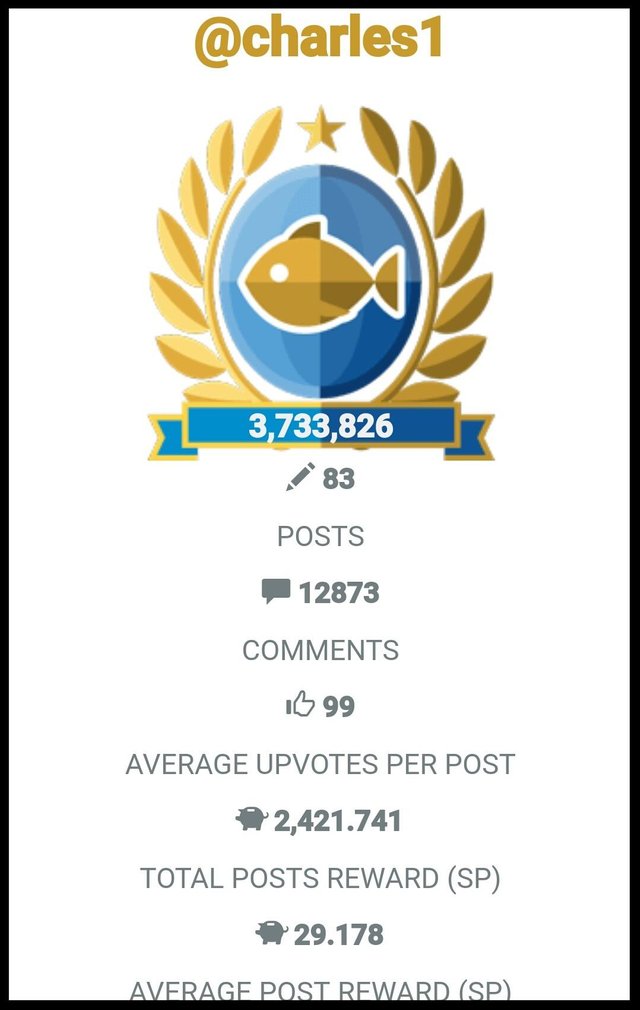 That's right. Just 83 posts and 12873 comments since June, 2017. On his 83 posts, he has earned an average of 29.178 Steem per posts. That's because he comments a lot, has made 2651 followers and gets on average 99 votes on one post.
The only reason is that he comments a lot and attracts a lot of eyeballs and followers. I love thsi guy's dedication and persistence.
Do you understand why I am so serious about commenting?
Conclusion
Commenting is the most practical way of getting noticed by authors and get voted. When we do good comments again and again, our name becomes familiar to the author and he generally likes to upvote regular visitors.
Not only that, good comments also bring a lot of followers other than frequent upvotes. So, set a target. I recommend at least 20 comments per day but all of them should be standing out from the crowd. Detailed, full of value and honest.
I wish you all the success on Steemit. Believe me you can be successful here by following this post. Stay tuned for more guides on Steemit earnings.
Do not forget to resteem this so that struggling Steemians can benefit from the guidelines. Upvotes will be a huge support.
Always Helping Steemians,
Ilyas