The All in One Steemit Guide for Newbies and Minnows (Tutorials, Guides, Advice)
There's so much to know about Steemit and how it works. There's so much information available as well. But, what a beginner needs is the technical knowledge about Steemit as well as the advice coming from experienced Steemians. Knowing the basics of Steemit and the best community practices will help every beginner or struggling Steemian.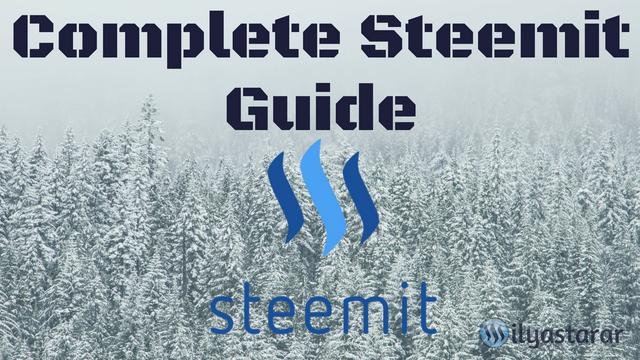 There's one particular problem as well. When we invite people to Steemit (because we find it amazing for ourselves), they have questions before they join. Then they have a lot of questions after joining as well. In her latest post, @ogoowinner pointed out an issue she has been facing. Let's read what she wrote.
 I write this post because I am having difficulties guiding the people I introduced to Steemit. I have been spreading the good news of Steemit to all my friends, relatives, neighbors and others. Some of them have successfully registered, but handling all their questions is becoming a problem to me.
I already had planned this post; a post which can guide every new Steemian through the world of Steemit and explain systems, procedures, and strategies. But @ogoowinner made it look urgent to me. I have guided a lot of people through the initial phase already using my Facebook group but this post is an important resource for anyone who wants to guide newbies from their community.
I am going to divide this post in to three parts for the sake of ease and organization.
Steemit Guides
Reward Tutorials & Advice
Do's and Don'ts on Steemit 
Let's get started with Steemit guides.
Steemit Guides
Steemit guides are focused on understanding Steemit as a platform. Each guide explains a certain aspect of Steemit which will help newbies understand the platform and how it works. Let's begin with the very basic one.
1. How to Add Display Picture and Set up Profile
It may sound pretty straightforward but people from all levels of technological adoption are joining Steemit and they find it hard to go about these routine things. Click the link to access the guide.
Guide: How to Add Display Picture and Set up Profile
2. How to Know Your Exact Reputation, Vote Worth & Latest Upvotes
Reputation increases as you receive more rewards on your posts. The rewards do come from the upvotes but the increases in reputation is not dependent on the number of upvotes.
Guide: How to Know Your Exact Reputation, Vote Worth & Latest Upvotes
3. Steemit Post Editors and How to Use Them
Steemit comes with multiple Editing options. There are actually 3 editors that you may use. This guide explains all three of them, how to use them and how to switch from one to another.
Guide: Steemit Post Editors and How to Use Them
4. How to Create Great Steemit Posts
After knowing how to use Steemit editors for publishing your posts, it is important to know how to create and write these posts. This guide has laid down a great 9 step checklist for everyone to use. I have seen a fair level of Steemit success using these techniques.
Guide: How to Create Great Steemit Posts
5. Introduction to Steemit
This guide is actually a Steemit Tutorial in itself. It also happens to be my most successful Steemit post in terms of rewards. I posted this on my 3rd day here and it went massively viral. It also brought hundreds of people to Steemit. I posted it on my personal blog and it went viral there too.
Steemit Link: Introducing Steemit
Blog Link: Steemit Tutorial
6. Steemit Rewards Explained
Steemit rewards are fundamental part of the Steemit system. Everyone is concerned about them but not everyone has the thorough understanding of them. Well, I explained Steemit rewards in great detail and the effort was endorsed by hundreds of people.
Guide: Steemit Reward System Explained
Now, let's move on to the rewards related tutorials and how-to guides.
Steemit Rewards Guides & Tutorials
To go ahead, you need first to completely understand the mystery of Steemit rewards because knowing the fundamentals will help your learn and earn better. The rewards related posts basically deal with what you can you with all the money that you earn on Steemit.
Knowing about these strategies and opportunities will definitely help you make the best use of your Steemit earnings.
1. Things You Can Do with Steemit Earnings
There's a lot that you can do with your Steemit earnings. I made a great list of them and explained each of the options in detail. You'll not only know what to do but also how to do it.
Guide: Things You Can Do with Steemit Earnings
2. How to Increase Your Steemit Rewards
Who doesn't want to have more rewards. There's a whole lot of things you can do to increase your Steemit rewards. I have mentioned the top 5 of them in one single guide. The procedures are also mentioned.
Guide: Increase Your Steemit Rewards
PS: Do checkout @discordia by @ausbitbank. It is newer that's why it was not mentioned in the guide above.
3. How to Buy Steem from Internal Market
Buying Steem is important if you want to power up. It can also bring massive profits if you buy Steem at cheap price and its price rises in future (which is strongly expected). This guide is for buying Steem from the internal market and contains some cutting edge tips.
Guide: Buy Steem from Internal Market
4. How to Buy Steem from External Exchanges
Steem can also be bought outside Steemit from the cryptocurrency exchanges. This is specially relevant because to buy from the internal market, you cannot invest your own money. Only the Steemit earned SBDs can be used in the internal market. Not a case in external exchanges though. This guide explains everything in fine detail.
Guide: How to Buy Steem from External Exchanges
5. How to Cash Out from Steemit
This one is the hottest question I have faced in last two months. Too many people, virtually every new member, want to know how to withdraw Steemit earnings. Well, getting cash out of Steemit is easy if you follow this guide.
Guide: Complete Steemit Withdrawal Guide
That's all for the rewards. Let's talk about some strategies, do's and don'ts on Steemit now.
Do's & Don'ts on Steemit
There are things that you should do and there are others too which should not be done. These Steemit advice posts are key to Steemit success in short or long term. If you follow them, it is very likely that you will outperform others. 
1. Things You Should Stop Doing Immediately
Newbies have the problem of doing these things. I was a victim too in the beginning but I learned my lesson early. If you are a newbie, you should strictly stop doing these things immediately. If you are not new, why are you doing it?
Link: Things You Should Stop Doing Immediately
2. Do Not "Follow for Follow"
One of the most futile trends on Steemit brought largely from Twitter. It doesn't work here. Wanna know why? Read the post.
Link: Why Follow for Follow Sucks!
3. Interact and Add Value
If there's one key to Steemit success, it is interaction and that too the valuable one. It is directly related to earning on Steemit.
Link: Are You Earning & Interacting Enough? 
4. Do Not Plagiarize/Copy-Paste
It's a common rookie mistake. People do it not knowing that @steemcleaners and @cheeta (among others) are on a constant watch. Your Steemit reputation will be destroyed and you will not earn anything if you do not follow these guidelines.
Link:  The Rookie Mistake That Will Damage Your Reputation On Steemit!
5. Do Not Upvote Yourself All the Time
Self voting has done great damage to the platform already. That's the reason why @personz @l0k1 came up with the project-smackdown in which @smackdown.kitty downvotes those who upvote their own comments. I have strongly supported this project and had detailed discussions with @l0k1 on the subject as well.
Link:  Self Voting is Killing the Community Aspect of Steemit. Stop It!
6. Best Tips for Steemit Success
This is great list of actionable tips to make your Steemit experience better and more successful. If you need more rewards, followers and reputation, do yourself a favor and follow these amazing tips.
Link: 15 Practical Steemit Tips Which Will Ensure Your Success
Conclusion
That's it for the guides. I hope this post enables new and existing Steemians to make their Steemit experiences better than ever. I also hope that by saving this post as a bookmark, you can help new members of the community get accustomed to Steemit real quick.
This post is a huge contribution from my side to the amazing community and platform of Steemit. I hope you spread it by resteeming it and sharing its links with anyone who joins Steemit or needs to get started.
Thank you for reading. Thanks for all your support in form of comments, upvotes and resteems.