CAN A MAN RAPE HIS WIFE?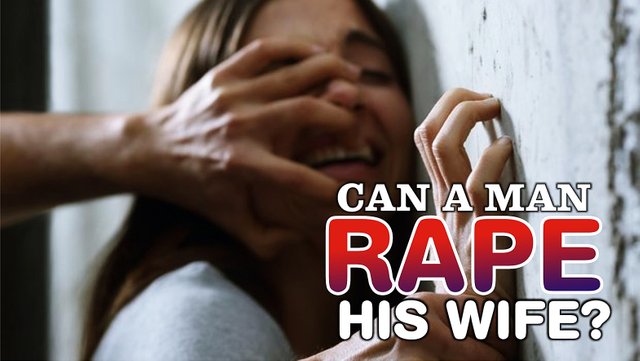 Hello my fellow Steemians
It's a wonderful afternoon right here, I hope you are enjoying your day over there?
This afternoon there's a question I brought for us to talk about, and the question is;
CAN A MAN RAPE HIS WIFE?
Recently the talk all over the social media is RAPE, Justice for Uwa, Men should stop raping our young girls, real men don't rape, if she say NO don't force her, etc.
This issue of rape has being the talk of everyone, and just last night I was listening to my radio; one of the programs on radio called REAL MEN TALK. They were discussing about rape; The case of Uwa, a young girl that was raped and killed in a church and also the case of a little girl of about 3 years old or there about that was raped by an old man. So many questions were thrown to the house; but the question that cut my fancy was the one of "Can a Man rape his wife?
To me it sounds very funny but I think it is a very important and interesting question, that one needs to discuss.
The men during the program on the ratio were three(3) in number and the presenter making them four(4) in the house. Two(2) men answered the question saying "a man cannot rape his wife because it is his right to have sex his wife anytime and any day. Same thing goes to the wife, because they have come together to be one body and so they can't deprave each other of sex. They said it is biblical, the right of the man to have sex with his wife.
The other man answered the question saying "If a man wants to have sex with his wife and the wife says NO and the man insist of doing it or vigorously did it; it is called rape.
NOW
I want us to discuss this
What is your answer to this question?
Feel free to drop your comments below
We need to solve this matter