Accusing Someone Online About Their Emotional State Mirrors Your Own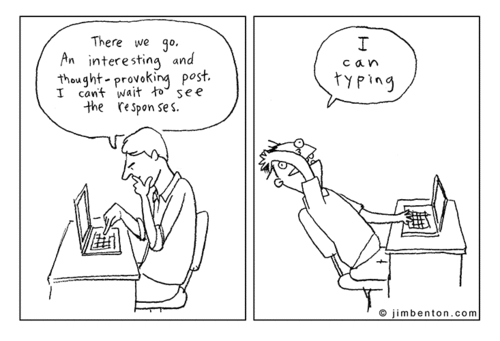 All too often the comment section of Steemit gets a bit spicy. Arguments start flying left and right and at one point someone will become a psychologist. Although laughable, this stance hopelessly tries to deduct behaviours in order to attribute a certain kind of attitude towards the opponent. "You sound angry", "You sound frustrated, "You sound sad" and so it goes.
For one, trolls love this because they can pretend to be in a certain mood. This way, they lure their prey into a vortex of comment retaliation while they laugh their ass off. Others try to use their "internet experience" in order to decipher what words and expressions can say about the overall message. At one point, rarely anyone addresses the factual points of the conversation and people start behaving like monkeys. I know because I do it as well.
No one can possibly decipher the emotional state of someone online. Heck, it is quite challenging to do in real life. When someone tries to accuse you for being overly emotional, sad or angry they are merely admitting their own psychological state at that point in time. If someone for example accuses you for being angry when you write an article, most likely it means that they got angry reading your piece. Following in the comments, not having anything constructive to say, they resort to "You sound very angry, maybe you should relax". In other words, they appeal to emotion in order to show to the rest of the audience that your material that they disagree with, is not to be trusted because you are potentially emotionally unbalanced.
It is a devious way and it will get them the upvotes from those who also don't have any arguments. Politicians do this all the time. It is a form of avoidance and it is actually demonstrates that the commenter has almost no arguments and/or cannot control their own emotions and so they merely try to play Dr. Phil to save the day.
My advice is to completely ignore these people. Nothing gets people more frustrated. If their comment also addresses part of your post then talk only about those parts. Unless you want to start an emotional accusation war steer away. Although I admit being a troll plenty of times just for the lols, well, I would encourage you not to feed me.