Eating Your Own Dog Food: Is the Steemit, Inc Team Regularly Using Steemit?
Like many lately, I've been frustrated with the slow responsiveness of Steemit.com and the now common HTTP 5XX errors trying to use the site. New posts and comments often don't save correctly or are gone forever to be replaced with a Loading... text.
Some early community members have written about this multiple times. Top witnesses have chimed in suggesting things are so bad, you should save your comments and posts before submitting them.
In short, the site is becoming unreliable.
I've discussed how we need our own mascot of failure which includes a styled error page helping people understand what's going on, a site status page to show previous outages and what has been done to resolve them, and most importantly, more communication from the Steemit, inc team.
This morning I noticed notifications working again. No notice from @steemitblog or @steemitdev as to why they were broken for so long or why they are now working again. I asked about notifications 7 months ago without a solid answer.
Two weeks ago, @sneak mentioned a DDoS attack as did the @steemitblog. You can see my comments there and replies from @sneak here and here. Why were there no follow up posts? I'm looking forward to attending SteamFest2 so I can ask these same questions in person and get a better "understanding [of] the specific risks to this site" which explain why a CDN or a site status page are either not an option or not a priority.
I've been running my own SaaS company for over 10 years (FoxyCart.com). We've processed over a billion dollars through our system in that time, and we're a level 1 PCI service provider. Security is what we do. It's where we focus much of our time and efforts. We have a smaller team than Steemit, inc, and yet we prioritize personal support and communication with our users. Importantly, we ourselves use our own software to bill for our software. In the software world this is called eating your own dog food.
Today, as I saw notifications randomly start working again with no word from the Steemit team, and as I dealt with more slow responses and lost comments, I had to wonder, does the Steemit team eat their own dog food?
How often do you read posts from Steemit team members? How often are they actually using this tool they built to understand community frustrations about it not working well?
I've got nothing but love for @andrarchy (I really hope he truly knows that), but he's only commented 1,500 times (I'm approaching 9,000) and lately only does so every few days. As a community liaison, is he aware of what the community is experiencing? I hate to call him out like that, but I'm trying to make a point, and I think he knows how much respect I have for him, so he's a safe example for me to use.
If the Steemit team used Steemit as much as the rest of us, they might reprioritize fixing the issues we're seeing and put a higher level of importance on communicating about those issues so we can set better expectations. If Steemit knows what's going on and are actively working towards a solution, great! Please let us know all about it! If not, should I change my expectations and use other interfaces entirely to avoid frustration?
Instead of just complaining about problems, I'm trying to bring some possible solutions. For my company, we have a Slack channel where we all daily post our to-do list for the day. This creates visibility and synergy for the team. My recommendation is for Steemit employees to do the same thing publicly. Use the site regularly throughout the day. This will fix two issues:
You'll dramatically increase the communication level regarding what Steemit, inc is working on and what their priorities are.

You'll have personal experience with the site usability (or lack thereof) to better understand your community.
What say you, Steemit, inc?
I've consistently been one of the biggest fans of this site since I started posting in July of 2016. I've never powered down (so far). I've watched week after week as people have cashed out their STEEM and SBD while I've mostly powered up. I want to see this site succeed!
I look forward to your response and to meeting you in person in Lisbon. Thanks for letting me vent a bit. As a witness, I care about this community, and I want to see it valued.
Note: I'm heading out in a bit to go camping this weekend, so I won't be around much to respond to comments until next week.
---
As if to highlight my point, here's what I got the first time I tried submitting this post: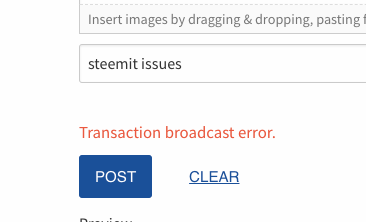 ---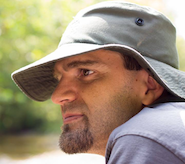 Luke Stokes is a father, husband, business owner, programmer, and voluntaryist who wants to help create a world we all want to live in. Visit UnderstandingBlockchainFreedom.com







I'm a Witness! Please vote for @lukestokes.mhth