Day Four | Steemit Bootcamp for Underprivileged Kids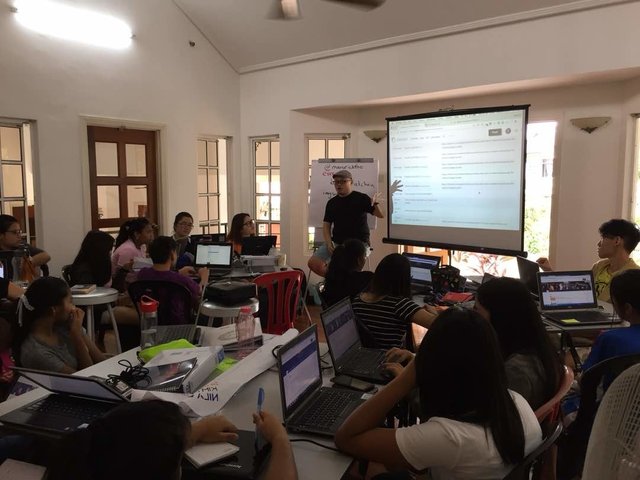 Definitely not a magic show, but the kids sure found Steemit magical!
Contents for Day 4:
Recap, Q&A on previous days' contents
Post formatting tips: Playing with Headings, Bold, Italics, Lists and Quotes
Tips of courting followers
A deeper look into Steem Power, and how to Power Up (Live Demo)
Hello Canva
Playing with photo collages
Lists of resources for free stock photos
Lists of free vectors and icons
Canva alternatives
Photo Editing: Resizing, cropping, editing, format changing
Inserting Youtube videos into Steemit Posts
Hello Steemitchat
Steemit Contests
Assignments for Day 4:
Comment on at least 5 posts under the #introduceyourself tag

Comment on at least 5 posts under a tag/category of their interest

​
Key Learnings:
Started off giving them feedback on how to improve their posts. We talked about spacing and paragraphing, so have more "breathing space" for their posts. This is to ease the reading experience.
​

I also gave them some writing hacks - bullet points instead of paragraphs. In the beginning, as they work on their writing muscle, they may not be able to string sentences together very well. Keeping the certain parts of the contents in bullet points is a quick and easy way to help them articulate their message, reduces grammatical errors and improve the speed of writing. On the readers' side, it will also help them read faster as they can flick through the content and focus on the key points.
​

We then go into the main content of the day, which is something they had been asking for a few days - how to build followers. I broke down the process with them, down to just a quick 5 minute exercise which involves them:

Go to #Introduceyourself tag, greet new Steemians with an upvote and a warm welcome in the comments.
Go to tags/categories of their interest and leave genuine comments to start conversations.
Of course, it would be useful for them to start by following the other party
​

We looked into reputation, followers and following in detail, and how to prioritise who to reach out and comment to.

​

I stressed for them to be Honest, Helpful and Humble, which is to keep it real, offer suggestions/solutions, and be nice.
​

Of course, they have to be reminded that not all people they reached out to will respond to them, and in that case, just move on.
​

I suggested they include a short intro too if the situation calls for it. Just their Name, Who they are and Why they found the posts interesting.
​

Another suggestion was asking questions about the post. If it's a photo, what equipment was used. If it's a drawing, what materials are best to reproduce the work. If it's poetry, how do they find the inspiration to write.
​

The kids got overboardly excited with Contests, when I showed them a few competitions they can join, on top of their daily posts. They were quick to act, and their picks were #colorchallenge and #sevendaybnwchallenge.
​

They were also equally excited with Steemitchat, because one of the girls won a random challenge from the chat room (Write the number 23 and win 1 Steem). That sure motivated the rest to activate their accounts, and were upset for a while when there was a 503 server error.
​

After an activity on leaving comments, we got into Canva.

​

Little did I know that they already had a training session on Canva last week with another volunteer teacher. They were, however, keen on making collages, which weren't covered last week, so we learned about that.
​

Since some of Canva's images are paid, I gave them a list of websites where they can get free stock photos. Of course, I told them although the photos are free, always remember to credit the photographer as a sign of respect for them and their work.

www.pexels.com
www.designerpics.com
www.visualhunt.com
www.jaymantri.com
www.deathtostockphoto.com
www.unsplash.com
www.allthefreestock.com
www.magdeleine.co
www.flickr.com (Creative Commons)
www.Photopin.com (Easier Flickr searches)
www.pixabay.com
www.picjumbo.com
www.freeimages.com
www.littlevisuals.co
www.picography.co

​

I gave them a few resources on vectors too, so they can play around with icons, vectors and illustrations.

​

I told them there are a few alternatives to Canva that they can use, and some of them tested out different apps to compare features and familiarity.

​

We also looked at some native apps on Windows to help with simple resizing and editing.
All in all, it was a great day for Canvas, Chats, Contests & Courtship. Now, on top of their daily posts, they have more things to do on Steemit, especially the ones on contests.
I find that with kids, when shown that they can truly interact with Steemit through various means - posts, comments, connections, competitions - they become more engaged. They are now actively planning contents for the next few days, and even doing their researches upfront.
Some say they are motivated by money, but the truth is, if you are they with them, you can tell that the motivation is beyond that. Even the other volunteers noticed that never had they been so diligent working on any projects, which I owe it all to Steemit and the community.
When they are shown web apps, they just love to play around with it, exploring the limits of what can be done. This trains them to be resourceful, because if they can't get what they wanted one way, they would look for alternative means. By now, Google is already their best friend. :)
And because of their progress and passion, I thought they deserve a reward, but more on that on Day 6. It's something steaming….

Check out the previous post(s) in this Steemit Bootcamp for Underprivileged Kids Series:
---
Wait, why's Mav posting on Steemit nowadays?
Well, unlike other blogging and social media platform, Steemit is the only platform that allows me to earn cryptocurrency when I engage with it. Yup, one Steem is about USD7, and you, too, can earn Steem Dollars every time you:
Create content (articles, blog posts, podcasts, videos, photos)
Upvote (like) other people contents
Comment on other people's posts
Have discussions, share opinions etc!
Yup, basically it's the very same thing you're doing on Facebook, Twitter, Instagram etc all along!
The only difference? For once you can earn a nice income on the side!
Sign up for a free Steemit account, and you can thank me by coming back and upvoting this article. And guess what, you will earn Steem too for doing that! #awesome