The Answer to the Steem Price Mystery could be exchanges with wallets in Maintenance mode
The Answer to the Steem Price Mystery could be exchanges with wallets in Maintenance mode
I just bought a significant amount of Steem on Binance. I wanted to take advantage of what seems like a huge discount. To me, the discount appeared to be the result of recent upgrades to the platform and the normal process of having to work out the bugs when making significant changes. These changes, I believe, will enable STEEM to provide significant improvements throughout the Steem ecosystem. Thus, now seems to be the perfect time to buy.
After making a significant purchase on Binance, I went to withdraw the Steem I acquired and that's when I realized that deposits and withdraws of Steem were disabled. This is due to Binance having Steem wallets in maintenance mode due to pending or in-progress upgrades to Steem's current version.

I then checked other exchanges listed on coinmarketcap. Partially looking to see where Steem could be acquired the cheapest. That's when I noticed some exchanges had trading disabled since mid-August.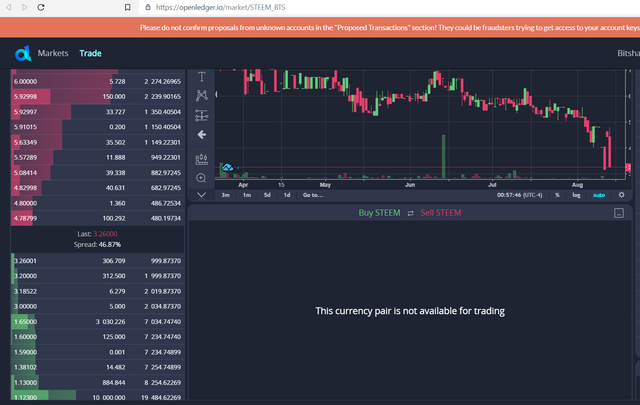 Once these exchanges finish upgrading their wallets / nodes and exit maintenance mode, I expect the price of steem to jump significantly. Until then, I will buy and hold, waiting for withdraws to resume. I am looking forward to the improvements made to Steem and the Steemit platform, very promising future lies ahead.